As summer approaches along with the NHL Draft, all eyes (in Carolina) are turned towards west Raleigh, waiting for the white smoke to come billowing up from the administrative offices of the PNC Arena. For some Caniacs, the hiring of the Hurricanes' next head coach is on par with the College of Cardinals'  naming a Pope.  Supposedly there is a short list, but is it long enough?
As we watch the Stanley Cup playoffs – wishing we were cheering for our home team, Canes fans have draft day marked in bold ink on their calendars. Not because they are anxious to learn who the next 18-19 year old will be to join the Charlotte Checkers, but because new GM Ron Francis has said that he hopes to have a new head coach in place, "by the draft."  That means that less than 30 days from now, we should know who will be at the helm of the good ship Hurricanes, hopefully ready to navigate the team across the turbulent waters of the regular season, and into the harbor of the playoffs.
A couple of articles have been written of late that have broached the subject of the Canes' next head coach.  One was lamenting the rumor that indicates Ulf Samuelsson is the leading candidate on Ronnie's short list.  Currently an assistant with the Cup-finals bound New York Rangers, Samuelsson has zero NHL head coaching experience.  But he did have a two-year head-coaching stint in Sweden with the club team Modo.  He also served on the Coyotes staff as an assistant for 5 years.  But, he apparently tops the list because he was a Francis teammate from 1985-1994.  Case closed, right?  For my money, having Hurricanes Hall of Fame Radio Voice Chuck Keaton saying "Ulf" repeatedly for the foreseeable future is really the money shot.  Give that man a contract!
Seriously, can Francis really be seriously considering hiring a guy with no NHL experience as an NHL head coach? Has he already forgotten that he just fired the latest edition of Hurricanes head coach who also had no prior experience head-coaching in the NHL?  How did that work out?
Another idea being floated is that John Tortorella would fill the vacancy nicely.  He does have prior experience, and actually won the Stanley Cup as head coach of the Tampa Bay Lightning in 2003-04.  Tortorella's reputation as blunt,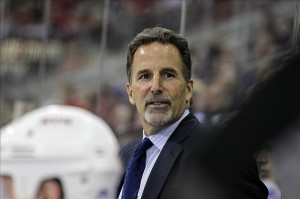 fiery and sometime trouble-maker may not fall within Francis' comfort zone, but some think he is exactly what this team needs.  Experience, bluster, and past success could be a great combination in the next head coach.  On the negative side of the ledger, he never played as one of Ronnie's teammates.  That and having been fired after one season with the Canucks. Tortorella would be a high-profile hire by Francis, but one that would likely be better received than one where Ronnie hires one of his buds.
My thoughts?  I want Ron to hire Dan Bylsma.  How cool would that be?  Carolina moved
out its GM and the new GM fired his head coach.  The Penguins have moved their GM out, so as soon as they name a new one, whack!  Just like Muller, Bylsma could find himself
looking for a new team.  A quick call from Ronnie and there you go.  The Penguins could then hire Ulf as their head coach since he is a former Penguin.  Everybody is happy.  Get that done by June 26th, and the 27th we'll all be huddled around the big screens hoping the Canes' 7th pick in the First Round is the next Jeff Skinner.