Development of young Russian players in the Kontinental Hockey League or in the Canadian Hockey League is a long-discussed topic between those in the field and fans alike. Recently, more and more Russian players have decided to go overseas at a young age with mixed results.
Nail Yakupov was drafted first overall after a great OHL campaign, but then didn't progress as expected. Vladimir Tarasenko and Evgeny Kuznetsov played longer in Russia and they enjoyed much more success when they made the transition to North American hockey. There is, though, no one-size-fits-all approach and it's necessary to wait a few more years to see how the new wave of Russian players will fare.
In this translated article, originally written by Russian journalist Evgeny Belousov for the Sport Express website, Russian coaches Valeri Bragin and Sergei Golubovich, player agent Sergei Paremuzov and players Maxim Lazarev and Vitali Abramov try and shed some light on this topic from their perspectives.
*You can enjoy the original Russian language article by Evgeny Belousov by following this link.*
Valeri Bragin – U20 Team Russia Head Coach
Evgeny Belousov: Why do young players keep on going overseas, in spite of the negative experience of most players in then actually making it to the NHL?
Valeri Bragin: In this situation, a lot of responsibility lies on the agents and, to a lesser degree, on the teams. In the MHL players have the ideal condition to develop. To get to the main squad players need to work hard and show they reached a good level of play. It's hard to focus on a single thing. Players think that the NHL is the top league in the world and you can get there faster if you play in North American junior leagues. This is mostly why the move there.
EB: You declared more than once that you prefer to work with players skating in Russia.
VB: Our "foreigners" get to play [for our team] only at a couple of games during the Super Series. We also follow their games in Canada. The WJC level is much higher and we aren't always satisfied of the level of the players who go overseas. This is why I prefer players being at home, this way they will play with us in more international tournaments. They report to the team already knowing what we want from them, and they are more ready. We have more information to work with.
EB: A good example of going this way is Artemi Panarin. He started playing well in the KHL, then for the national team, and this year he won the Rookie of the Year award in the NHL. Do you think this is the right way?
VB: Exactly. [Players] need to move to North America when they are developed players and there is a place for them to play. Evgeny Malkin underwent the same path. I think that at the start of a player's career, in Russia there are better conditions, than overseas.
Sergei Paremuzov – Head of Russian Agents Association
EB: Why do [young] players keep on moving overseas?
Sergei Paremuzov: It's simple. The NHL is the best league in the world, every player wants to play there. The decision is taken by their parents, who know very well the situation of Russian hockey. Someone goes there, someone else decides to stay. Each situation is truly different. It isn't possible to pre-determine a path or to set a fixed age to go.
EB: It is said that the long KHL rookie contracts give [too much] power to KHL teams who can get younger players riding the bench or burn them in the junior leagues.
SP: Teams are responsible for keeping the player for the whole duration of the rookie contract (Note: an ELC in the KHL is a two-way, three-year deal, just like in the NHL). If a team feels a player has no potential, they will release him paying a compensation. The situation can also be absurd and having teams getting players signed to ten-year contracts (Note: currently, the longest KHL contracts are some 4-year deals some veteran players signed. A few years ago, Maxim Afinogenov inked a 5-year deal with SKA St. Petersburg). You won't get guys staying here working with prohibitions only. Quite the opposite, it is needed to easy up the movement of players between leagues and accept this as a matter of fact.
EB: Valeri Bragin said that he prefers to play with players skating in Russia.
SP: I can understand him. However, at the latest WJC there was just one troika who really played at the KHL level (Note: the line made of Lokomotiv Yaroslavl forwards Alexander Polunin, Pavel Kraskovsky, and Egor Korshkov). Also, Kirill Kaprizov from Metallurg Novokuznetsk. In Yaroslavl there was a unique situation, where those three players were considered good enough to play at KHL level, but it was not the same for the rest of the guys. KHL coaches don't have a task of developing players for the national junior team, otherwise they'll be fired right away. They have to bring a result for the team.
Sergei Golubovich – U18 Team Russia Head Coach
"Regarding the movement of our players towards North America, I agree with my colleague Valeri Bragin. Although some of the departures were of individual nature. I think that in the latest few years the level of the Russian MHL fallen down, and we should get back to the old traditions of having farm teams playing against men in the minors. Some of my colleagues agree with me. However, to get the changes working, some time is needed.
"After the 1998 crisis the birth rate in Russia fallen down, therefore less players now practice in sports academies. The situation is now much better, but it shows only in the younger generations (starting from 2007 – 2009 year of birth). We need to improve the situation and help the parents who now pay a lot of money for practices, ice and equipment. Maybe the state should help through the construction of hockey centers.
Maxim Lazarev – Cape Breton Screaming Eagles (QMJHL) Forward
"My contract with the Cape Breton Screaming Eagles run out, now I'm waiting for offers to skate in one of the NHL teams' training camp. And I can always get back to Kazan. I have good ties with the Kazan franchise and I'd be very happy to play there, but right now my top priority is to play in the AHL and in the NHL.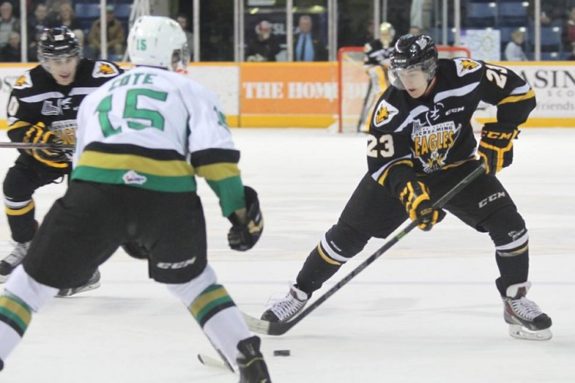 "In these three years in North America I acquainted with the local level and I understood that I can play even with such a speed and physical play. I moved there because I wanted to gain experience in North America and get drafted in the NHL. It was a decision that I took with my parents and agent.
"I will always have a chance to play for Ak Bars. But another thing is to understand if they'd really trust me to play in the first team, they usually don't give many youngsters a chance. I am sure that I can play in the KHL, but it's not a given fact that an NHL team will give me a chance. The most important thing for me is to play and not to ride the bench.
"It's not a secret that everyone wants to play in the NHL. You have more chances to achieve that if you play in North American leagues. You can get noticed by scouts and other representatives. They can talk with you. I haven't played in the MHL for a long time, but I think that CHL and USHL are on a higher level.
Vitali Abramov – 2016 Columbus Blue Jackets Third Round Pick
"I don't regret about leaving. One year ago, me and my parents took the decision to go to Canada. I think that I improved during this season spent in the QMJHL. I improved in physical game and reading of the game. After all I was playing in North America, and everything is faster.
"I did not leave because of the creation of the U18 Team Russia squad who played in the MHL. I really enjoyed playing for then-head coach Vitali Prokhorov. I simply chosen to move to Canada. Other Chelyabinsk-born players Evgeny Kuznetsov and Nikita Nesterov played in Russia before getting to the NHL but everyone has his own path. I chosen this path and I don't regret about it. I worked on myself, I want to become even better and getting to the NHL. Everyone wants to play there, they just go to reach their dreams.
Another Voice
Recently, former Niagara Ice Dogs Alexander Protapovich in an interview declared to have made a mistake moving overseas.
#Protapovich #OHL #NHL #CHL #AkBars @ArtoPalovaara @ChunkletsHockey @AlexSerenRosso @JonathanLuomala @AlexPouliotRob pic.twitter.com/QuquNoAnIG

— vorky (@vorkywh24) 13 luglio 2016
In June another 24 Russian players were drafted in the CHL Import Draft.
You are welcome to express your view on the CHL vs KHL debate by sharing a comment below.
A professional hockey writer and translator. Loves Russian culture, language, and hockey. Reachable on twitter @AlexSerenRosso