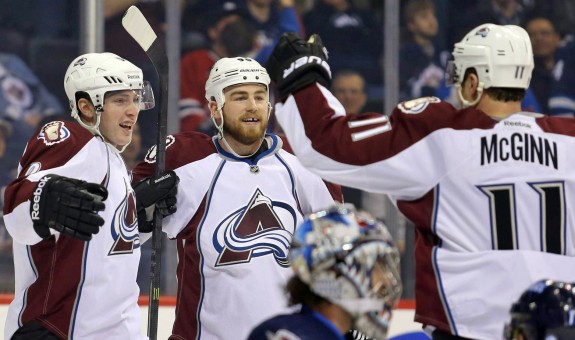 At the beginning of last years lockout shortened season Ryan o'Reilly seemed to fall so far out of favor with the Colorado Avalanche that it seemed inevitable he would be traded. All that needed to happen was that they needed to find the right deal. All seemed lost until the now infamous Jay Feaster offer sheet was signed by O'Reilly. It was a two year deal, that payed O'Reilly quite a bit. It didn't take long for Colorado to match the offer sheet. By matching the offer sheet so ended the trade rumors, at least in the short term. Colorado was unable to trade O'Reilly for one year following his signing.
Of course the natural assumption was that the two parties had permanently damaged their relationship. Not only did it seem like neither side trusted each other, but that O'Reilly also damaged his trust with his teammates. It seemed like a pretty toxic situation. One that would last a year and result in O'Reilly leaving town as soon as the one year trade moratorium was lifted.
New Ownership
When Joe Sakic and Patrick Roy were brought in to head up hockey Operations in Colorado there was an obvious change in culture. They replaced the old guard in Denver and brought in a new attitude for the team. As the season winds down, Ryan O'Reilly has had a career year. Patrick Roy moved him to left wing to accommodate newly acquired center Nathan MacKinnon. O'Reilly has flourished in the roll. He leads the NHL in takeaways, and until recently he hadn't committed a single penalty all season long. Patrick Roy appears to be very fond of O'Reilly as well. He uses him in big situations, including some defensive zone face-offs late in games.
O'Reilly has also become a fan favorite again. After his hold out last season he was viewed as greedy, and not a team player. The letter  his father wrote to The Denver Post further convinced the Avalanche faithful that he would not be in a Colorado uniform for long. But this new team, which has been transformed in more ways than one has seemingly put all that behind them. Fans as well have come out to support O'Reilly and there have now been serious calls to get O'Reilly signed long term.
So What's he worth?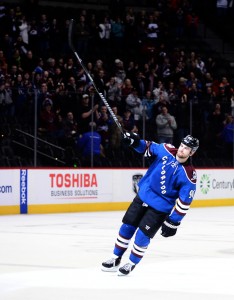 So if in the summer to two sides meet and decide that Ryan O'Reilly does have a long term future with the team, what can Colorado expect to give him? It's going to be an interesting summer for Colorado. And the two biggest question marks are O'Reilly and center Paul Stastny. Ryan O'Reilly's current cap hit is 5 million a year. To qualify him the Avalanche would need to offer a little more. But Colorado is probably going to be more interested in locking up O'Reilly long term. Any interesting player comparison here is Marian Hossa. While Hossa's offense is better than O'Reilly's the two players are similar on the defensive side of the puck. O'Reilly and Hossa are one and two on the NHL's takeaway leader board. Their point output is also similar, though Hossa has played fewer games due to injury.
O'Reilly's defensive play is going to be his main selling point, along with his adaptability. He's a hard forecheker, and he fit's into Patrick Roy's style of play really well. As previously mentioned he leads the NHL in takeaways. He isn't a big hitter but his stick work has been incredible. Mike Chambers of The Denver Post described how his defensive play has been so good, and how remarkable his lack of penalty minutes have been.
O'Reilly uses precise skills to rack up goals, cause turnovers and play a gentlemanly game. He is the NHL's most aggressive-passive personality, a perfect contradiction to benefit the Avalanche.

"Growing up, my parents always told me, you can never score from the penalty box. You can never help the team win from the box," O'Reilly said.

Having played in 61 of 63 games for the Avs, O'Reilly is the only NHL player to have zero penalties despite playing in at least 34 games. Pittsburgh defenseman Rob Scuderi is the only other player to have zero penalties in more than 20 games.
Hossa has a cap hit of 5.25 million dollars a year, which is a price that Colorado fans would be happy to pay for O'Reilly to stay in Denver long term. The question here is also a matter of age. Ryan O'Reilly is younger than Hossa, so this adds a question. Does he deserve more money because he's younger, or does he deserve less because of his experience? O'Reilly is a restricted free agent, meaning that Colorado has exclusive rights to him, unless a team is willing to give up appropriate draft compensation. This is what happened last year. If Colorado let O'Reilly walk, the team would have received a 1st and 3rd round draft pick from Calgary based on the size of the contract.
These RFA contracts tend to be smaller in value, until a player is experienced enough to reach unrestricted free agency. Though given last season's negotiations O'Reilly doesn't seem to be willing to take the smaller amount. It's going to require a similar payment to what O'Reilly makes to keep him in Colorado. The good news for Avalanche fans is that the once sour relationship between O'Reilly and management seems to have been repaired and the two sides seem willing to make an effort.
Cashing In
Ryan O'Reilly has had a career year in Colorado. His 26 goals are tied for most on the team. But O'Reilly is also a leader on this team. There was talk before last season of him potentially becoming team captain. He works so well in Patrick Roy's system. He's an aggressive forechecker, and he is a great passer. This season has been an adjustment for him. He's a winger now. And for all that, all he's done is have a career year. A good summation of O'Reilly's season can be seen is his very first goal of the season against Anaheim.

O'Reilly has been so good at getting in passing lanes. In this goal he reads the play well and gets in position. O'Reilly is, at all times, in excellent control of his stick. It's one of the reasons that he's taken only one penalty all season. A surprising fact considering how active his stick is. Against Anaheim he makes a play and goes in unchallenged to score the first goal of the season. It's not uncommon for O'Reilly to make these big plays in the neutral zone. He makes them all over the ice. He's a very smart hockey player and it helps Colorado. He's not a big name like Duchene or MacKinnon. He's not being credited with the revival of this franchise the same way that Patrick Roy or Joe Sakic are. But his play has been exceptional all season. If his current cap hit sits at 5 million dollars then for Colorado to keep him they will have to one up that. A long term deal between 5.5 million and 6 million seems like it would get the job done.
For Colorado that would be possible. Despite putting together some poor teams the last few years, one thing that Colorado's old management did well is set this team up for success with a very cap friendly payroll. Ryan O'Reilly should expect to reap the benefits of that clever accounting soon, if not, then expect to see his name pop up in trade rumors at the draft.
Born and raised in Denver, I'm a writer covering the Colorado Avalanche. I have a degree in Journalism from Northern Illinois University.