The Boston Bruins and Ryan Spooner have compromised on a one-year, $2.825 million deal to avoid the arbitration meeting that was scheduled for Wednesday, according to Elliotte Friedman of Hockey Night in Canada.
https://twitter.com/FriedgeHNIC/status/890207935518953472
The deal provides a bit of clarity on an otherwise foggy future for Spooner whose fate with the Bruins is uncertain. The 25-year-old center has been at the heart of trade rumors after a disappointing season, where he was a healthy scratch for Boston's final two games against the Ottawa Senators.
While there's still the possibility that Spooner could be traded before the start of the season, or even midway through the year, the deal gives Boston another decent option for their bottom-six center positions at an affordable cost.
The Spooner Deal
Holding onto Spooner for the upcoming season would mean good value for the Bruins on the deal. His $2.825 million cap hit won't put the team under too much salary cap stress (especially given that it's only a one year deal) and is well below the $3.85 million price tag that Spooner's camp was asking for.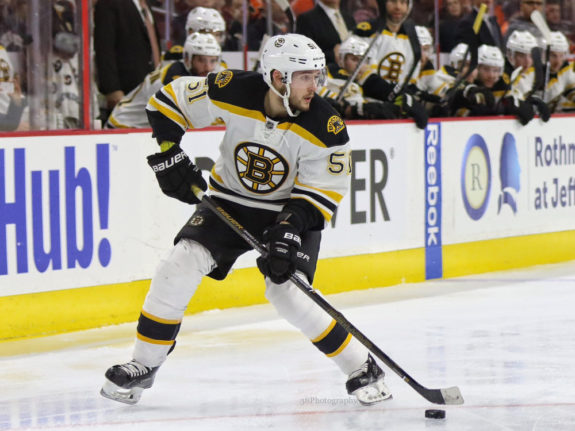 By comparison, Spooner will be making a tick over $100,000 less than Toronto's Leo Komarov ($2.95 million cap hit), who tallied 32 points last season, and just $75,000 more than Cal Clutterbuck made last season, despite notching only 20 points in 66 games for the Islanders.
At a similar value, Spooner has a higher upside than either of those players, so stick taps to Don Sweeney and company for finalizing the deal. Of course, the catch is, he has to hit that upside.
Ryan Spooner Needs a Breakout Season
Last season, Spooner tallied 39 points in 78 regular season games – a 10 point drop from 2015-16's 49 point total. With concerns about his defensive game, he will need to bring his offensive numbers up next season if he wants to cash in when he becomes a free agent next summer.
At the end of last season, Bruins interim head coach Bruce Cassidy made it clear that his lack of offense is what kept Spooner out of the lineup against the Senators.
"I thought it started well with Ryan," Cassidy said on Toucher and Rich. "He had some confidence, some jump; we were trying to incorporate him in the penalty kill, make him more of a 200-foot player, but I'll tell you what my issue was at the end with Ryan: It was well-documented with Claude he didn't like his defensive game and some of the other things. For me, I didn't like his offensive game at the end. He wasn't playing to his strengths, and that bothers me about players, if they're not able to play to their strengths when the temperature of the game goes up.
"We can work with him on his weaknesses. We're there to coach up the defensive part of it, but he wasn't attacking and that was disconcerting to me, that he's a guy that should be creating offense in the series where offense was hard to find and we weren't getting enough of it, so we made the switch." – Cassidy
When he's on his game, he has the talent to grab hold of a third-line spot. At his best, he's a solid playmaker that can create space for his teammates and has a shot that is good enough to find the back of the net on a fairly regular basis. But, inconsistency held him back throughout the season and the Bruins can't afford that with the young lineup they'll field next season.
Next season, Spooner could face stiffer competition for the third-line center position. A 20-year-old rookie, Jakob Forsbacka Karlsson, will fight for that spot this preseason, with Noel Acciari lurking as another fourth-line option.
Time for Spooner to Prove His Worth
Regardless of whether Spooner intends to re-sign with Boston next summer, it'll be a critical season for #51. At 25-years-old, he is hitting the prime of his career, and next season's play will determine how much leverage he has in contract talks in the summer. Spooner has shown that he's capable of producing at the NHL level, but he's yet to prove that he has the consistency to make the money worthwhile.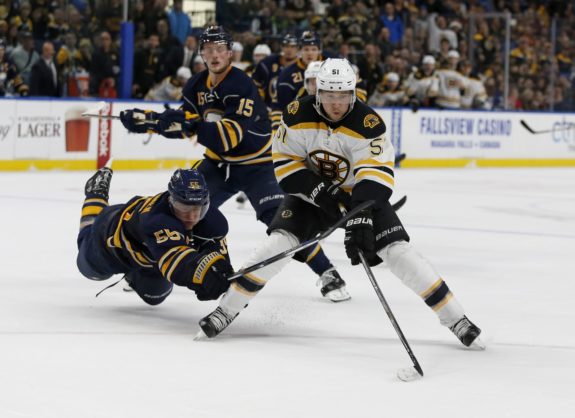 As far as next season goes, the B's seem to be okay with taking some time to develop his defensive game, but the offensive production needs to be there right from the get-go. If it's not, then don't be surprised to see the Bruins shopping Spooner at the deadline.
Ultimately, his future is in his own hands. If he can prove that he's capable of producing at a higher level, then he could put himself in the position to cash out next summer, whether it be with the Bruins or another club.
For the Bruins, though, the one-year deal is smart. Boston will give Spooner one more chance to prove himself at an affordable price while simultaneously learning more about their other options at center for the future (JFK, Danton Heinen, Acciari, etc.). If things don't work out with Spooner, then they've at least bought themselves some extra time to develop the prospects who could replace him. At $2.825 million, the Spooner experiment is worth taking.
Cam is a Broadcast Journalism student at the University of Maryland. He's the Boston Bruins Beat Writer at The Hockey Writers, and is an avid college hockey fan. Find him on Twitter @CamHasbrouck!