New York Rangers defenseman Nick Holden could be on the move soon.
According to a TSN report via Larry Brooks of the New York Post, the Blueshirts are expected to attempt to trade the 30-year-old defenseman.
Rangers' Motives to Trade Holden
Regressing Offense and Subpar Defense
Holden is coming off a season that saw him put up career-best numbers offensively. The former Blue Jackets and Avalanche blueliner posted 11 goals and 23 assists for 34 points in his first season on Broadway after the Rangers acquired him from the Avs right at the conclusion of the 2016 NHL Entry Draft in exchange for a 2017 fourth-round pick.
Holden joined a New York defense corps that was in serious need of reinforcements with the declining play of veterans Dan Girardi and Marc Staal. He stepped in and played meaningful minutes while also providing unexpected offense—all while counting for only $1.65 million against the salary cap. So why would the Rangers want to trade him?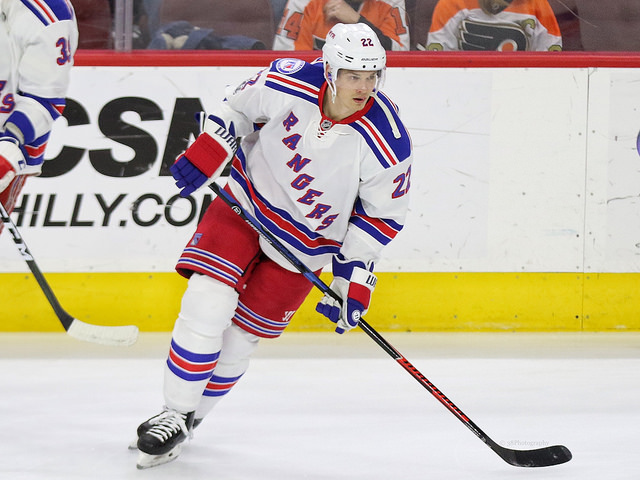 There are several of reasons. Offensively, Holden's numbers might not be sustainable. A career 9.1 percent shooter, Holden shot at a 13.1 percent clip in 2016-17—his best in three years. Some level of regression should be expected, and it was even evident in the latter stages of last season.
The bigger issue with Holden, however, resides on the defensive side. With respect to advanced metrics, he sported a paltry 47.3 percent Corsi-for percentage (CF%) at 5-on-5 play, which was slightly worse than his teammates on a Rangers club that was already subpar in that area. In the postseason, he was the Rangers' second-worst defenseman in terms of scoring-chance-for percentage (SCF%), behind only Kevin Klein, who appeared in just one game. Incidentally, Klein's one game saw him replace Holden, as head coach Alain Vigneault finally acknowledged the latter's struggles (albeit briefly) by healthy scratching him.
With respect to more traditional ways of evaluating players, Holden's flaws were conspicuous to the naked eye as well, and all the more noticeable when his offense wasn't masking them. One does not need to look back too far to see a couple of egregious plays from Holden that led to goals against.
First, in Game 3 of the first round against the Montreal Canadiens: how not to defend a two-on-one.
Next, in Game 2 of the second round against the Ottawa Senators: an ill-advised pinch leading to a two-on-one the other way and the game-deciding goal in overtime.
A Logjam on the Blue Line
Between Holden's shaky overall play and the Rangers' sudden glut of quality defenders, he could very well be the odd man out. New York's revamped top four is set with Ryan McDonagh, the newly-signed Kevin Shattenkirk, Brady Skjei, and the re-signed Brendan Smith. That leaves four players—Holden, Staal, Anthony DeAngelo, and Alexei Bereglazov—battling for the final two spots on the bottom pair. One player would also be the seventh defenseman, and there is a possibility of the Rangers carrying an eighth defenseman, though that would tighten up their salary cap situation.
A buyout of Staal's contract remains a remote possibility for the second buyout window of the offseason, but given the long-term ramifications, the chances are that that will not happen, at least for this year. That contract also makes Staal much more difficult to trade than Holden, who has just one year left on his very affordable deal.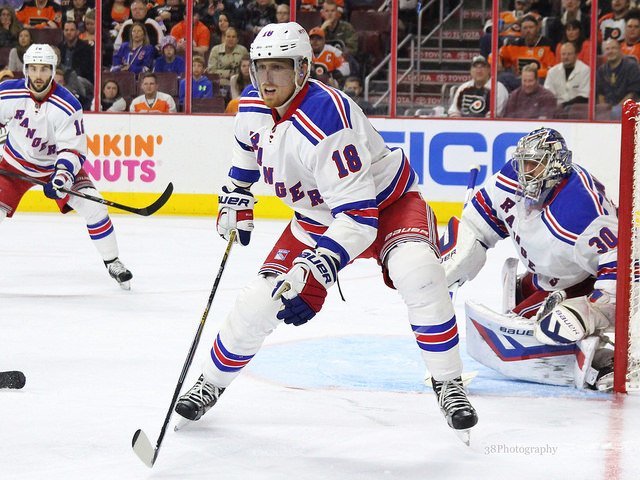 The Rangers acquired DeAngelo as part of the blockbuster trade that sent Derek Stepan and Antti Raanta to the Arizona Coyotes. They clearly see something in the offensively-gifted but somewhat immature 21-year-old defenseman. One has to think a roster spot is DeAngelo's to lose given this context and his NHL experience already. Bereglazov, a 23-year-old free-agent signing out of Russia, can return to the KHL if the Rangers assign him to AHL Hartford, so that's probably something they want to avoid.
Beyond these players, college free-agent signing Neal Pionk, out of the University of Minnesota Duluth, is also expected to vie for a roster spot. For the Rangers, having too many defensemen is not a bad problem to have. Nevertheless, something has to give, and the signs point to Holden being on the way out.
Possible Returns for Rangers
While the Stepan trade was one factor that ultimately helped the Rangers revamp their blue line, they could still really use another productive center. Could Holden be a piece that helps them land such a player? Brooks reports that the Rangers would want to "bulk up in the middle" via a Holden trade.
Despite his flaws, there would almost certainly be teams who would find value in Holden. This type of trade would be a two-birds-with-one-stone move for the Rangers, who would open up a spot on their blue line while addressing a need down the middle.
Speculation has swirled around Toronto Maple Leafs center Tyler Bozak, though Brooks reports that things have cooled off on that front as of late. In any event, Bozak, 31, has one year remaining at a cap hit of $4.2 million. Trading him would provide some relief for the cap-crunched Leafs. With their young talent and the signing of Patrick Marleau, Bozak is someone with whom they could conceivably be willing to part.
He put up a career-high 55 points (18 goals and 37 assists) last season and would help give the Rangers some nice center depth once again with the recently re-signed Mika Zibanejad, Kevin Hayes, and free-agent signing David Desharnais. The Blueshirts would be in a precarious salary cap situation if they were to take on Bozak's contract, but it would be doable with one or two other maneuvers, partial salary retention from the Leafs (which would probably drive up their asking price), or a Staal buyout (if the Rangers are willing to deal with the long-term cap penalties).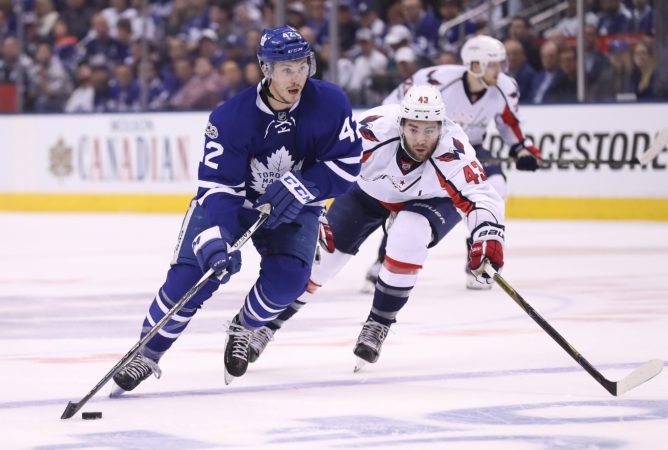 Complicating the situation for New York is that Holden alone would probably not be enough to pry a player of Bozak's caliber from Toronto, despite the fact that their blue line could use another experienced defender. The Rangers would likely have to include a prospect and/or a draft pick in any trade package, and possibly more. Given that and Bozak's salary, the Rangers might be better served to explore other, more affordable centers on the trade market—if they're out there.
Failing a deal for Bozak or another center, the Rangers could just look to obtain a mid-round draft pick for Holden—much like the one they gave up—simply to open up a spot on defense. Then they could roll the dice in using seventh-overall pick Lias Andersson or youngster Boo Nieves for the last center spot.
Either way, there is smoke surrounding a potential Holden trade, and where there's smoke, there's usually fire.