One of hockey's greatest general managers, Lou Lamoriello, always preaches patience when it comes to prospects. 
Pushing young talent into the "bigs" before they're ready can often be more of a hindrance than a help to a player's development. See: Bryan McCabe and a host of others, like the Buffalo Sabres' Curtis Lazar.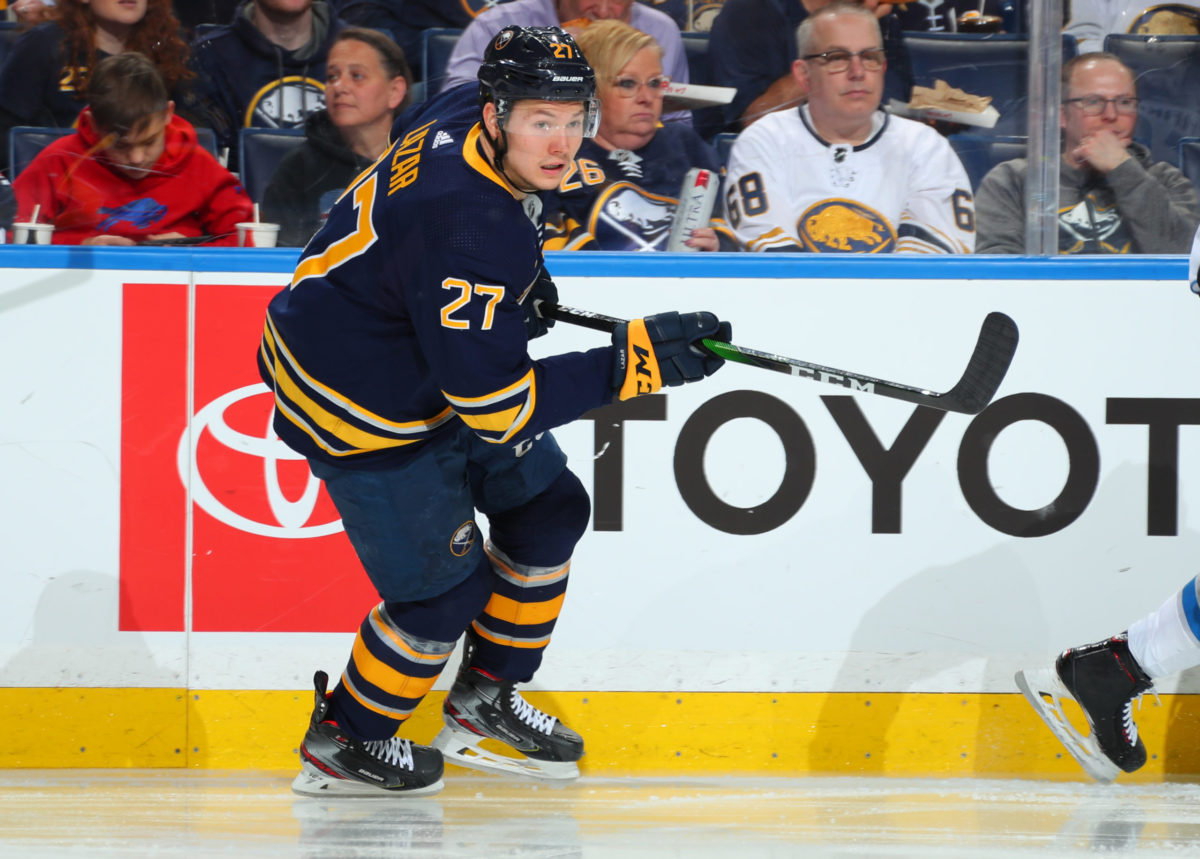 "It doesn't happen overnight," Lamoriello has said before, and it's a refrain he tends to live by. For example, he seasoned Patrick Elias in the minors, bringing him on to the New Jersey Devils roster only when he was ripe for the show.
Aside from the four games he was called up for on an emergency basis (during which he earned his first NHL win), Lamoriello even gave Martin Brodeur a full year with the American Hockey League's Utica Devils before handing him the net back in 1993. 
True to form, he's doing it again with Oliver Wahlstrom, the New York Islanders 11th-overall pick in the 2018 NHL Entry Draft.
"You don't want to rush anyone," he told Arthur Staple of The Athletic. "It could be a year, it could be two years, it could be three years. My feeling, and I've said it before is, you'd rather bring someone up too late than too soon."

from '"You don't want to rush anyone": Lamoriello urges patience on 2018 first-round pick Oliver Wahlstrom', The AthleticNHL 04/04/19
Of course, the Lou rule doesn't apply to generational talents like Connor McDavid, Sidney Crosby, Alex Ovechkin or Auston Matthews. 
Too Much, Too Soon
It's too bad Lamoriello wasn't in charge of the Ottawa Senators when, during the 2014-15 season, the team brought Lazar into the league full of expectations. He was inserted on an unimpressive roster that was ill-suited to insulating the then 19-year-old from being exposed in his rookie season.
But on the surface, you wouldn't know it was a bad idea to have him playing a regular shift back then in those heady days when Lazar started out of the gate with such promise. He scored a goal in his first game against — oddly enough — his current team, the Sabres.
Everything seemed to be going his way when the Senators gave him permission to join Team Canada for the 2015 World Junior Hockey Championship, where he won gold and served as the team's captain, posting an outstanding five goals and nine points in seven games. 
Skeptics and fans started to believe in him as a legitimate player and potential future captain in the league. However, all indications are that Lazar could have used a bit more time to marinate in the AHL and get used to that transition of going from playing against boys, to playing against men. 
His development stalled in 2016, a season to forget for the Salmon Arm, British Columbia-native who spent most of his time growing up in nearby Vernon. After only producing one assist in 33 games, the Senators demoted him to the AHL. 
Beast of Burden
Lazar calls his non-linear path that brought him to the Sabres organization a "unique journey through the beast that is the NHL" in a piece by Bill Hoppe of the Buffalo Hockey Beat. The reason he made the 2014-15 Senators roster was simple. He was, quite honestly, one of their best options out of training camp.
That is a statement that comes loaded with as much praise for Lazar as a top-tier teenage player, as it does full of criticism for that year's version of the Senators. A scoring phenom with the Western Hockey League's Edmonton Oil Kings, Lazar has only ever been able to hold down a fourth-line role in the NHL, occasionally watching from the press box.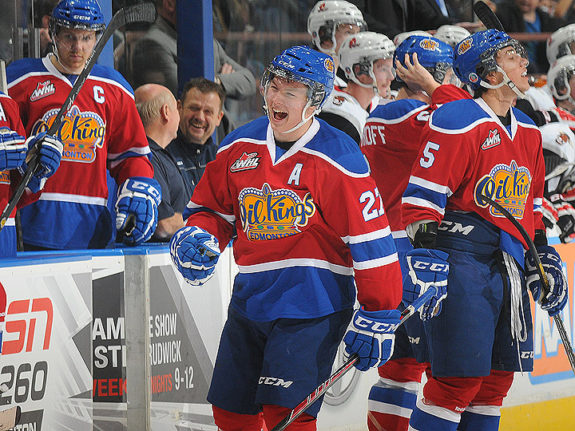 He scored no more than six goals and amassed no more than 20 points in each of his three seasons with the Senators, which made his separation from the team inevitable. He was dealt at the 2017 trade deadline to the Calgary Flames along with Michael Kostka, in exchange for a 2017 second-round pick and Jyrki Jokipakka. The Senators used that pick to select Alex Formenton.
For someone that lacked Lazar's fortitude, the rollercoaster from hyped-up talent to minor league regular could have killed, or at least seriously stunted a career. Lazar instead found a new gear and finally got it going with the AHL's Stockton Heat, where he scored 20 goals in 2018-19, finishing with 41 points in 47 games and earning him a one-game tryout with the Flames.
But he apparently didn't impress the Calgary brass. After the Flames chose not to tender a qualifying offer, the promising young forward hit free agency. 
Sabres See Something
Cue former Sabres' general manager Jason Botterill, who clearly saw something in 6-foot-5, 205-pound Lazar and signed him to a one-year, $700,000 deal on July 1, 2019. 
In his first year with the team, Lazar spent time with the Rochester Americans, the Sabres' AHL affiliate, establishing himself as ready for the primetime after only 18 games. The strong showing, which saw him score six goals and 14 points, earned him a promotion to suit up for the Sabres' final 38 games. He chipped in with five goals, 10 points and won an impressive 51.2 percent of his faceoffs.
Current general manager Kevyn Adams re-signed him this past offseason for two more seasons at $1.6 million, with an average annual value at $800,000.
His perseverance to get to this stage earned him the 2020 nomination from the Professional Hockey Writers Association for the Bill Masterton Memorial Trophy, which is awarded to the player who best exemplifies the qualities of perseverance, sportsmanship and dedication to hockey.
"Curtis established himself as an important player in the organization last season," Adams said in a statement released at the time of his re-signing. "His abilities as a player and character as a person make him a perfect fit for the Buffalo Sabres organization on and off the ice."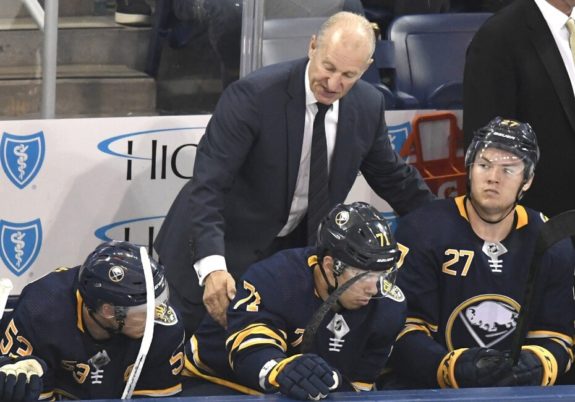 It's almost as if Lazar finally got the time he needed to ease himself into the league and deliver as an effective player just in time for a young Sabres core to benefit. And it seems to be a good fit for both sides.
Lazar has expressed his appreciation for the "win now" attitude in Buffalo, and his familiarity with teammate Sam Reinhart (who was also a part of that 2015 gold medal win) as two reasons why he decided to re-sign with the club. The Sabres' group of younger players that can have a chance to grow together, was another. 
With two goals and three points in only five games so far this year, Lazar is off to a hot start. Is this the year he finally lives up to his potential?
Let me know what you think in the comments.
---
---