The New Jersey Devils have looked quite good to begin the season, and Jack Hughes is a major reason why. Hughes was the first overall pick of the 2019 draft, but had a pretty disastrous rookie season. 
In 65 games last season, Hughes recorded just 21 points (7 goals, 14 assists). He had a terrible shooting percentage of 5.7. So many of his stats were either in the positive but still poor, or in the negative.
According to Evolving-Hockey, Hughes had a Total Offense (Off) of minus-3, minus-5.2 Even-Strength Offense Goals Above Average/Replacement (per position) (EVO), minus-2.4 Even-Strength Defense Goals Above Average/Replacement (inverted, per position) (EVD), minus-0.5 Wins Above Replacement (WAR), minus-1 standing points above replacement (SPAR), and minus-3 Goals Above Replacement (GAR).
With regarded to his expected stats, he had an xOff of minus-1.6, xEVO of minus-3.1, xEVD of minus-3.9, xWAR of minus-0.5, xSPAR of minus-1, and xGAR of minus-2.9. Clearly, these numbers aren't great. 
No one really knew what exactly to expect from the 19-year-old in his second season, but any type of improvement would come as a relief and a good sign for the future.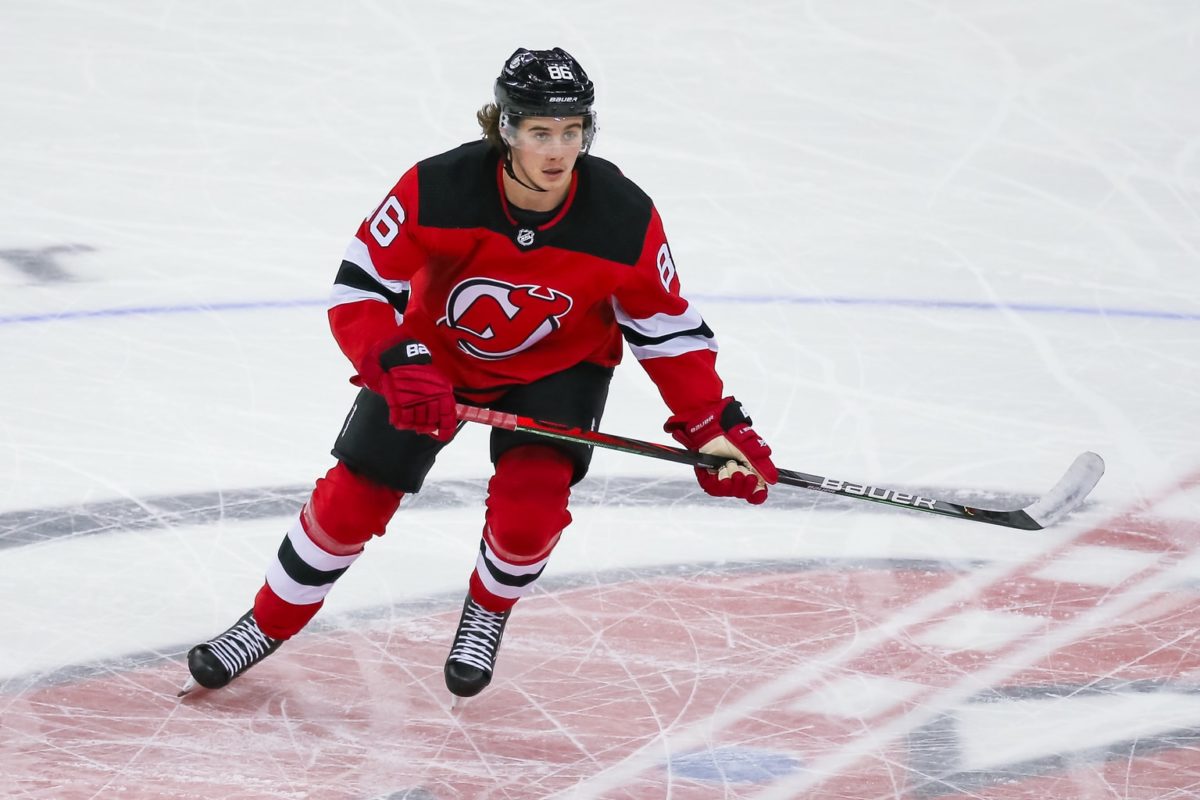 However, the burden grew heavier with the absence of Jesper Bratt and Nico Hischier, two of the Devils' top forwards, to start the season. Would Hughes be able to handle the pressure of being the team's first-line center, especially at such a young age and after such a terrible rookie season?
Fortunately for the Devils organization and fanbase, that seems to be the case. Hughes has looked like a different player to begin his sophomore season. He's among the league leaders in points with 6 (2 goals and 4 assists) and has a shooting percentage of 28.6.
In four games, Hughes has: 77.1 TOI, 1.77 total individual expected goals (ixG), 20 Fenwick Shooting Percentage (FSh%), 17.7 xFSh%, 6 giveaways, 3 takeaways, and has drawn 2 minor penalties. Money Puck has some great numbers that show Hughes' improvement.
So far, Hughes has 0.9 xGoals, 1.1 Goals Above Expected, 0.83 xGoals per 60 minutes, 0.7 Shooting Talent Adjusted xGoals, and 1.3 Goals Above Shooting Talent. 
According to Puck Base, Hughes has a Shots-For Percentage (SF%) of 83.3. As was mentioned earlier, Hughes is a significant reason why the Devils look as good as they have. He's first among forwards in TOI, a benefit of Hischier and even Bratt's absences.
He leads the team in points, ixG, Sh%, and xFSh%, and is tied for the team lead in secondary assists. He's second on the team in goals, primary assists, FSh%, takeaways, and minor penalties drawn.
Hughes' numbers are proof that he appears to have turned a corner and is headed towards success. But what's changed about his game? 
Physicality, Aggressiveness, and Confidence 
Hughes built muscle this past offseason, and it's evident, especially in the fact that he's so confident to use his body to his advantage. He's added more physicality and aggressiveness to his game, but is also using his speed very well. He's even playing better defensively. 
His aggressiveness was on full display on the Devils' second goal against the New York Rangers on Jan. 19. He was in a great position in front of the Rangers' net and was smart, quick, and determined enough to dive behind Rangers goaltender Alexandar Georgiev to get the puck in the net. 
He used his aggressiveness, improved defense, and speed well to score the Devils' third goal of the game. He made a solid defensive play that allowed him to take control of the puck from Jacob Trouba and sped down the ice to put it in the back of the net. That's not something we would've seen from the kid just a few months ago. 
He used his speed and great skating ability as well as his great hands to create a fantastic scoring chance here against the Boston Bruins. While he was unable to get the puck past Bruins goalie Jaroslav Halak, not all skaters can do what Hughes did here, and the skills he exhibited are ones to be excited about. 
What This Means Moving Forward
Confidence is key, and Hughes is proof of this. He did spend the offseason getting bigger, stronger, faster, and better, but none of this would've mattered had he not grown more confident.
His first season gave him NHL experience and the fact that it didn't go well has clearly motivated him to put in the work to progress and become the player the Devils believed they were getting when they drafted him first overall in 2019.
Bratt has finally found himself on the COVID-19 protocol list and Hischier is skating so both are taking steps in the right direction, but the Devils are going to be without them for several more games.
Hughes will need to maintain his strong play if he hopes to keep the Devils afloat because even though many of his teammates are playing well, he's one of the few carrying the squad.
Hischier, a fellow first pick, hasn't exactly lived up to expectations since making his NHL debut, but he has been the Devils' best player in recent years. Even so, ruling Hughes out as the team's 1C of the future would be a mistake.
If he continues to play like this and if Hischier stagnates, he'll take over as the team's number one option at the center position. Hughes is proving to be a future star for the Devils, one they can build around and one to expect big things from.
---
---