It seems like eons ago since new Buffalo Sabres owner Terry Pegula walked out to center ice and was greeted by the greatest line in Sabres history. In reality it was a mere three weeks. For the first time since 1979 the trio of Gilbert Perrault, Rene Robert and Rick Martin skated together in Buffalo, making their way to center ice to greet Buffalo's new savior. It was a sight that most fans never thought they would see again since Robert had famously disassociated himself with the previous management.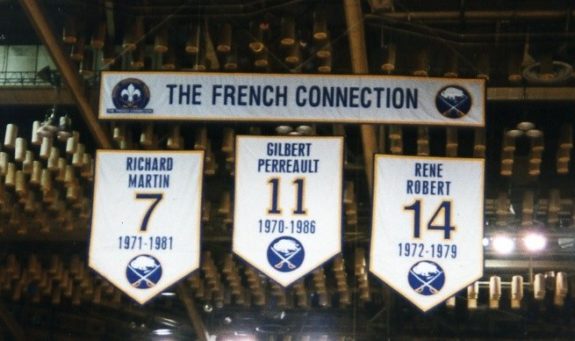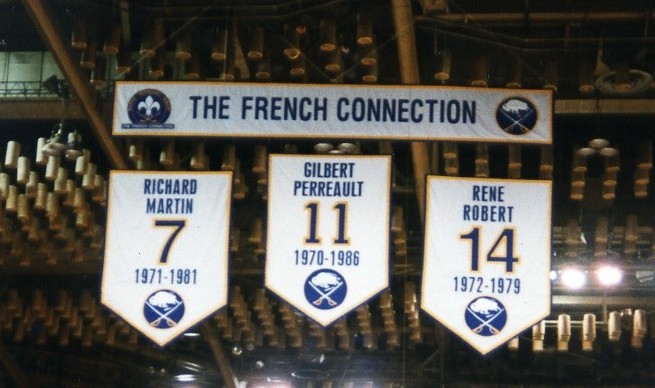 It's a testament to Pegula's commitment to the Buffalo Sabres past, present and future that he made the gesture to get Robert back in the fold. What will forever standout from that night is that Sabres fans everywhere had one last chance to see their heroes together, proudly supporting the blue and gold.
The most lovable and most personable of the trio, Rick Martin, died yesterday in a tragic car accident in Clarence, NY. State Police released a statement confirming that Martin was found just after noon when a call came in of a one-car accident on Main Street in Clarence, NY.  Martin was pronounced dead upon arrival at a local hospital.
Martin will forever be remembered for his accomplishments on the ice. He was the first Sabres player to score 50 goals in a season, he recorded at least 35 goals in seven of his nine full seasons in Buffalo and he of course had one of the quickest releases of any player to ever play the game. Those feats can't and won't be forgotten but Rick Martin as a man was so much more than his on-ice triumphs.
Former coaches, teammates and friends talk about his quirky sense of humor and zest for life. He was an active member of the Sabres alumni association and was often the first player to jump at the chance to make guest appearances or join a foursome for a round of golf with fans.
"Folks would often call up and want someone to come and play in their golf tournament, speak at their breakfast..and they always wanted Rick or Rene or Gilbert and Rico if he could do it, would always go" said former teammate and fellow Sabres alumnus, Larry Playfair.
"Well he a…certainly made a lot of us laugh didn't he?" said former teammate Mike Robitaille. "and I was just thinking of all the good years he had in front of him here with our new owner, things to look forward too."
Martin figured to play a prominent role in the renewed involvement of the Sabres alumni under Pegula as his natural affability and charisma made him a fan favorite off the ice. It's no secret that Pegula was enamored with the French Connection and his future plans for them will include the memory of Martin. "We had plans to have the three guys together to work with the organization and now we have an empty chair." Pegula said. "He was always laughing. He was a good guy"
The Sabres lost a legend today that won't soon be forgotten.