The Buffalo Sabres need Alex Nylander to take the next step in his personal development.
Mired in a perpetual tailspin, the Sabres have failed to reach the Stanley Cup Playoffs in seven consecutive seasons. Now holding the greatest odds in the 2018 NHL Draft Lottery, Buffalo's lack of offence throughout the 2017-18 season — amongst other issues — decimated their most recent campaign, as the team managed an NHL-worst 199 goals for.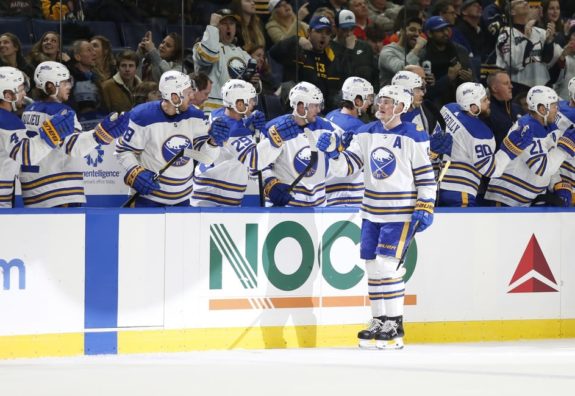 Although offensive help is on the way in the forms of Casey Mittelstadt, Cliff Pu, and Rasmus Asplund, the Sabres desperately need Nylander to live up to his immense potential. As the eighth overall selection in the 2016 NHL Draft, Nylander was expected to become a dynamic top-six winger who could pass the puck, score, and serve as a consistent and lethal threat for Buffalo.
However, following two mediocre seasons with the Sabres' AHL-affiliate in Rochester, Nylander has left many wondering whether or not he can one day become an impactful everyday player at the NHL-level.
Nylander: Draft Day Bust?
Nylander's selection by Buffalo in the first-round was justifiable.
Fresh off of an impressive campaign with the Mississauga Steelheads of the Ontario Hockey League in 2015-16, Nylander had established himself as an insanely talented youngster oozing creativity and capability. In fact, Nylander's 28 goals and 75 points in 57 OHL contests earned him the Emms Family Award as the league's Rookie of the Year.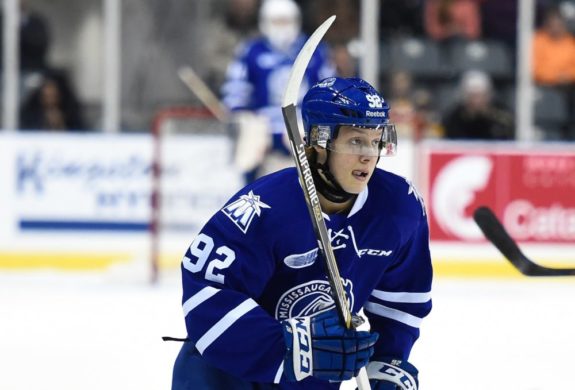 Further, to cap off his exceptional draft year, Nylander represented Team Sweden at the 2016 WJC. Despite his young age of 17-years, Nylander immediately became an offensive catalyst for his country, potting four goals and nine points in just seven games played.
Unfortunately, in the two seasons following his selection by the Sabres, Nylander has been plagued by inconsistency.
Yes, he has enjoyed a wealth of international success, however, Nylander's play has yet to fully translate within North America's professional ranks. Unable to crack Buffalo's NHL roster as a full-time player, Nylander has yet to live up to the lofty expectations placed upon him considering his overwhelming skill-set and first-round selection.
Nylander's Personal Progression
As mentioned earlier, Nylander enjoyed a terrific season in his one and only OHL campaign.
During his time in Mississauga, Nylander was composed and confident. Willing to take risks in order to generate offence yet calculated in doing so, Nylander's seemingly endless creativity was on full display on a nightly basis.
However, since his ascension to the AHL-level, Nylander's confidence has wavered while his creativity has dwindled. Yes, he remains capable of creating offence from broken plays. Unfortunately, Nylander's willingness and ability to exude the raw skills which the Sabres covet so dearly have been mitigated by much stronger, quicker, and capable opposition.
Alex Nylander's Personal Progression

Season:
Team:
Age:
GP:
Goals:
Points:

Pts/GP:

2015-16

Mississauga (OHL)

17

57

28

75

1.31

2016-17

Rochester (AHL)

18

65

10

26

0.40

2016-17

Buffalo (NHL)

19

4

0

1

0.25

2017-18

Rochester (AHL)

19

51

8

27

0.52

2017-18

Buffalo (NHL)

20

3

1

1

0.33
As we can see in the table above, Nylander's offensive play has slowed dramatically since his jump to the professional level.
While Nylander's mildly productive play for the Rochester Americans during the 2016-17 season can be attributed to his young age and natural learning curve, the youngster's meagre improvement with Rochester in 2017-18 is much more difficult to discern.
Despite playing in 14 fewer AHL contests this season, Nylander managed to improve his points per game mark by just 0.12. Although hampered by a nagging lower-body injury to begin his 2017-18 campaign, Nylander's failure to dramatically improve his offensive and overall game has created a cause for concern.
While this injury may very well have impacted his play this season, Nylander's inability to display significant personal progression has directly impacted his overall value as an NHL-prospect. Yes, Buffalo awarded Nylander with three games at the NHL-level to conclude the season, however, whether or not he truly deserved to see action with the Sabres is another discussion entirely.
Nylander Versus Nylander
One additional factor which could be negatively affecting Nylander's play and personal development is the success of his older brother, William Nylander.
Also an eighth-overall choice in the NHL Draft, William has excelled with the Toronto Maple Leafs — a reality which has created a wealth of comparisons and forced pressure upon the younger Nylander. Long expected to become as good as — if not better — than his older brother, Nylander has been propelled into the spotlight as a result of his brother's sensational play.
Skating under heightened pressure and overwhelming expectations could very well be slowing Nylander's development, as his inability to meet these hopes is likely deflating his confidence while increasing his stress level.
Nylander: Bust or Long-Term Project?
Although Nylander's professional career has not progressed as quickly as he or the Sabres would have liked, it is extremely important to remember that the 'Swede is just 20 years-of-age.
With this being said, there is plenty of time for Nylander to discover his game and improve at the professional level. As a fluid skater of ample skill, Buffalo would do well to let Nylander develop regardless of his pace — as long as he can one day become a force at the NHL-level, that is.
Facing years of uncertainty, rushing Nylander and his respective development would not serve the Sabres nor the youngster well. In the best case, Nylander will slowly yet surely become a dependable top-six forward in Buffalo and one capable of supplementing his team's offence on a nightly basis.
On the other hand, Nylander's personal progression could continue to falter.
Likely to begin the 2018-19 season in the AHL with Rochester, Nylander will need to put forth a strong and definitive campaign if he is to be taken seriously as an elite-level NHL prospect. If the youngster can achieve exactly such — which he is certainly capable of doing — he could earn considerable playing time with the Sabres next season.
If not, Nylander's future will be an unpredictable one.
Although he has two years remaining on his entry-level contract with Buffalo, Nylander's deal includes a European assignment clause which allows him to play in Europe should he decide to do so.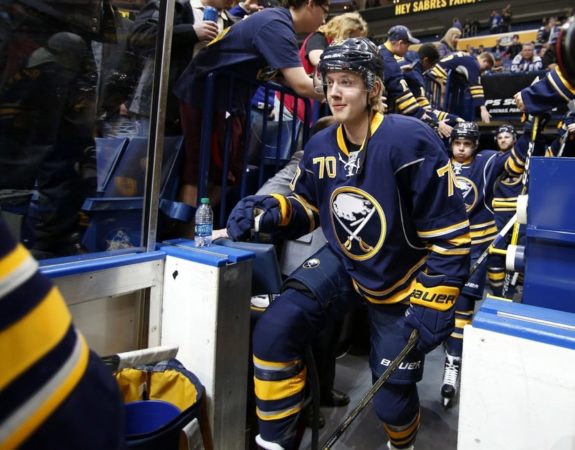 Seemingly lacking confidence, heading to Europe for a short period of time could prove to be the best route for Nylander if he fails to enjoy success next season. If able to establish himself as a lethal offensive force at the European professional level, Nylander could return to the Sabres as a reinvigorated scorer boasting a refined sense of purpose.
Whichever the case may be, Nylander's personal progression in the near future will — hopefully — be a pleasure to watch unfold.