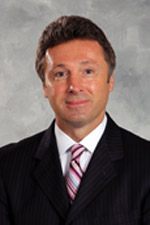 Total Dysfunction
The questions from those of us in the media at Wednesday's locker room clean out day were what you would expect. Questions like "how unified is this organization top to bottom?" "Were there distractions?" "What about the culture in the locker room?"
In fact, columnist Paul Gackle of the Gackle Report prefaced his questions about unity by saying that John Scott told him the unity needed to be better from the management on down to the coach, and players. Answers varied from player to player and didn't provide much of any insight. Logan Couture indicated the culture wasn't where it needed to be but Tommy Wingels indicated he thinks the team has plenty of leadership in the room. So one player says one thing one player says another.
The two main beat writers that frequently travel with the team in CSN's Kevin Kurz and Mercury News' David Pollak read into Joe Thornton's comments about head coach Todd McLellan needing to talk to his Sharks family as well as his own family.
A month after challenging his GM, this time #SJSharks Thornton takes jabs at McLellan. http://t.co/8xhcrLDvh3

— David Pollak (@PollakOnSharks) April 15, 2015
The take away the beat guys obviously had is maybe the McLellan-Thornton relationship isn't completely rosy either. However both McLellan and Wilson were steadfast in saying they have great relationships with Thornton. So really all the Sharks organization did today was once again, nothing. They didn't make any real decisions and are doing a lot of toeing the organizational line. McLellan and Wilson both basically tried to come off as if the Sharks are one big happy family that is merely disappointed with their season.
Joe Pavelski mentioned that last offseason's "coworkers not teammates" comment that Wilson gave the media might have been blown up by the media. Yet as mentioned above Couture said he has issues with the culture. Scott Hannan mentioned he thought it was a tight knit group. So what is it? Well, the Sharks are clearly not on the same page and they are still yet again in the same complete disarray that they were in at the end of the season last year.
Culture Issue 100% on Wilson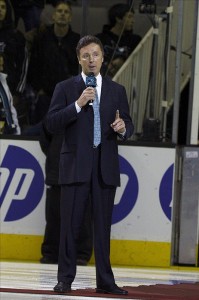 Wilson mentioned in his exit interview that overreacting to a few games and letting emotion into decisions is not the right thing. However, that is exactly what he did last offseason is overreact to last year's loss. The San Jose Sharks were a 111 point team last year, third best possession team. Wilson stated that "every team goes through it" the "it" being some sort of a rebuild. But there is no reason to believe this team couldn't have been a contender again this season with better moves over the offseason. As Thornton said in his interview, the team doesn't need much to get back to where they were.
The GM also attempted to promote owner Hasso Plattner as very involved and great for the organization. Not that making those comments means anything since Wilson must love his boss who doesn't grade him hard at all. Most other teams the owner would be in interviews throughout the year with the local media but yours truly has never once interviewed the man and I'm around the team quite a bit. The entire franchise has shown, from last offseason's dismissal of beloved television commentator Drew Remenda, to the Wilson-Thornton spat, to be in complete and utter dysfunction.
San Jose Sharks fans deserve better than what they got today, they deserved someone to actually speak the truth. But once again, the only person who made any real refreshing comment was Thornton. The team's best forward over the last decade is the face of the franchise for a reason. In four games this season without him, their power-play, which carried their offense this year, was miserable. He is the engine that runs this team. His brother is his agent, who also represents Couture. Highly unlikely Couture's disapproval of the culture had anything to do with Thornton, he does nothing but praise Thornton at length every time he is asked to talk about him. The culture he is almost certainly referring to is the culture set forth by Wilson. After all, Wilson said a year ago that the Sharks were not good enough with where the other teams were at.
Problem is Depth, Not Leadership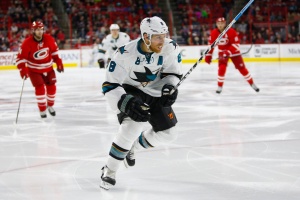 Wilson blamed his top players at the end of last season, but this year the Sharks top unit power-play was one of the best in the league. You couldn't ask for a more lethal five man unit. Those guys aren't the problem. Leadership is not the problem. The Montreal Canadiens went without a captain, multiple teams went without a captain, the N. Y. Rangers went without a captain for awhile. Who wears the Cs and As doesn't matter. The Sharks have plenty of veteran leaders like Pavelski, Wingels, Couture, Thornton and others who lead by example and hold themselves accountable. Whether Pavelski wears the C or not (like so many people want) really doesn't matter. It is a piece of felt. The problems the Sharks have is not in leadership, it is in on ice personnel. Behind their top five guys, they simply didn't have a lineup good enough to get it done. Defensively behind Vlasic they were awful, Niemi proved nothing but average between the pipes and the bottom two forward lines were filled with players that weren't good enough in the roles asked of them. Lack of talented depth players and goaltending was once again the main problem, not leadership nor performances of their best players.
Andrew has been credentialed to cover the Sharks since 2010 and the 49ers since 2012. He graduated with his BA in Broadcast Electronic Communication Arts in 2013 from San Francisco State University.