Game One of the Western Conference Finals will take place today at Chicago's United Center.  As the Blackhawks and Kings take to they ice, they'll do so along side the men who may help determine its outcome: the officials.
Officiating today's opening game are referees Wes McCauley and Dan O'Halloran.  They'll be joined by linesmen Jonny Murray and Jean Morin.
Wes McCauley – #4
McCauley has been in the league since 2007. He's officiated 587 regular season games and 51 playoff games, including eight postseason matches this year. A second-generation official, his father John spent eleven years in stripes and another three as the NHL's Director of Officiating from 1986-1989.
McCauley didn't start out as an official.  He played college hockey at Michigan State, suiting up alongside future Kings Bryan Smolinski and Anson Carter. The defenseman was drafted by the Detroit Red Wings, but after a few seasons in the minors, opted to defect to the officiating side of the game.
Since then, he's grown into an effective official.
Way to go Wes McCauley. In position, no quick whistle, all over the puck. There are some good ones out there ! #Kings

— Rod Francis (@InRodWeTrustMTL) May 29, 2013
Spike Coffman (@SpikeC20) from Sirius/XM's "The Fourth Period Live" shared his thoughts about the junior referee for today's game:
McCauley is a "young gun" and it seems like each season keeps getting further and further in the playoffs. The NHL gave him a huge game 7 in LA. He had a good game.  McCauley is refereeing like its a one ref system and he's that good.
Coffman also cited the rousing endosement given to McCauley by former referee Kerry Fraser, which Andy Strickland touched on last week over at TrueHockey.com:
Fraser went on to say the official he's been most impressed with in the playoffs is Wes McCauley. He's always under control and as Fraser puts it "looks like he's calling the game by himself out there."
Happy to see Ref Wes McCauley on gm 7. He has worked very well throughout these playoffs.

— Kerry Fraser (@kfraserthecall) May 29, 2013
McCauley has officiated three playoff games for the Kings this year: Games 3 and 7 against the Sharks and Game 4 of the first round series against the St. Louis Blues. The Kings went 2-1 in McCauley-refereed playoff games and a perfect 4-0 in the regular season.
Of course, Kings' netminder Jonathan Quick wasn't too pleased with the officiating after their Game 3 loss to the Sharks, when he chased down McCauley and earned himself a penalty for abuse of officials:
http://www.youtube.com/watch?v=-LCwka6OM1w
The Blackhawks have seen less of McCauley this year.  He's worked only one of their playoff games, a 2-0 loss to the Red Wings in Game 4.  In the regular season, the Hawks went 2-2.
He averages 8.8 minor penalties called per game in the playoffs, up from his regular season average of 7.2.
Dan O'Halloran – #13
A thirteen-year veteran, O'Halloran is one of the most tenured referees in the league.  He recently officated his 1,000th regular season game, becoming only the 21st person to do so.  In addition, he's donned the stripes for 130 postseason games, including five of the last six Stanley Cup Finals as well as the Gold Medal Game of the 2010 Vancouver Olympics.
O'Halloran has worked four Kings games this season, two in the regular season and two in the playoffs. The Kings went 3-1 in those games. Los Angeles was 1-1 in the playoffs under O'Halloran with a 2-1 loss to the Blues and a 3-0 win over the Sharks.  They were undefeated, going 2-0, in the regular season when O'Halloran held the whistle.
Chicago has also seen O'Halloran four times, also posting a 3-1 record.  Their lone postseason game was the Hawks' impressive Game 6 comeback victory over the Red Wings. (The game featured a controversial penalty shot, but that call was made by O'Halloran's on-ice partner Chris Rooney.)
The Ontario native averages 11.0 minor penalties per game in the playoffs, an increase from his regular season average of 7.1.  Most of those playoff minutes came from Game between the Habs and Senators, a penalty-fest that resulted in a combined 236 penalty minutes between the two teams.  Factor out that game and he drops to a more reasonable 8.3 minor penalties per postseason game .
Another reason for the increase in playoff penalties is the veteran official's use of matching minors.  While fellow referee Stephen Walkom took some heat for his late-game call in Game 7 of the Blackhawks-Wings series, sending two guys to the box is usually a effective way to keep control of the game without factoring into its decision.  That is, of course, assuming that both guys did something to actually deserve the penalty.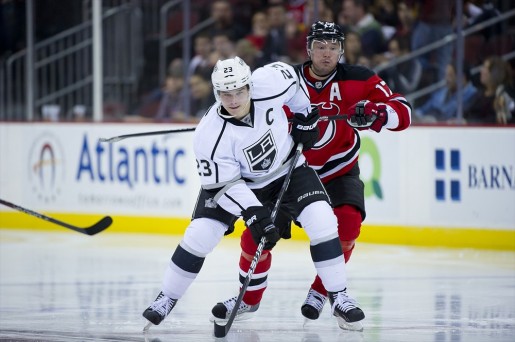 What It Means
This is the first time all season McCauley and O'Halloran have worked a game together.  Normally paired with more junior referees, the tenure of these two should make for a consistent, evenly-called game.  The penalties they do call will likely be deserved… and important.
The Blackhawks have the worst power play of the remaining teams, clicking at 16.2% compared to the Kings at 20.0% in the postseason. The Kings, though, have had far fewer opportunities, averaging only 2.7 power plays per game. Only Vancouver has had less attempts on the man advantage (10), and they were swept in the first round.
On the flip side of the special teams equation, Chicago's penalty kill has been nearly unbeatable.  They've stopped 97.6% of opposition power plays, allowing only one power play goal on the road and going a perfect 21-for-21 at home.
The second-most penalized team left in the playoffs, Chicago will need to work hard to maintain their perfect penalty killing numbers. The Kings will have to work even harder to find cracks in the armor.  Doing so today would go a long way to help the Kings improve on their 1-5 road record this postseason. Of course, they're up against a Chicago team that's gone 6-1 at the United Center in the playoffs.
With two veteran officials in for Game One, expect them to stay out of the way.  They'll set the tone early and call it consistent, which is the most you can ask for from the officiating crew.  Watch for matching minors to keep control if things get chippy.  Otherwise, watch for McCauley and O'Halloran to let the boys play.
---
Thanks to Spike Coffman for additional reporting on this story.  Follow him on Twitter (@SpikeC20) and listen to The Fourth Period Live on Sirius/XM, Saturdays from 4-7EST.
Follow Josh on Twitter – @joshsmith29
---
Josh is a life-long hockey fan. He grew up as a fan of the New York Rangers, but thanks to their general mismanagement and years of mediocrity, has developed a great appreciation for every team across the league.
He's been writing about hockey on various sites since 1995. In addition to his work at The Hockey Writers, he also keeps tabs on the referees over at ScoutingTheRefs.com.