When the Florida Panthers snagged him off the waiver wire in November, not much was going right for 23-year-old Seth Griffith.
The Sunrise-based club would be his third NHL team in two months. Over the course of his last two professional seasons, the two-time OHL All Star had appeared in seven big league contests, averaging fewer than 10 minutes of ice time per game.
At 5-foot-9, the diminutive Griffith's size was considered a liability. His speed and skill, however, stood out to the Panthers — in the team's desire to build a consistent winner in the mould of the Chicago Blackhawks and the Pittsburgh Penguins, those assets outweighed any concerns about his build.
Just 10 games into his Florida career, he's got management buzzing.
Following a surprise promotion to the first line for the Panthers' Dec. 10 tilt against the Vancouver Canucks, Griffith exhibited the offensive instincts that he's possessed his entire life.
And if he continues to get top-six reps, he could break out in a big way.
"It's just one game, but they played really well," head coach Tom Rowe said in a release. "Obviously, when you get a chance to play with (Aleksander) Barkov and (Jaromir) Jagr, you hope a guy takes advantage of it.
"Seth took full advantage of it."
Tools to Succeed
He may be small, but Griffith's game packs a wallop.
A former fifth-round selection of the Boston Bruins, Griffith has proven to be an offensive threat at every level he's played. Excluding his NHL career, the sturdily-built 191-pounder has registered 1.15 points per game: This includes his near point-per-game production at the AHL level, where he finished second in league scoring and earned a first-team All-Star berth during the 2015-16 campaign.
Great play by Seth Griffith to set up Aleksander Barkov's 6th goal of the season: pic.twitter.com/tPox4tUdtR

— Cats On The Prowl (@Cats0ntheprowl) December 11, 2016
Described by Hockey's Future as "a small, skilled forward with excellent hockey sense and solid offensive skills," Griffith also boasts an impressive work rate, one that enables him to "win pucks from much bigger defensemen."
He also has a knack for quickly adapting to tougher competition. A glance at Elite Prospects' stat sheet reveals as much — after posting three points through 17 games as a 16-year-old with the OHL's London Knights, the native  of Wallaceburg, Ontario, broke out for 62 points during the 2010-11 major junior season. Griffith similarly exploded after making the jump from amateur hockey to the pros, notching 50 points in 69 games as a rookie with the Providence Bruins.
The talent is there. But to this point in his career, it hasn't been properly utilized.
Deployment Issues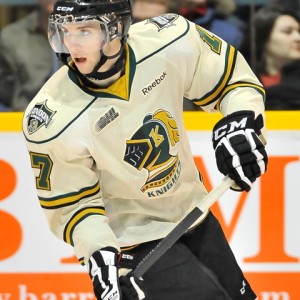 Despite his tenacity, Griffith isn't suited for a bottom-six role.
"I've been a top-six forward my whole life," he told the Miami Herald's George Richards.
Neither his size nor his skillset fits the billing of a traditional checking-line forward, yet his NHL coaches have iced him as one.
Hockey Reference's possession metric chart highlights this discrepancy. Prior to his tenure with the Panthers, Griffith started the majority of his shifts — roughly 53.4 percent of them — in the defensive zone.
Additionally, Corsica Hockey's measure of Griffith's 2014-16 seasons indicates that Griffith's unfavorable deployment may also have been compounded by the play of his linemates. While his teammates' adjusted Corsi Quality hovered at an above-average 51.9 percent, Griffith pulled negatives in both relative goals for per 60 minutes (-0.32) and relative scoring chances for per 60 minutes (-1.11).
In essence, Griffith had been used wrong throughout his 47-game NHL career.
His initial showing as a top-six forward for the Cats, however, is encouraging. Should he reach his potential, the journeyman skater could call Sunrise home for years to come.