Seven Things about Tim Thomas
By Jason Kurylo
Tim Thomas will almost certainly be named the 2010-2011 best goaltender at the NHL awards on Wednesday night, completing the goalie's single season triple crown: the Stanley Cup, the Conn Smythe as playoff MVP, and the Vezina trophy. Not too shabby for a guy from Flint, Michigan who wasn't deemed good enough for an NHL roster for the first eight years of his professional career. Here are Seven Things about the man named Tim Thomas.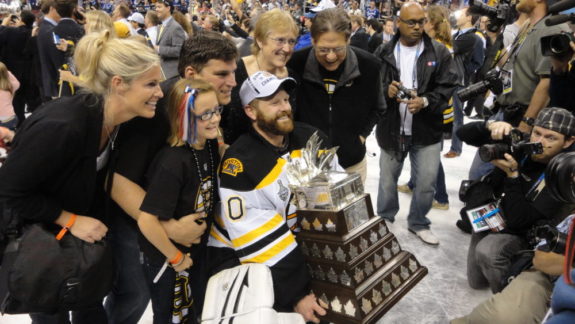 In 2011, Tim Thomas led the Boston Bruins to the franchise's sixth Stanley Cup championship, and their first since 1972. After Bobby Orr, who was named MVP in both 1970 and 1972, Thomas is just the second Bruin to have his name etched on the Conn Smythe trophy since it was established for playoff MVP in 1965. After Brian Leetch (1994 New York Rangers), he is the second American-born player on the Conn Smythe as well.
The Bruins were 12-4 when outshot by the opposition. That's right, fully three-quarters of the Bruin wins in this Cup run came when Tim Thomas saw more rubber than the other goalie. In fact, Thomas saw more rubber in the 2010-11 playoffs than any other goalie in NHL history. He made 798 saves in 25 games, 38 more saves than the previous record holder, Vancouver Canuck goalie Kirk McLean, made in 1994 against the aforementioned New York Rangers.
He is the only goaltender in history to win three games seven in the same playoff year, beating each of the Montreal Canadiens, Tampa Bay Lightning and Vancouver Canucks four games to three. His stats in the playoffs were gaudy: tied with Roberto Luongo for most shutouts with four – each had two in the final series. Thomas was number one in goals against average, at 1.98. That's him at number one with a .940 save percentage, too.
His post-season accolades follow the best statistical regular season posted by a goaltender in decades. In 57 games played, he posted a 1.998 GAA, which is a remarkable performance over a season for a number one goaltender – and between Thomas in 2008-09 and Tukka Rask in 2009-10, the third consecutive season the Bruins have led the league in this category. His nine shutouts was second only to Henrik Lundqvist of the New York Rangers. As a team, the Bruins finished behind only the Vancouver Canucks in goals against – they were incredibly stingy as a team, allowing just 189 goals on the season. It's Thomas's .938 save percentage, however, that rewrites the history books: it's is the best SV% since the stat started to be kept in 1983-84, supplanting the mark set 12 years before by Dominik Hasek. Thomas was an absolute beast all season; he kicked off the season with a 7-0 record, allowing just five goals in that span. Just another record for the man they call 'Tank': it was the best start for a Bruin goaltender since Cecil 'Tiny' Thompson in 1937. Pretty much everyone agrees – as good as Luongo and Rinne were this season, the Vezina trophy announcement on June 22 is a mere formality.
NHL history is littered with great goalies, but few have taken the roundabout route that Thomas did. He didn't come by his NHL career easily. He was drafted early enough, by the Quebec Nordiques in 1994 – Thomas wasn't signed, however, and did not see action in the Nordiques organization. Instead, he saw four years of action with the University of Vermont Catamounts, where he played with Tampa Bay Lightning superstar Martin St Louis. He played for three teams in the Finnish SM-liiga (HIFK and Jokerit in Helsinki, and Kärpät in Oulu), one in the Swedish Elite League (Solna AIK), one in the East Coast Hockey League (Birmingham Bulls), two in the International Hockey League (Houston Aeros and Detroit Vipers), and two in the American Hockey League (Hamilton Bulldogs and Providence Bruins). In his first professional season, he won the 1998 Kanada-malja, the Finnish championship trophy, ending a 15-year drought for his club HIFK. His NHL rights were first owned by the Nordiques, then by the Edmonton Oilers, and eventually by the Boston Bruins. His first National Hockey League start – a win, of course, with the Bruins – came in 2002, at the age of 28, against those same Oilers. It wasn't until 2005, however, when the 31-year-old Thomas saw regular NHL action.
Thomas grew up in Davison, MI, a suburb of Flint. Hunting, fishing, and other outdoor activities are common in that area, so it's not surprising that Thomas is an accomplished gamesman. He talks of being chased up a tree by an angry black bear during a hunting expedition in northern Manitoba – a bow and arrow his main line of defense, with a backup hunting knife clutched in his teeth. Perhaps experiences like this one explain how Thomas seems so unflappable when it comes to the game of hockey. No matter how much stress the media and fans want to place upon him, Thomas knows it's just a game. A high-pace, high-stakes game, maybe, but a game nonetheless. Climbing a spruce tree to escape a 300-pound wild animal? Now that's a stressful situation. He considers himself lucky to have escaped, and proudly displays in his home a black bear rug from another hunting trip. Don't worry, Bostonians, the word 'bruin' refers to a brown bear, not a black bear.
When Thomas was young, such was his passion for the game that his parents hocked their wedding rings to pay for some hockey team fees and a goalie camp. Thomas wasn't even aware they'd done it – he had assumed his father had lost his ring on a fishing trip – until their 25th wedding anniversary, when his dad presented his mother with a replacement ring and shared the tale.  Now Thomas the younger can add another ring – a Stanley Cup ring – to his parents' story.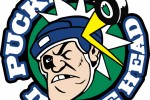 Jason Kurylo is the creator and co-host of Pucked in the Head, a hockey podcast with listeners on four continents. He also writes Seven Things, a blog that balances knowledgeable hockey analysis with an admittedly bent sense of humour. When he is not memorizing useless hockey trivia, Jason can be found making googly eyes at his wife Nadia and young daughter Milla. He is almost certainly eating a chewy chocolate treat at the very moment that you read this.
Jason [at] puckedinthehead.com
Did you like this article? Try Jason's other articles on The Hockey Writers site: