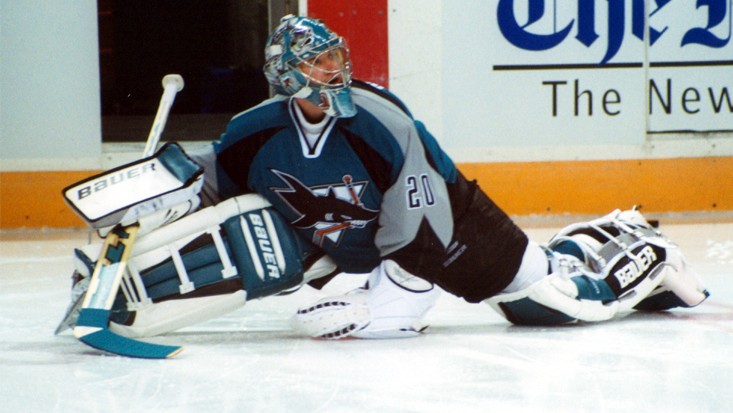 Learning from History
The last time the San Jose Sharks missed the postseason was in 2003 when the team finished 14th in the Western Conference with 73 points. This was a monumental drop from the 99 points the club acquired the previous year.

In just twelve months, the Sharks went from being at the top of the Pacific Division to being ranked 25th in the entire League.
They became a middle-of-the-road squad in goals for, and ended as one of the worst teams in goals against. Evgeni Nabokov especially had issues, as he registered a terrible .906 SV% that year while letting in 146 goals in 55 games.
San Jose struggled throughout the season in almost every department and was destined to miss the playoffs.
Does this sound familiar yet?
Changing Fate
The Silicon Valley franchise knew it needed change if they wanted to be a competitive team the next season. During the 2002-2003 campaign and the following offseason, the Sharks parted ways with a substantial number of players:
Teemu Selanne (Free Agency)
Owen Nolan (Traded for Alyn McCauley)
Adam Graves (Retirement)
Bryan Marchment (Free Agency)
Niklas Sundstrom (Traded for Jeff Hackett, who was traded for Kyle McLaren)
Matt Bradley (Traded for Wayne Primeau)
Jeff Jillson (Traded for McLaren)
Marcus Ragnarrson (Traded for Dan McGillis, who was traded for a pick)
Shawn Heins (Traded for a pick)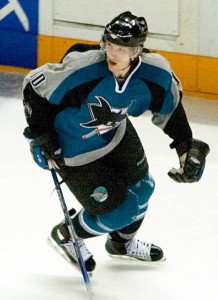 After losing so many men of different ages and abilities, the team brought in Christian Ehrhoff, Alexander Korolyuk, Tom Preissing, Nils Ekman, and Scott Parker. Each of these players brought their own element to the game, whether it be defensive prowess, scoring ability, or physicality.
Ehrhoff and Preissing were both NHL rookies. Niko Dimitrakos, who played 21 games the previous year, also earned a larger role with the club.
The Resulting Miracle
San Jose dominated the season after their long summer; the team finished first in their division with 104 points in 2004.
Depth and defense played a significant part in the Sharks' success that year. By the end of the campaign, 14 skaters had finished with 20 or more points, up from the ten they had the previous season. They also allowed 56 fewer goals against throughout the 82 games while keeping up their typical scoring pace. That was a 23.5% decrease from their last season.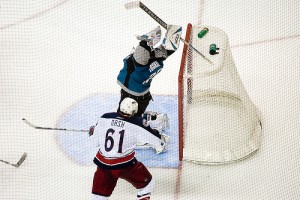 Goaltending was also astounding despite keeping the same personnel between the pipes. Nabokov and backup goaltender Vesa Toskala both had a save percentage higher than .920, and allowed a mere 180 pucks behind them. With that kind of performance in the crease, it's hard not to succeed.
Team Teal rode their hot year deep into the postseason, making it all the way to Game 6 of the Conference Finals. Nabokov posted a .935 SV% and every player who performed in at least three games scored at least a point.
San Jose earned 10 wins in the 2004 playoffs. To this day, it is still the deepest the club has ever made it into the tournament. It also started a decade long playoff streak that would see the Sharks compete in the Conference Finals two more times.
Repeating the Past
San Jose is in a shockingly similar position in 2015 as they were in 2003. They have a top-heavy lineup, are average in goals for but poor in goals against, and only had 12 players with 20 or more points. In fact, they had just 15 skaters with more than 10 points last season.
The only notable difference is the goaltending situation. Antti Niemi posted a respectable .914 SV%, much better than Nabokov's .906 SV% from 2003. However, it appears Niemi is on his way out of San Jose. Negotiations about a new contract between the two parties have been quite slow, and it would be a surprise if an agreement was reached. Nabokov, on the other hand, stayed with the team for many years after missing the playoffs.
According to newly-hired head coach, Peter DeBoer, the Sharks are in a "win now" mode. This means that they are striving for another bounce back year like 2004.
"The expectation is to win right now"

– Peter DeBoer#SJSharks

— Brodie Brazil (@BrodieNBCS) May 28, 2015
The club is already poised to repeat one part of the 2003 offseason. With names like Barclay Goodrow, Chris Tierney, Melker Karlsson, and Mirco Mueller set to take permanent roster spots, more responsibility will be placed on the Sharks' younger talent.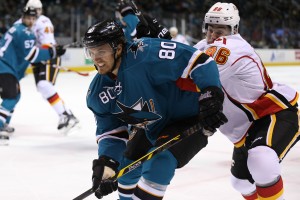 There are still areas that need improvement that will require San Jose to go outside of the organization. Defense is a significant issue for the Sharks, and Mueller and young-gun Matt Tennyson are not enough to save it. They will need to either sign or trade for a top-four blueliner if they want to improve their goals against numbers.
Like 2003, this may force them to deal some well-known players in the offseason to fill this defensive hole. It may mean Patrick Marleau; it may mean somebody younger. The team moved Nolan to Toronto for McCauley at the 2003 trade deadline, and San Jose ended up winning that transaction by a significant margin. Perhaps a scenario like this will happen again.
There is nothing Sharks fans want more than to see their team be a Cup contender again. If they make the right decisions, there is no reason why they couldn't have another deep playoff run in 2016.
Drew Weber is a columnist for the San Jose Sharks at The Hockey Writers. He previously wrote articles and appeared on podcasts for Teal Town USA (formerly Pucknology) and contributed briefly to Fear the Fin. You can follow him on Twitter at @puck_over_glass.