The sun rises in the morning.  Birds nest in the spring.  The San Jose Sharks' playoff appearances are about as regular as Wilford Brimley after a heaping bowl of Grape Nuts.  Speaking of which, here he is now:
Until last season, the playoff struggles of the supremely talented Sharks were as self-evident as the fragility of Charlie Sheen's grip on reality.
Only the Detroit Red Wings earned more regular season points than San Jose over past seven years, and yet the Sharks were repeatedly bounced early and often, losing in the second round three consecutive seasons and in the first round in 2008-09.  This doesn't even count the seven previous first or second playoff exits between 1993-94 and 2001-02.  After the first-round loss to the Ducks to end their 2008-09 campaign, Sharks General Manager Doug Wilson summed up the heave-ho with perhaps the understatement of the year:  "The frustrating thing is that we don't feel we played up to our capabilities," to which San Jose fans must have heaved a collective sigh and muttered in unison:  "no kidding!"
The reasons for the playoff whiffs have been analyzed, dissected and deciphered more thoroughly than Robert Langdon's dour puzzle-cracking in The Da Vinci Code.  Patrick Marleau's inexplicable postseason drop-off.  Devin Setoguchi's near-disappearing act in 2008-09 (one goal).  The graveyard spiral that represented Jonathan Cheechoo's career after winning the Art Ross Trophy in 2005-06.  Evgeni Nobokov, Milan Michalek, Ron Wilson, Doug Wilson, Dennis the Menace's crusty neighbor Mr. Wilson – you name it, and it was theorized as a possible reason for the team's chronic playoff failures.  The stinging epithet "chokers" was tossed about from the Silicon Valley to Saskatchewan to describe the Sharks during that era, and their leadership – on ice, and in the front office – was publicly called into question.
All of that changed in 2009-10.
After losing two of their first three games against the Colorado Avalanche in round one (evoking cries of "here we go again" throughout the land), the Sharks rallied to win the series in six games.  Buoyed by taking the final three games to close out the series, they then proceeded to stun the Detroit Red Wings in round two, crushing the Empire four games to one.  Although they were subsequently swept by the eventual champion Blackhawks in the conference finals, San Jose had advanced past the second round for only the second time in franchise history, and were left hankering for more.
Two of the biggest reasons the playoff demons were exorcised are anything but average Joes:  Joe Thornton and Joe Pavelski.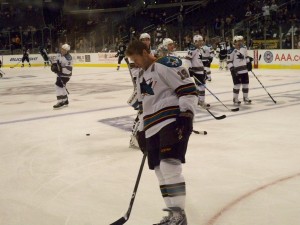 Joe Thornton was perhaps the largest set of shoulders on which blame was placed for previous playoff failures.  At 6'4″ and 235 pounds, he has the ability to take over and dominate down low like few can in the NHL.  Yet despite his regular season successes, the Boston Bruins were only able to get past the first round once during his eight years there, and then proceeded to see the Sharks ousted in either the first or second rounds during his first four years with the club.  With that dubious playoff resume, this game-winning/series clinching goal against Detroit in last season's conference semifinals must have been particularly sweet for Big Joe: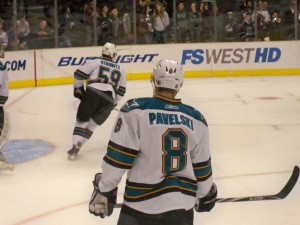 Joe Pavelski had his own share of struggles during previous playoff failures.  A 5'11", 195 pound table-setting center himself, he recorded just one point in the Edmonton series, and two years later, one point in the quarterfinal loss to Dallas.  Alluding to these issues, Pavelski said, "If it doesn't sink in by now, it's never going to sink in.  It's something that comes from inside and every guy on the team has got to have it."
Well, Joe and Joe, as the Roman historian Titus Livius (59 BC – 17 AD) is purported to have coined:  better late than never.
Thornton notched a career-tying high three goals in last year's playoffs, along with nine assists, coming much closer to his regular-season norms (we won't discuss plus/minus, it's an overrated stat anyway).  Pavelski scored a team-high nine goals and seventeen total points, emerging as the Sharks' true playoff hero.  Coupled with a resurgent Patrick Marleau, complimentary play by the lower lines, the defense and respectable goaltending by Evgeni Nabokov, San Jose finally approached the caliber of play long expected them.  Livius must no longer be spinning in his urn.
This season, the Sharks appear poised to build further upon last year's playoff success.  They lead the tight Pacific Division and are already in playoff mode, with each point being crucial.  At 11-2-2 over their last fifteen games, they are showing a closer's mentality, which will be huge come playoff time.  Both Thornton and Pavelski are having solid seasons and, as with the team itself, are closing strong.  Naturally, there will be doubters this offseason, but the Sharks may finally be developing the mental toughness and force of will that teams like Detroit have had seemingly forever.
Start brewing, San Jose:  it's going to take a lot of Joe to get you to the promised land.