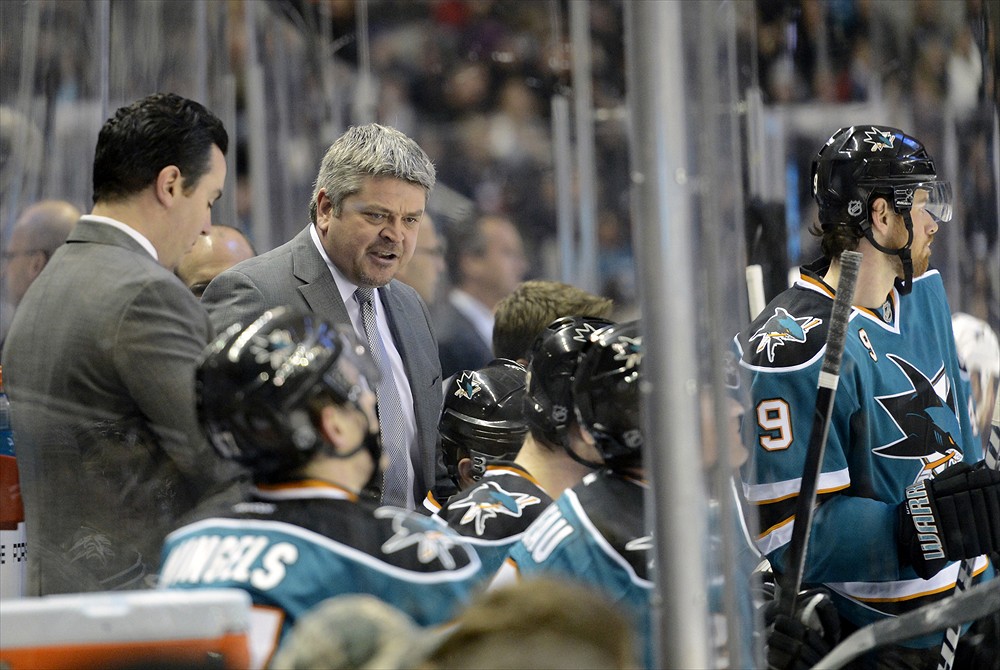 "This one sucks," Todd McLellan said following the Sharks 6-2 defeat at the hands of the Columbus Blue Jackets, a perennial bottom feeder in the Western conference.
He's right. It sucked, and you could probably use much more flagrant words to describe it.
On this night, the Sharks looked like they were the bottom feeders, simply out-played and dominated by the Jackets on all aspects of the game, including fights.
"Outworked. How about that? It's a pretty simple league, whoever works the hardest, wins," offered McLellan. "Outworked, out-executed, out-detailed, out-goaltended. Out-a lot of things."
What has gone wrong with the Sharks? How does a team that scorches the league with a 7-0 start suddenly fail to win in five straight games?
It all began with a fairly innocent-looking 2-1 shootout loss to the Predators at home on Feb. 2. It was the Sharks first loss of the season, but nobody expected them to go 48-0 and they even got a point out of it.
Two days later, they traveled down to Anaheim to play the Ducks. They carried a 1-0 lead into the third period, and had played a fairly strong game up to that point. But it would all unravel in the final frame. A quirky, unfortunate bounce off the boards handed Saku Koivu the game-tying goal, then a rocket from Sheldon Souray sealed it for the Ducks.
A date with Chicago was next, and this was a game the Sharks should have had. They came out of the gates quick with two unanswered goals, only to see the Blackhawks battle back and the first period finished in a 3-3 tie. Then, after a questionable match penalty on Andrew Desjardins, Chicago scored on the ensuing 4-on-4 to take the lead and hang on for the victory.
On Saturday, Phoenix came to town for a matinee that saw no goals during regulation or overtime, despite the Sharks pressing big-time late in the third period but were denied each time by Mike Smith. Smith came up huge in the shootout as well, as the Coyotes sent the crowd home disappointed with a 1-0 shootout victory.
So now we're back to today, where the Sharks looked as if they were half-asleep on the ice. Power play after power play went by without any results or momentum, and on one instance, they allowed a breakaway to the Jackets Brandon Dubinsky.
Backup goaltender Thomas Greiss looked like he was swatting flies all night, allowing two goals in eight seconds in the third period, the latter of which was a soft floater that my grandmother could have stopped.
Worst of all, do you know how painful and ear-splitting it is to have to listen to the Blue Jackets goal horn not once, not twice, but six times? I mean, what does scoring a goal have to do with firing a cannon?
Bottom line 
McLellan made another good point during his postgame press conference:
We had every opportunity to win those other games. We got good goaltending, our D moved the puck, our forwards were involved. None of that happened here tonight. Basically, [it was] the first time this season we've laid an egg as bad as we have.
The Sharks played phenomenal hockey during the first seven games as they took the league by storm. But there was just no way that they would be able to maintain their outstanding level of play for 48 games.
Even in a shortened season, every team will have its ups-and-downs, or as McLellan calls it, "ebbs and flows."
Did the Sharks play well enough to win some, if not most, of their games during their winless streak? Absolutely, but that's not the way the NHL works. I can guarantee you that some of the teams that the Sharks beat during the 7-0 start had a decent shot at winning, but the bounces and breaks went San Jose's way and all we focused on was the fact that they were undefeated.
Well now, we can't focus on that anymore. They are not undefeated. They are 7-3-2, have 16 points, and are fourth in the conference.
The season is long from over, but the Sharks need to pile up some wins and regain the swagger they had a couple weeks ago.