The San Jose Sharks missed the playoffs for the first time since 2003… yada yada yada…playoff collapse…blah blah…Doug Wilson… wa wa wa…John Scott. Myself, and most of the Sharks media, have started many of our articles discussing these things. But now that puck drop is upon us, we will soon be able to move on.
Let this be the last time we talk about 2014-15.
Repairing the Team
Last year's roster was a complete mess that surrounded incredible talent with outrageous mediocrity. The team had a decent top-six and one of the best shutdown defensemen in the league in their lineup, but everything beyond that was far below average. San Jose's depth chart went from the likes of Joe Pavelski and Marc-Edouard Vlasic, to names such as Adam Burish and Scott Hannan.
This year is much different though.
The Sharks have bolstered their roster with talent of different ages and styles. Youngsters will learn from the experienced men and the veterans will get to play with determined and motivated rookies.
This team's lineup was well thought out and is far deeper than the one from last season. The gaping holes that littered the roster just six months ago have been repaired by some incredible names, both young and old. San Jose looks like a contender once again.
The Forwards
According to Paul Gackle of The Gackle Report, the following lines were used in the Sharks' practice on Tuesday:
Joe Pavelski – Joe Thornton – Joonas Donskoi
Patrick Marleau – Logan Couture – Joel Ward
Tommy Wingels – Tomas Hertl – Matt Nieto
Mike Brown – *Chris Tierney/Ben Smith – Barclay Goodrow
*Tierney took rushes first, Smith took rushes second
Since Tierney took rushes first, I will assume that he is the go-to fourth-line center.
The first thing I notice about this lineup is how deep the team is in the middle. Thornton and Couture are both capable of playing as first-line centers, yet No. 39 is skating on the second line. Hertl has succeeded in the top-six before, but finds himself centering the third line. And Tierney, the man who excelled playing as a third-line center, has dropped to the fourth line.
Couture, Hertl and Tierney are all playing against lower competition than they can handle, meaning that they will feast on the opposition. These should not be seen as a demotion, but rather as a testament to how good the Sharks are at center. The middle is stacked.
Another notable trait about this projected roster is how balanced the talent is. San Jose is notorious for being a top-heavy team, leaving their bottom six a tire fire. But this year appears to be different.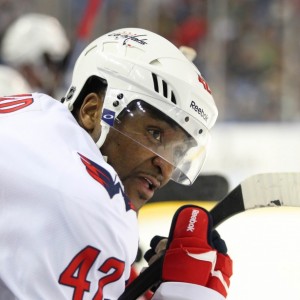 The acquisition of Ward and the emergence of Donskoi has dropped Nieto, and eventually Karlsson, into the bottom six. These two had bits of success in the top-six group, but will probably perform better against reduced competition on the third and fourth lines.
Best of all, the team has a promising group of youthful talent in Hertl, Donskoi, Tierney and Nieto. Throw in the developing Nikolay Goldobin, Rourke Chartier and Timo Meier and the Sharks' forward group is set to be deadly for many years.
San Jose finally has four solid lines that can play significant time. The days of rolling only two or three groups is over as the team finally has a roster filled with skill all the way down the depth chart. Even Brown impressed me with his play in the preseason.
Fans should be very excited for this year and beyond, because this forward group is something special.
The Defense
Again according to Gackle, the following defense pairings were run in practice on Tuesday:
Marc-Edouard Vlasic – Justin Braun
Paul Martin – Brent Burns
Brenden Dillon – *Matt Tennyson/Dylan DeMelo
*Tennyson took rushes first, DeMelo went second
Like Tierney, since Tennyson took rushes first, I will assume he is the sixth defenseman.
Team Teal did quite a bit of addition by subtraction on defense during the offseason. First of all, they elected to not re-sign the aging Scott Hannan, who proved he was near the end of his career. Hannan was great in his prime but is long passed his glory days. All he did was take up a roster spot that could have been given to someone younger.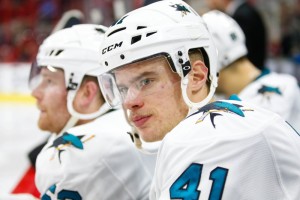 Mirco Mueller is also not on the roster, which is a good thing. Mueller was severely mishandled last season and only played 39 games, meaning he spent plenty of time in the press box. He failed to improve his game because he rarely got the opportunity to skate in the NHL.
Sharks' management made the right decision by not keeping Swiss native in the NHL and sending him to the AHL instead. Rather than receiving limited playing time, Mueller will play top-pair minutes with the San Jose Barracuda. This will hone his skill, boost his confidence and help him build chemistry with his developing partners, such as Julius Bergman.
Obtaining Martin was also an incredible move by general manager Doug Wilson. First of all, he is the ideal partner for Burns. Martin played with the offensively minded Kris Letang and the defensively incapable Brooks Orpik while with the Pittsburgh Penguin. This means that he is used to playing with offensive players and skaters with limited defensive abilities, both of which can be used to describe Burns.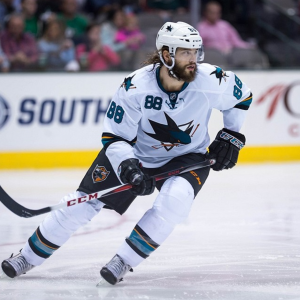 The wookie can now focus on getting points while Martin can be used to execute exit passes and cover for any mistakes that Burns may make during the season.
Martin also forces Dillon down to the third pair, where he will be more effective. Dillon struggled in the top four due to the high competition and the revolving door of sub par partners. Not only does being on the bottom pair reduce his workload, but it also pairs him with a right-handed skater that has spent plenty of time developing in the AHL. Both Tennyson and DeMelo are fully capable defensemen.
The Goalies
This should come as no surprise to anyone, but the goaltenders for this season are as follows:
Martin Jones
Alex Stalock
Many fans question Jones's abilities as a starting goaltender due to his incredibly small sample size. These uncertainties are totally justified as he has only played 34 games and struggled quite a bit last season as the backup goaltender for the Los Angeles Kings.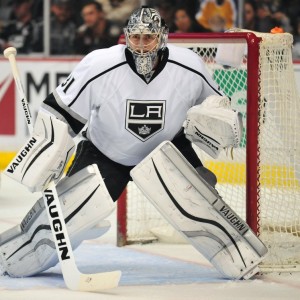 Jones, however, has a very high upside.
At only 25 years old, the former King has many years left in him, meaning that he could be the Sharks' goaltender for a long time if he performs well. This could lead him to become the next Evgeni Nabokov should things go his way.
He also has incredible numbers at the AHL level, earning a .921 save percentage on nearly 5,000 shots with the Manchester Monarchs.
Jones will not be the best goaltender in the league this season, but he should suffice for the team. San Jose has a solid defense group that should do a good job of suppressing shot attempts and high-percentage chances. So long as he can make the saves he needs to make, which he has proven he can do, the team will be in good shape.
No. 31 won't be Henrik Lundqvist, but he won't be Anders Lindback either. With Jones in net, the Sharks will have a chance to win every night. And for once in a long time, fans have a young, exciting goaltender they can rally behind.