Back Again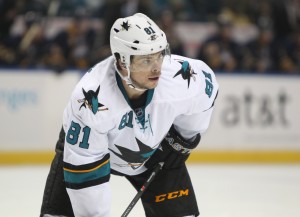 Despite some terrible luck this season with injuries, San Jose Sharks versatile winger Tyler Kennedy has been extremely effective when in the lineup. On Tuesday in Arizona Kennedy returned to the lineup for the first time since Dec. 6 in Calgary. The long time Pittsburgh Penguins forward skated a solid 11:15 on the fourth line (much more valuable than six minutes of Mike Brown or John Scott), finished a plus-1 with one shot on goal in San Jose's well played 3-2 win over the Coyotes.
Thus far on the season Kennedy has only played 14 games but has a solid five points and a plus-5 rating with two of his three goals ending up as game winners. In fact, for his career, a remarkable 21.6% of Kennedy's goals are game winners. Eighteen of his 83 goals have ended up as the deciding marker. For what it's worth, that is a higher percentage than Patrick Marleau, who is known for game winners. The life long Shark comes in at 19.1%. Of course this doesn't mean Kennedy is anywhere near the level of player as Marleau but it indicates that Kennedy has had a history of scoring big goals.
While Kennedy didn't get on the score-sheet against Arizona on Tuesday, in the first period it was his line that was playing the best two way game. That's right, a fourth line featuring Kennedy, Tomas Hertl (who looked good in his first game at his natural center position), and Tye, don't call me Jamie McGinn, was better than each of the top three lines. Hertl got the line a goal early in the second period as he re-directed a Brent Burns point shot but all three forwards contributed throughout the contest. Kennedy in particular looked like hadn't missed a beat. He was flying around in the offensive zone, shaking and baking and creating space for his linemates. Late in the third period he made a strong neutral zone back-check near the end of a shift to cause a turnover, preventing the Coyotes from getting anything going.
It may be a short sample size, but thus far this season Kennedy is third among Sharks forwards with an impressive 58.2 Corsi-for percentage and a 55.6% Fenwick-for percentage. Whenever he has been healthy this year, the Sharks seem to vastly out-possess the opponent. Not only that but Hertl, who overall has been in a sophomore slump on the top lines, has played his best hockey typically with guys like Kennedy and James Sheppard. In fact, those three were a line for a couple of games when Kennedy returned from his first injury earlier in the year. Despite dominating together, it was a short lived line as the coaching staff chose to juggle things around. Clearly though the puck protection of Hertl and the skating ability of Kennedy work well together down in the offensive zone. If Kennedy can keep playing solid hockey and avoid head coach Todd McLellan's dog house (not an easy thing for him to do), he will be a big boost to the Sharks' forward depth that has been a problem area for most of the past few years.