Tyler Kennedy is a highly skilled hockey player who works his butt off each and every shift. Is he perfect? No. Is he an All-Star? No, he's certainly not Sidney Crosby nor Joe Thornton. However, the generously listed 5'11" (doubt he's a shade over 5'10") Kennedy is a terrific bottom six player to have on your team.
But Coaches Hate Him?
For some excruciatingly annoying reason, neither Sharks head coach Todd McLellan nor former Pittsburgh Penguins head coach Dan Bylsma seem to understand the true value Kennedy brings to the table. Both coaches sat Kennedy as a healthy scratch during the playoffs despite the winger having a knack for clutch playoff goal scoring. [By the way, if you like this post you can subscribe to our free newsletter to receive others like it]
Sure enough, Kennedy will never challenge for a Selke trophy as the league's best defensive forward. The Ontario native makes a number of glaring turnovers when he isn't playing at his best. However, NHL coaches dead set on relying primarily on what their eyes "tell them" are completely missing Kennedy's value. And I'm not even going to use analytics in this piece.
2009 Stanley Cup Run
Bylsma should have known exactly what he had in Kennedy, as he coached him on the 2009 Stanley Cup winning Penguins. That season Kennedy finished with nine points in all 24 of Pittsburgh's playoff games. He was an incredibly useful winger for quite awhile next to Jordan Staal and at times, the aforementioned Crosby. Kennedy has scored double digit point totals every year of his career.
Despite tons of playoff success leading up to and during the 2013 playoffs, Bylsma scratched him in five of Pittsburgh's 14 playoff games. Why you ask? Perhaps because he was too small to play against the big bad Bruins who swept the the Penguins right out of the playoffs. Kennedy's scoring might have helped as he had two goals and five points with a plus-6 rating in the nine games he did play. Kennedy only played in two of the four games versus Boston. He had an even rating and three shots on net in 12 minutes of ice time in Game 1 but didn't play again until Game 4.
Kennedy Over Brown Is a Slam Dunk
Now clearly last season Kennedy struggled, he had the worst season of his career. Just 17 points in 67 games and a minus-10 rating in his first year out west. But 17 points and a minus-10 is a whole heck of a lot better than minus-10 and just five points in 48 games. That was Mike Brown's stat line last year, and the fourth line fighter played in six of seven playoff games vs "the big bad Kings" while Kennedy sat the entire series in the press box.
There is no doubt that Brown got under the Kings' skin early on in that series, but during the Kings comeback the Sharks couldn't buy a goal. They only needed one bounce here or there and they win that series. Contrary to popular belief, Games 6 and 7 were actually close battles for the vast majority of the contests. Who would have been more likely to score that one big goal the Sharks needed? Brown and his one career playoff goal in 19 games or Kennedy and his 12 career playoff goals in 76 games? You tell me.
.42 vs .09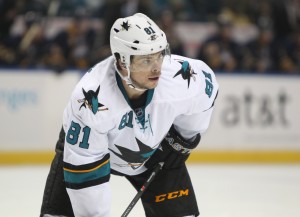 For his career, Kennedy is a .42 points per game player, while Brown is a . 09 points per game player. Brown never plays above a fourth line role, Kennedy often plays with better players on higher lines because he has actual puck skills. It is no accident that he is nearly a half a point per game player over his NHL career. It is one thing if Brown were this defensive whiz but he is nowhere even close to that. Plus it is nearly impossible in the age of possession stats for forwards to not do anything offensively and come out on the plus-side during a hockey season. Maybe they can come close to an even rating, but you never see forwards finish an 82 game season plus-10 with only five points. You just don't see that. Right now there are 27 forwards in the NHL with just three points on the season. In other words, they aren't scoring a whole lot. The highest plus/minus rating is a plus-3, from three of those players. Twenty of the 27 are in the minus. We are about a quarter to a third of the way through the NHL season. These players on pace between just nine and 12 points each are collectively minus-101. The point is if you are not chipping in offensively, you are going to have a difficult time being a positive player at even strength.
Brown brings the Sharks essentially no offense. He has not once even scored double digit points in a season whereas Kennedy on the other hand has scored double digit goals in five of six full seasons. At his worst last year, Kennedy was equally as bad as Brown overall looking at plus/minus but he out-scored him three times over. When Kennedy makes a bad play he has the skill to make up for it at the other end, Brown doesn't.
Two Goal Games
Against those aforementioned big bad Bruins on Thursday, Kennedy scored two goals to give him five points on the season in 12 games. That is just as many points as Brown had last year in a fourth of the amount of games. His first goal was pure luck off his skate but his second came on a brilliant deflection, moments after setting up James Sheppard with a pretty pass. Kennedy redirected a Matt Irwin point shot, for his third goal of the season. That hand-eye coordination redirecting shots is something Kennedy practices on a regular basis whether during practice or morning skates. It was Kennedy's seventh two goal game of his career. Brown has zero.
No forward that plays frequently in the bottom six is going to be anywhere close to mistake free hockey on a regular basis. There is a reason stars are stars and depth guys are depth guys. However, the notion that the Sharks needed to match Los Angeles' size and physical play with Brown in the lineup is a straight dinosaur philosophy. In today's game you need fourth line players capable of contributing offensive shifts on a regular basis. When on his game, Kennedy can do just that, and more often than not he is on his game. He is a career plus-24, while Brown is a career minus-31. When you combine the clearly visible offensive skills with the puck, and his career rating, it is clear that Kennedy is a quality hockey player that can outplays his competition on a regular basis. He should never be a healthy scratch in favor of an ECHL level player.
Andrew has been credentialed to cover the Sharks since 2010 and the 49ers since 2012. He graduated with his BA in Broadcast Electronic Communication Arts in 2013 from San Francisco State University.