Maybe this is the time for some dramatic changes.
Winless at home in exactly one month and and shut-out at home for the last 172;33, the Arizona Coyotes are in desperate straights.  So desperate that captain Shane Doan called a team meeting after the Coyotes were shut-out by the defending Stanley Cup champions Los Angeles Kings, 4-0 Thursday night before 12,254 at home. When the locker room was finally opened to reporters, a somber hush enveloped the room and Doan stepped forward to explain a major issue is "belief in ourselves."
Sophistry was reserved for the Greeks but the Coyotes' situation boarders beyond desperate.
This is a team which does not fore-check, does not create opportunities in the offensive end and the minds of important players appear to be elsewhere.
"Until our best players play that way, we'll continue to struggle," said goalie Mike Smith, who allowed three goals against the Kings and was pulled at 15:41 of the second period. "It's about what you can do to be better. For me, I have to make more saves. When you're paid as a top player on your team, you have to play that way."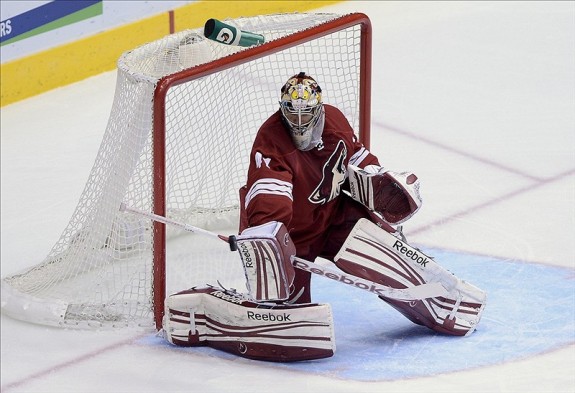 After the Coyotes were shut out at home Nov. 29, it was reported by hockey guru Bob McKenzie that Coyotes' general manager Don Maloney addressed the team and pointed fingers. Directly, Maloney went after players who have limited no-trade clauses. Then, McKenzie reported, Maloney contacted agents of several of these players and found out that Keith Yandle, Antoine Vermette, Mikkel Boedker and Martin Hanzal generated interested.
Asked after the Kings game if this was the time to bring in players who would execute his system, coach Dave Tippett responded to the question, "who do you have in mind?"
"I'm not (Don) Maloney," replied the reporter.
"Then, you should go ask (Maloney)," Tippett responded.
From their perspective, players do not believe changes are needed or required.
"This is a great group and there's no need to point fingers," Smith added. "No one wants to see changes and again, this starts with the best players stepping forward."
For his part, Doan indicated it's up to each player to seek deep, introspection. The mounting dilemma can be solved, he pointed out, but it's up to each individual to reply in a positive manner.
"We can't give up, period," he said. "We have to find a way to get better. We walk about belief. We know people are pointing fingers from the outside but, here on the inside, we know we're a good enough team to win. It's up to the group and up to the individual."
For the record, the Coyotes have not won a home game since Nov. 4 when they defeated Toronto 3-2. Since, they've dropped six straight on home ice and began their current five-game home stand with a loss to the Kings. Things do not get easier with the Boston Bruins skating into desert on Saturday and followed by the surprising Nashville Predators.
"For us right now, it's a matter of bearing down," said forward Joe Vitale. "We need to get more traffic in front of the net and generate more opportunities. We need to find a way to get that done."
Since Tobias Reider scored against Colorado at home at 10:53 of the first period Nov. 25, the Coyotes have not ignited the red light in the Gila River Arena.
some history
When  Rieder scored two short-handed goals within 58 seconds Dec. 1 at Edmonton, he became the second player in Winnipeg/Phoenix/Arizona history to record two short-handed games in the same game.
As a rookie, Rieder, a 21-year-old native of Landshut, Germany was the first rookie to score two short-handed in the game since Ryan O'Reilly of the Avs did this on Feb. 2, 2010 against Columbus. The tallies 58 seconds apart, according to the Elias Sports Bureau, was the fastest two short-handed goals by a rookie in NHL history.
Against the Kings Thursday night, Reider had the best opportunity of any Arizona player to score with B. J. Crombeen in the penalty box for hooking. His wrist shot was kicked out by Martin Jones, the L. A. net minder and for the game, Reider topped the Coyotes with five shots on goal.