News keeps getting worse for the Winnipeg Jets' defensive core. The blue line is suddenly decimated with injuries to three key pieces, Tobias Enstrom, Zach Bogosian and Grant Clitsome.  The Jets have taken seven of a possible eight points in their past four games, sit fourth in the Central Division and are holding on to a wild card spot.
Extending their point streak may be tough and coming out of December with a winning record won't be easy either, considering the extent of the injuries.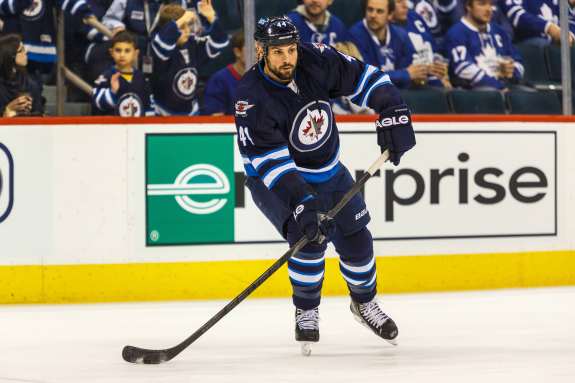 Zach Bogosian
Injury: Lower body
Out for: 4-6 weeks
Bogosian was hit by a shot in the Jets' overtime win over the Edmonton Oilers Wednesday. He managed to finish the game but will be out for the rest of December. It's unfortunate news for Bogosian, but it's nothing he isn't used to. He's missed plenty of time due to injuries the past few seasons. And, while he has yet to score this season, he does have eight assists to go along with 54 hits and 33 blocked shots in 25 games.
 Tobias Enstrom
Injury: Lower body
Out for: At least until January
Enstrom was injured in a loss to the Detroit Red Wings on November 20. He's practiced recently with the team including this past Tuesday, however, he has been placed on injured reserve retroactive to November 23. The Swedish blueliner has one goal and eight assists for nine points in 22 games this season.
 Grant Clitsome
Injury: Undisclosed
Out for: 2 weeks
Clitsome missed Tuesday's practiced and Paul Maurice announced he will miss a minimum two weeks. The details of his injury are not known at this time. Clitsome didn't have a great training camp, but has been good defensively this season. He has one assist, 28 hits and 10 blocked shots in 16 games this season.
 The Replacements
The switch has been made. Dustin Byfuglien is going back to the blue line, his preferred position. Joining him are Ben Chiarot and Julien Brouillette from the St. John's IceCaps. At 6'3″, 215 pounds Chiarot offers a physical presence and is capable of contributing some offence as well. He has four goals and five assists for nine points in 24 games this season. Brouillette has two goals and two assists in 11 games this season and recorded two points in 10 games with the Washington Capitals last season.
"Our goaltender was really good. Jacob Trouba was really good. Really pleased with Ben Chiarot." -Maurice

— Winnipeg Jets (@NHLJets) December 4, 2014
Hmm. Byfuglien in a red jersey. Next to Chiarot, who is a defenceman, also in a red jersey. #ThePlotThickens pic.twitter.com/5UybjOFzpY

— Winnipeg Jets (@NHLJets) December 4, 2014
Byfuglien remained stone faced when asked about switching back to defence.
The Jets will have to play mistake-free hockey, take advantage of every offensive chance and get some superb goaltending from Ondrej Pavelec and Michael Hutchinson. January can't come soon enough.
Eric is a postgraduate public relations student at Humber College. Prior to that he obtained a bachelor's degree in communication studies from the University of Windsor. He covers the Winnipeg Jets for The Hockey Writers and is a featured columnist for Bleacher Report.