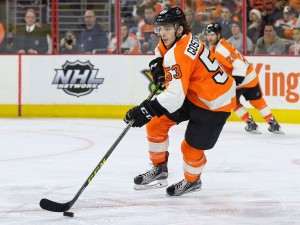 The heroics of dynamic rookie defenseman Shayne Gostisbehere knows no bounds. Since his recall to the big club on November 14th, the Flyers have been one of the better teams in all of the NHL.
At the time of Gostisbehere's recall the Flyers were a floundering 5-8-3 for the season. Since then, they have gone an unheralded 32-16-10.
Nobody saw the rookie having this big of an impact so early in his career. If not for the injury to Mark Streit, there's a strong chance no one would have, either.
Even Ron Hextall said himself at the time of the recall that Gostisbehere's promotion was out of necessity only and was here on a game-to-game basis.
Of course that was then and this is now. Since then the man they call "Ghost" has decided to take the NHL by storm. Ron Hextall has been preaching patience with his young talent since arriving on the scene as general manager in May 2014. However, with the way Gostisbehere has performed, there was no chance of him going back.
Hextall has made it an organizational mantra that the young prospects coming through the pipeline have to prove they belong in the NHL, and that no spots are going to be given to them out of pedigree or draft status.
Well, Gostisbehere is certainly no high valued draft pick. He's has had to prove his worth at every stage of his hockey career. Bypassed in his first year of draft eligibility, it wasn't until 2012 that the Flyers took a 3rd round (78th overall) flier on the dynamic Union College freshman defenseman.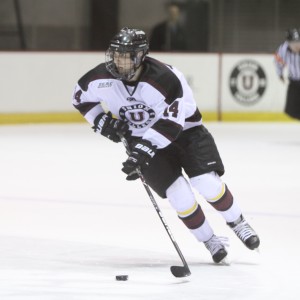 Overcoming the Odds
It's not very often to see an undersized defenseman from Florida, attending a low-profile college hockey program, who manages to find his way to into the Calder Trophy conversation as the NHL's top rookie of the 2015-2016 season.
A converted forward in his early teenage years, Gostisbehere was generously listed at 5-11, 180 pounds after his last season at Union College. Realistically, Gostisbehere was hovering around the 165-170 mark entering his first pro training camp in 2014.
There were hopes that Gostisbehere's dynamic ability on the back end would see him win a spot with the big club out of camp.
Yet, going back to Hextall's patience, he didn't deem his new "ferrari" as Ed Snider once referred to him, as NHL ready quite yet. So, Gostisbehere would get his professional feet wet in the AHL with the Lehigh Valley Phantoms.
After a brief two-game cup of coffee with the Flyers in late October of 2014 because of injuries, Gostisbehere would be sent back down to continue refining his game in the AHL.
This perhaps is where the most important part of Gostisbehere's transformation begins. After he's sent back down he tears his ACL in his knee, ending his first pro season with only 7 total games under his belt (five with Phantoms/two with Flyers).
With the ACL injury, Gostisbehere's rehab allowed him to put on weight and upper-body strength that he probably wouldn't have had the luxury of doing had he played out the entire season.
2015-2016 Training Camp
Now, fast forward to the 2015-2016 season. "Ghost" now fully recovered from the tear in his ACL, reportedly came into training camp hovering around the 185 lbs mark, giving him the extra strength needed to fend off the size of NHL forwards.
After a rather slow start to training camp overcoming the ACL, he progressively got better and better as camp went along. He flashed his agility and playmaking ability throughout preseason. All in all it wasn't enough for the man in charge, Ron Hextall, to deem himself ready to break camp with the big club.
However, his stay with the Phantoms wasn't a long one. After 14 games and 10 points (two goals, eight assists) Ron Hextall had no choice but to call up his prized prospect due to injury.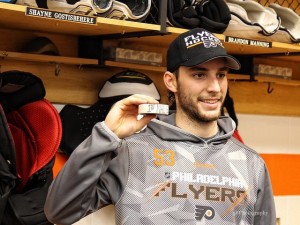 Thankfully for the Flyers and their season, Gostisbehere has been everything and more than what they had been expecting.
With the Flyers in the thick of the wildcard race in the Eastern Conference (currently 2nd spot), and Gostisbehere in the thick of the Calder Trophy Race, one can only imagine what would've been had Mark Streit never been injured in the first place.
Insane diving block from Shayne Gostisbehere with 30 seconds left in OT tonight pic.twitter.com/tTWwImZlqL

— Brady Trettenero (@BradyTrett) March 23, 2016
Breaking Down Shayne Gostisbehere's Incredible Game-Winning Play https://t.co/Z0LY8U5Nmd pic.twitter.com/CalvR6usSt

— Kyle Scott (@CrossingBroad) March 29, 2016
With plays like the two above, the future of Shayne Gostisbehere and the Philadelphia Flyers is only going to continue to get brighter.
Glen Stricker is a Temple University graduate with a degree in Media & Communication. He is the Lead Writer for the Philadelphia Flyers for The Hockey Writers as well as the social media coordinator and contributor for @PHLFlyersNation