The Oilers had the right idea when they named Andrew Ference team captain. He was a veteran, a Stanley Cup champion, and a character guy in the room. For such a young team with a core of budding stars all under the age of 25, it made sense to have a player with years of experience in the league to wear the "C" until one of the younger guys were ready. Unfortunately, Ference was given the captaincy before ever actually playing a game for the Oilers, and also, he isn't really a good player. He used to be very effective in his role, but his game essentially fell off a cliff not long after he signed in Edmonton.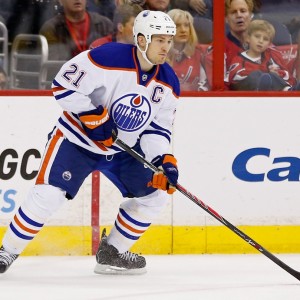 There are a lot of teams who choose the most highly skilled guy to be the captain, and others who go with the grizzled "good in the room" type. Again, the Oilers' heart was in the right place, Ference simply wasn't the right choice. They went into this season without a captain, electing to go with alternates. While the importance placed on the captaincy is sometimes seen as overrated, it still matters, especially to the guys on the ice. When thinking about who should be a captain on any given team, I always ask, who do I want to see accepting the Cup from Gary Bettman?
Currently, the Oilers have a few candidates to be the next team captain. Some say it should be Taylor Hall, or maybe even Jordan Eberle. Others say to wait for Connor McDavid to get a little bit older and then give the title to him. As of late, however, with the uncertainty of who will even still be an Oiler come next season, it just makes sense that McDavid is the captain in waiting. He is as good as advertised. He's a special player and a special talent.
The dynamic of leadership in hockey is a delicate one. Some captains will be very vocal, while others simply lead by example with their work ethic. Often times, the guys who speak up the most in the room don't have a letter on their chest. Each captain has his own personality, and lead their team in a different way. The most successful rooms have all the guys on the same page. Everyone knows who to look to, and there's a level of respect.
It's pretty much a known fact that McDavid is the best player on the Oilers. He may go down as a legend in Edmonton sports lore. Giving to "C" to another young guy only to take a way a couple of seasons later doesn't make much sense. The question is, how young is too young to anoint a captain? Both Sidney Crosby and Gabriel Landeskog were 19 years old when they were named captain. Jonathan Toews was 20. McDavid just turned 19 in January. Is it still too soon? Not according to Wayne Gretzky:
"In my point of view, I think he's mature enough that he can handle it at any age. I think that the best players in the game, the best athletes in their particular sport, are guys that want that pressure. They want that demand put on them. No question, he understands who he is and the focus and everything that is bestowed upon him." [Toronto Sun]
In my mind, McDavid should be given the "C" in the offseason, ready to start fresh in the new season with (hopefully), an improved roster. At the moment, the captaincy is the least of the Oilers worries. Let this season play out, see what draft pick the team gets and what personal changes they make and then give the best player the visible sign of leadership. He isn't just any rookie. There aren't any veterans in that room to stand up and take charge (unless they add someone), and who better to build you teams' structure around than a true generational talent. It just makes sense.
Marcy, a former hockey player, is a hockey correspondent on CTV News and TSN radio. She began her career as a Sports Journalist in 2009 and has been part of The Hockey Writers since 2010, where she is currently a senior writer and editor.