Over the course of May and June, we'll be taking a look at some of the names out there on the trade and free agent market. The idea will be to examine their potential with the Edmonton Oilers, how they might help, where it might cause concern and if each player is worth a closer look from the Oilers' organization.
Our first player in this series will be James van Riemsdyk.
Why Is van Riemsdyk Available?
James van Riemsdyk understands that his time as a Toronto Maple Leaf has likely come to an end. After the Leafs were eliminated in Game 7 in a first-round 2017-18 playoff matchup against the Bruins, Toronto's leading scorer now heads into the summer as an unrestricted free agent and will likely price himself out of the market for the Leafs who have younger and more core pieces to lock up long-term.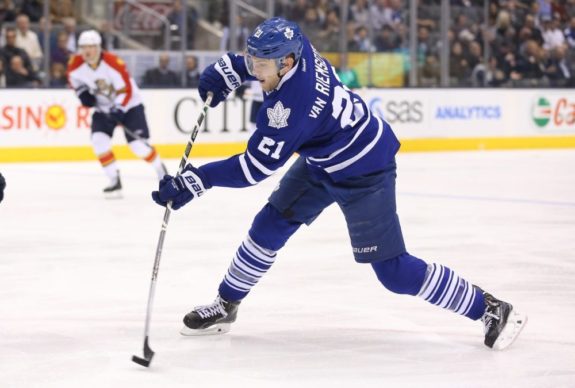 There will be no shortage of teams interested in van Riemsdyk's services but is he the kind of player who would fit in Edmonton? A scoring left-winger is high on the team's priority list so a player of van Riemsdyk's pedigree makes him an obvious option. He'll likely go to the highest bidder and that may rule him out for the Oilers but an opportunity to play alongside the league's leading scorer might be intriguing.
Related: Oilers' Forward Options for the Draft
What van Riemsdyk Offers
He's not going to come cheap but he answers every question on the wing the Oilers are asking. Unless Edmonton is searching for a top-two defender, van Riemsdyk would become the biggest signing of the summer — easily. That said, he's arguably worth the top dollar he's about to command.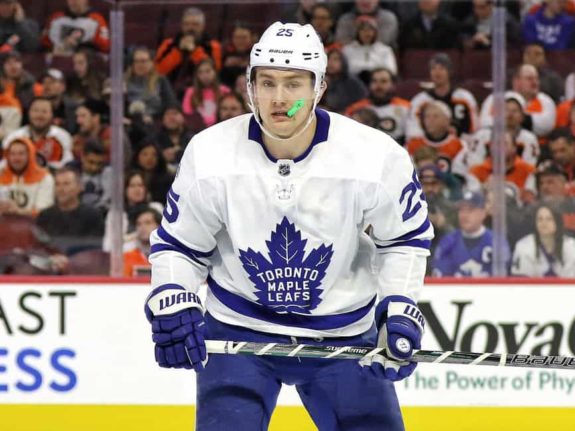 Some will argue that the Oilers can't afford a player who could make $5.5 – $7 million on the open market this offseason. It's true that for a team that has a lot tied up in a few big names, money doesn't grow on trees but I may argue this is exactly where the Oilers should be spending that tightly-held money.
Of course, I'll admit it would be nice if he wasn't near $7 million and instead near $5.5 million but the trick here is if you're going to spend this kind of paper, you spend it on someone who is consistent everywhere he goes. The Oilers can afford a left-winger who's making $7 million or less per season, as long as you know what you're going to get. If there's one thing you can say about van Riemsdyk is, he's a sure thing.
In nine NHL seasons, he's a three-time 20-goal scorer and two-time 30-goal man. In 2012-13 he scored 18 goals in 48 games and in 2015-16, 14 goals in 40 games. He'd have been a shoe-in for 20, maybe 30 in those seasons had he stayed healthy. He had 62 points in 2016-17 and 54 points in 2017-18. He's a proven playoff performer, this past season scoring three goals and one assist in seven games. He's got size and skill and he'd help a struggling power play with his 11 goals on the man-advantage last season.
The only thing he's not done is had a monster season of 70-90 points and perhaps never will. Alongside Connor McDavid, you open that door but there's no guarantee van Riemsdyk will walk through it. With van Riemsdyk, you're buying consistency and not a superstar.
Related: Defining Maple Leafs Early Playoff Exit
The Oilers Cap Situation
Bringing in van Riemsdyk would mean planting Milan Lucic on the second line. It's not ideal to have a $6 million left-winger on your second line but if that's where Lucic goes, then so-be-it. There are worse things that can happen.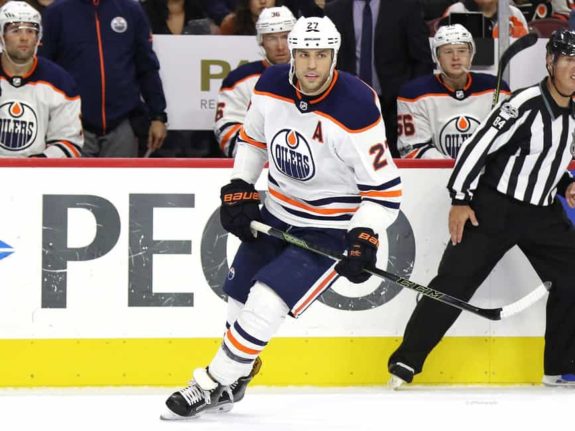 From there, the Oilers have two RFA left-wingers in Anton Slepyshev and Drake Caggiula and neither should cost the team more than $1 million to re-sign for one more season. That would mean a total of $14-$15 million on the left side with Jujhar Khaira making $675,000 next season and also able to play center. If Caggiula or Slepyshev falter, your top three can become van Riemsdyk, Lucic, Khaira and whomever you sign on the cheap for your fourth line.
The 2018-19 cap could go as high as $82 million. On the right side, the Oilers could run Ryan Nugent-Hopkins, Jesse Puljujarvi and Ty Rattie (assuming that's why they kept him). If the Oilers re-up Ryan Strome, it wouldn't cost much to do so and he could fluctuate between center and wing when needed. Rounded out by Pontus Aberg, that gives the Oilers around $42.5 million tied up in their forward corps if you count van Riemsdyk at $7 million per season.
Where this gets a bit sticky is in trying to project your blue line salaries. If the Oilers can re-sign Matthew Benning at $2 million for a year or two and Darnell Nurse at $4 million per year on a bridge deal, Edmonton has another $23-$24 million tied up in defenders. If we're being generous on some of the contracts and the team signs Nurse long-term for more, let's say $26 million. Add Cam Talbot and you only need a decent backup for under $2 million to stay around the $75 million baseline the NHL is projecting.
Where This Idea Falls Off the Rails
This plan doesn't work if you view the priority of the team this year as trying to find a top-two defender. If that's the plan for the Oilers, van Riemsdyk definitely does not allow the room to make both moves. So, in some ways, he becomes solving one problem while not being able to solve another.
In that respect, there are less expensive options out there. Those options might not be as consistent and maybe they get you 20-30 goals every year for the next half a dozen years, and maybe they don't.