If you listened closely enough, as Wayne Simmonds was crowned MVP of the All-Star Game on Sunday night you could hear tens of thousands of Philadelphia Flyers fans screaming an expletive-laden "We told you so." It wasn't Sidney Crosby, Alex Ovechkin or any of the other marquee names in the Metropolitan Division posing for pictures in a brand new pickup truck. It was Philly's hard-hitting, understated winger.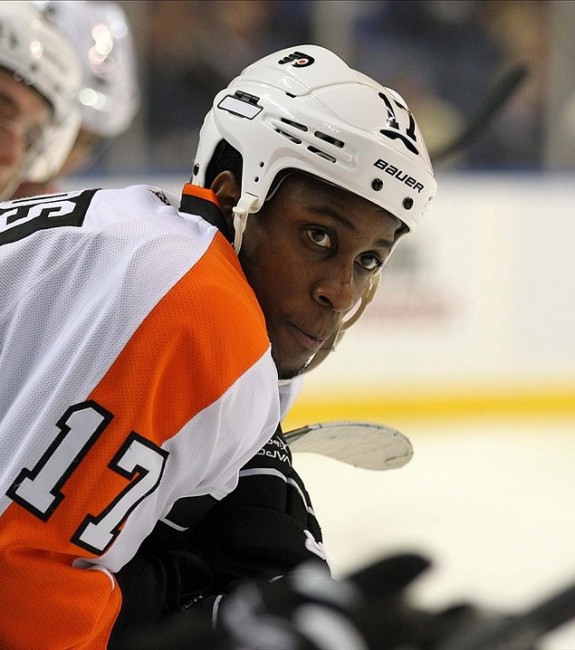 Oh, but don't try to tell the orange-and-black-clad faithful that this was a shocking turn of events. No, sir. Mr. Wayne Simmonds is practically a folk hero on Broad Street, and this is recognition his fans have been clamoring for.
While winning the MVP award in a 3-on-3 exhibition tournament might not be what 11-year-old kids dream of when they lace up their skates after school, still, basking in the national spotlight is a first for Simmonds. Moreover, despite that Flyers fans know his hard-working abilities, before long, he will fade again into the background behind some of the league's household names.
But maybe that shouldn't happen. Maybe there's a reason Simmonds shined so brightly on Sunday. Maybe he belongs in the same conversation as those names.
An Unassuming Leader
The NHL has a handful of players that will be remembered as legends of the game. Players like Sidney Crosby and Jonathan Toews have solidified their place in the annals of Lord Stanley's mythology as leaders. The league also boasts a few of the best pure scorers in the game's history; players like Patrick Kane and Alex Ovechkin. Throw in some highly-touted youngsters like Auston Matthews and Connor McDavid, and opportunities for a power forward like Simmonds to spend time in the limelight are few and far between.
[irp]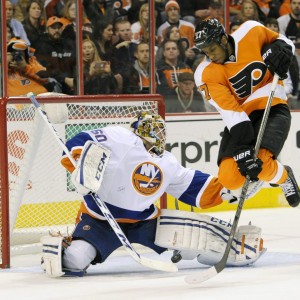 The point is, that to the average fan all of those players (and players like them), whether because of personality, talent, hype or a combination of the three, are more alluring than a player like Simmonds. But whether you live in South Philly or the Pacific Southwest, any true fan of the game has to appreciate a player like Simmonds.
Despite not being regarded as one of the league's most prolific scorers, Simmonds ranks in the top 15 in goals with 21 this season. He's scored only three fewer than Ovechkin and six more than Kane (although Kane has one of the league's top assist totals with 34). Twenty-one is also the same number Patrice Bergeron and Corey Perry have combined for this season.
More important than where he ranks among his NHL counterparts is where he ranks among his teammates, and he leads them all. None of his goals was more crucial than the three he tallied during the Flyers' three-game winning streak prior to the break. One of them got Philly on the board against the New York Islanders when they were down 2-0. The other two were the first of his team's goals as well, which is a statistic-based way of saying Simmonds set the tone for Philly in all three victories.
When he isn't lighting up the score sheet, he contributes by putting his body on the line. He's called the Wayne Train for a reason, and nobody in the NHL wants to be on the rails when Simmonds comes rolling down the track. His 93 hits are ranked fourth among Flyers players, and he trails only Brayden Schenn among forwards. He also throws himself in front of shots to protect his goalie and has amassed 32 blocks on the season. Simmonds' willingness to do these things (as well as fight for his teammates) is a testament to his leadership ability. It's one thing to get your team going offensively, but sacrificing your body is a selfless endeavor.
Simmonds Takes the Blame
Following a 4-1 loss to the Devils on Jan. 21, Simmonds faced the media in response to a second-period penalty that arguably caused the game to spiral out of control. He was given a two-minute minor for unsportsmanlike conduct for disagreeing with a penalty call on teammate Radko Gudas. The Devils scored on the ensuing power play, for a 2-1 lead that the Flyers would not recover from.
[irp]
When asked about the situation, Simmonds blamed himself. He didn't badmouth the official and he didn't make excuses. In front of microphones and a camera, with an increasingly restless fan base watching him, he put the blame on his shoulders.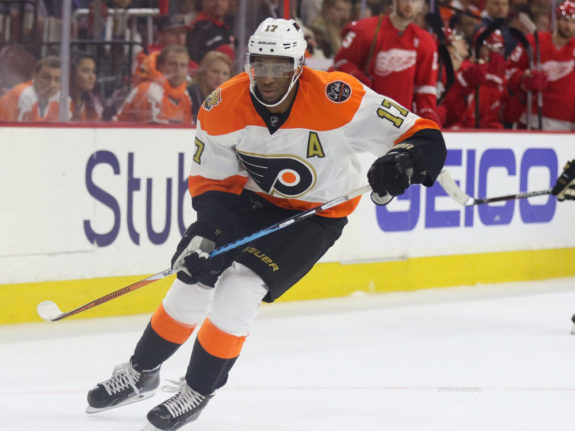 That is the kind of intangible personality trait of a leader that an athlete either has or he doesn't. It's one thing to have your teammate's back on the ice or when things are going well. It's a different story when under the scrutiny of a media session following a disappointing loss. It may seem like an insignificant moment, but if the Flyers put together a postseason run, you may be able to trace it back to this moment.
Simmonds earned his "fifteen minutes" on Sunday night by doing a lot more than scoring a few goals in the All-Star Game, and he doesn't deserve to have it end there. If he keeps producing offensively, brutalizing his opponents and exemplifying the characteristics of a true leader on and off the ice maybe it won't.