From time to time, it is fun to look at player and team statistics that are either unexpected or unusual. As we settle into the 2016 part the season, I felt it would be a good time to take a look at a few of these for the San Jose Sharks.
Power Play Goals
On the power play, the Sharks roll out goal scorers Joe Pavelski, Logan Couture, Patrick Marleau, Brent Burns and elite set-up guy Joe Thornton. Couture has missed most of the season, the other four have scored close to 40% of their points on the power play. Which is similar to last season. The oddity? Only one of those players has more goals than assists on the power play and its … Joe Thornton. The player who sits inside the top-20 in assists in NHL history has five power plays goals, one less than team leader Pavelski who has six. Thornton has only four power play assists, while goal scorers Marleau, Burns and Pavelski have eight, ten and twelve power play assists respectively.
Pluses and Minuses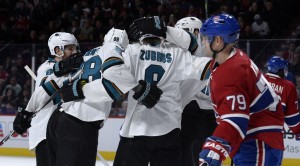 If one predicted who would lead the Sharks in plus-minus, most would have gone with the usual suspects. The forwards would be Pavelski (plus-7) and Thornton (plus-8), defensively it would be Marc-Edouard Vlasic (plus-3) followed by Justin Braun (plus-3). And so far, that is true to form. The third best forward and third best defenseman in that stat might, however, come as a surprise. Among forwards, it is the most recent Sharks acquisition, Dainius Zubrus, who sits at plus-4. Zubrus had a very productive five game stint (going plus-5) on the top line with Pavelski and Thornton before heading back down to a lower line role. On the back-end, sitting at plus-2 is Brenden Dillon, third best among defensemen. Dillon had major struggles last season and finished minus-11 in 60 games. This season, he has been paired with inexperienced players Matt Tennyson, Dylan DeMelo and Mirco Mueller – combined they had less than 82 games of NHL experience entering the season. Not an obvious recipe for improvement, and yet Dillon has been able to hold his own. Dillon might be the most improved Shark.
A Man Down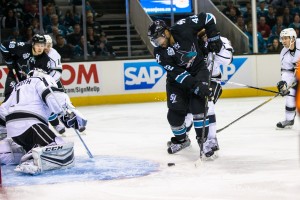 Dillon and Zubrus show up in another very important area, the penalty kill (PK). In terms of GA60 (goals against per 60 minutes of ice time) during a man-down situation, one can expect a number around six. That equates to allowing a goal every 10 minutes of short-handed ice time. While neither Zubrus or Dillon is typically the first guy on the ice in shorthanded situations, they have combined for 54 minutes of penalty killing ice time (4-on-5). No goals have been scored with either player on the ice while down a man. Dillon is actually a plus player on the penalty kill since the Sharks have scored a short-handed goal while he was on the ice. Dillon is one of just seven NHL players to be plus on the PK this season and he has more short-handed ice time than any of the other six.
Meanwhile, the top two forwards in terms of penalty kill ice time are 35 year-old Joel Ward and 36 year-old Patrick Marleau. Their GA60 are 10.3 and 6.9 respectively.
Every NHL team has given up at least one short-handed goal. Nine teams have given up exactly one, the Sharks are one of the nine.
Facing Off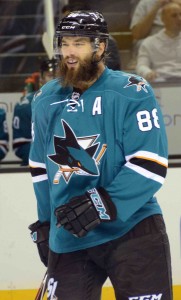 In recent years, the Sharks have used Joe Thornton and Joe Pavelski on the same line, which has meant dividing up the face-off responsibilities. Pavelski leads the team having taken 444 draws, but both Chris Tierney (377) and Tomas Hertl have taken more than Thornton (353) for the second and third spots on the team in terms of taking draws. Hertl has a 55% winning percentage, behind only Pavelski among Sharks players with over 50 visits to the dot.
In an earlier article, I predicted that Brent Burns would finish the season with a 100% face-off percentage. That prediction is still holding, as Burns remains one for one in the face-off circle so far this season.
Playing Physical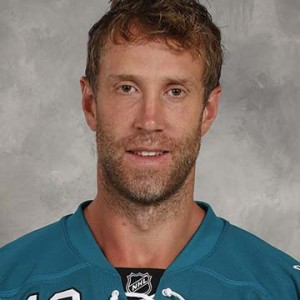 In the preseason, I wrote a piece on the Sharks physicality, highlighting a concern among given the younger and smaller forwards on the team. That has played out. Matt Nieto, Chris Tierney and Joonas Donskoi have played 99 combined games, with just 38 hits. Pavelski, not a big guy either, has twice that number (76) in his 36 games played.
Three Sharks have taken double-digit minor penalties. It is not surprising to find Brent Burns topping the list with 13 minors or the very physical Tommy Wingels sitting third on the team with 11. In between, though, is a surprise. It is Joe Thornton with 12. In the prior three seasons, Thornton averaged 13 minor penalties per year. This year, he is on pace for 27 minors, roughly twice a typical total for him.
Beyond Sixty
The Sharks have played just six games this season that went beyond regulation. Close to a quarter of all NHL games go past regulation, 17% of the Sharks games have gone past regulation. Five of the six games were decided in overtime, meaning the Sharks have gone to a shootout just once this season. They have taken two shootout shots and netted them both, making the Sharks the only team with a perfect shooting percentage in the shootout. The Sharks are one of seven NHL teams yet to lose a game in the shootout.