Remember when the Columbus Blue Jackets started this season 0-2? Fans and some media began their annual tradition of panicking before we reached mid-October.
It was two games. With 80 games remaining, there was plenty of time to stabilize things; and after two nice wins against the Chicago Blackhawks and Dallas Stars, things seem normal again.
But before we start celebrating too much, let's not lose perspective on the situation. The two losses were just that, two losses. The two wins, impressive as they were, are just that, two wins. The Blue Jackets sit at 2-2 overall. This is a small sample size. It's easy to overreact to wins and losses, especially early in the season. This is why my biggest takeaways at this point aren't wins and losses. I'm more concerned about what I see on game tape, which gives us a glimpse into the reasons for wins and losses. It also gives us hints of what's to come.
The Tape Doesn't Lie
The game tape is why there is reason for optimism. What I've seen in the first four games is different from what I've seen in seasons past. In this case, that is a very good thing. So what's different in the early going?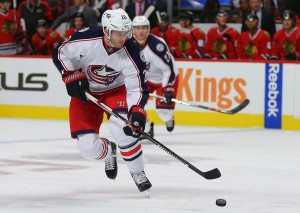 Penalty Killing
The stat sheet says the Blue Jackets have allowed just one power-play goal in their first four games. That's 15 kills in 16 tries, with the only goal coming at the end of the San José Sharks game, with the goaltender pulled. The numbers are good. The tape is even better.
The first thing I noticed on tape is how many Blue Jackets logged minutes on the penalty kill. In both the San José and Dallas games, 12 Blue Jackets logged at least a minute of short-handed ice time.
Why is this important? One, it speaks to the depth of the team that they can send that many skaters out to kill a penalty. Two, it speaks to how fast and aggressive the penalty kill was.
When the minutes are evenly spread out, you keep your players fresher over the course of the game. The Blue Jackets were fast early in the game. They were fast later in the game. Here's evidence of this:
With the score 2-0 in the third period Saturday night in Dallas, the Blue Jackets took two penalties in a span of just under two minutes. This was Dallas' chance to get back in the game. The Blue Jackets made sure it didn't happen. They even went as far as being the more dangerous team during the kill.
Cam Atkinson received a penalty shot. Although he didn't convert the opportunity, the Blue Jackets went on a possession spree right after. It started with an important faceoff win by William Karlsson. Timing on your faceoff wins is everything.
Karlsson's win led to three Jackets shot attempts. Although none of those attempts hit the net, the possession time helped kill precious time on the Stars' power play.
But then another penalty. This time Dalton Prout was guilty of high-sticking. It was late in the third period in the Jackets' second game of a back-to-back. I was thinking to myself it was a matter of time before Dallas converted.
I'm glad I was wrong.
Thanks to sound positioning and good execution, the Jackets easily killed that penalty too, allowing just one shot on net. It's too small of a sample size to draw a conclusion, but one thing I'll be watching for is the Brad Shaw effect. I wonder how much of this early success is due to implementing his style.
#CBJ are killing it so far this season. They're 15-16 on the penalty kill, the only goal allowed an empty-netter late vs. #SJSharks in G2.

— Aaron Portzline (@Aportzline) October 23, 2016
At least thus far, rotating up to 12 players who can execute the game plan has resulted in an excellent start for the penalty kill. There will be regression here. The team won't keep a 94% clip all season. But it is reasonable to think that the Jackets will see improvement overall from last season. This will keep them in more games. This is worth smiling about as a Jackets fan.
Player Usage
One thing on my radar this season was how the Blue Jackets would deploy certain players and lines. I had a particular interest in the usage of Nick Foligno and Brandon Saad. Would Foligno continue to get time on the power play? Would Saad see penalty-kill time? The resounding answer, at least in these first four games, is yes and yes.
Foligno played a total of 6:10 on the power play. Saad played 7:30 on the penalty kill. The early results? Foligno has a goal and three points while Saad is part of a unit that is killing penalties at a rate just under 94%. Foligno's situation is particularly interesting. In 72 games last season, he scored zero power-play goals. His goal against the Blackhawks was a thing of beauty:
We'll speak on Zach Werenski below (and his incredible play at the line to keep this play alive), but an early takeaway for me is that Foligno could enjoy a nice bounce back year on the power play. Foligno scored 13 power-play points last season, all assists. This was without someone on the point who can move the puck and shoot like Werenski can. Foligno cashed in because of the play Werenski made.
Notice where Foligno was on this play. He parked right in front of goaltender Corey Crawford. While this happened, Cam Atkinson retrieved the puck along the wall and quickly sent a pass to Werenski at the point. Then even quicker than that pass was the shot Werenski released, ON NET. Oh, what a welcome sight this is!!
Crawford stopped the first shot, but there was Foligno in perfect position to deposit the loose puck in the net. If this is Foligno's power-play usage moving forward, he'll have plenty of chances to score. More importantly, he'll realize a bounce-back season.
#CBJ complete the kill. Having Brandon Saad on the PK unit helps. #Blackhawks

— Mark Lazerus (@MarkLazerus) October 22, 2016
Quick note on Saad and the penalty kill: he's a threat at both ends on the kill. Whether he uses his speed to disrupt an opponent or attack their goaltender on the rush, you'll see a more exciting penalty kill overall with Saad logging big minutes. He's such a smart player. If he keeps this up, expect a couple shorties to come his way.
One other note on usage: Look what rolling four solid lines can do for you?! In both the San José and Dallas games, every forward played over 10 minutes. How many times last season was the fourth line limited in minutes? Yeah, exactly. Combine this with an emphasis on conditioning in the off-season and training camp, and you have the potential makings of a team that will stay fresher, longer, and can play faster and more aggressively.
You cannot question the work ethic of this team. There will be nights when goals come at a high premium. That said, we saw what the winning formula looks like: just watch the Dallas game from beginning to end. Timely scoring, strong special teams, especially on the kill, and a hot goaltender means victory.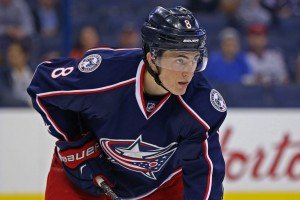 The Werenski Effect
What a breath of fresh air Werenski is for the Blue Jackets. I don't care that he's only 19. He's doing things for this team that haven't been seen here almost ever. On that Foligno goal above, fast forward and look at how that play started.
Werenski unleashed his deceptive shot. Crawford stopped it, but the Blackhawks couldn't get control. The puck ended up back on Werenski's stick. It initially appears that he was out of room, that Marcus Kruger had Werenski trapped. Think again.
A quick move along the blue line and Werenski was free. That move doesn't appear on the score sheet, but you can argue that it was as important a factor in the goal as any other part of that play.
Then he completes a perfect pass to Wennberg to keep the play alive. The puck works its way around to Werenski, who gets his shot on net. Foligno finishes. This points to an improved long-term outlook on the Jackets power-play. Players of this calibre don't come around too often.
There was some question about how Werenski would play early on. The answer is all systems go. He's in the top four and seeing significant time on both special teams units.
#CBJ rookie D Zach Werenski leads club in goals (2), points (5) and shots on goal (16) through four games. That's it. NBD.

— Aaron Portzline (@Aportzline) October 24, 2016
This isn't to say he's been perfect, far from it actually. But you can see the upside is there. He's proving he's ready to tackle the challenge.
The Jackets are spending the week in California, starting with Los Angeles Kings Tuesday night. Then they go to San José Thursday and finish with the Anaheim Ducks on Friday. Keep in mind the Jackets won two of the three games in California last season. Also keep in mind that the Kings are badly hurt in net. There is an opportunity here.
Stay tuned throughout the season as we will continue to watch game tape and try to tell you what to make of it. Remember, the tape never lies.