If someone told you before this season that New York Islanders rookie Anthony Beauvillier would be in a four-way tie with Brock Nelson, Josh Bailey and John Tavares for the team lead in scoring and have a better plus/minus than those players through the team's six games, you'd think they were crazy.
Imagine then how they'd feel if you told them Beauvillier has more points than departed forwards Kyle Okposo, Fran Nielsen and Matt Martin.
A Steady Presence
Thanks to his slick skating ability, poise in transition and an ability to hit, Beauvillier hasn't looked out of place for the 3-3 Islanders, who are coming off one of their best performances this season in a 6-3 rout of the Wild on Sunday. Originally supposed to split time with another first round pick, Matthew Barzal, Beauvillier has quickly established himself as more than a depth forward and has become someone the team can count on for energy and intelligence on both ends of the ice.
Unlike many of the Islanders who have struggled on both ends early on, Beauvillier, along with the Islanders fourth line of Casey Cizikas, Cal Clutterbuck and Nikolay Kulemin, has been energetic with the puck and has driven opposing teams batty. While he hasn't been Auston Matthews-dominant, he's done more than fill a role on an Islanders team desperately looking for consistency from their forward lines.
A lot of his success has to do with the way he's being used by Islanders head coach Jack Capuano. Averaging 9:29 of ice time a night through his first five games, Beauvillier knows he'll sit if he has a few bad shifts. So far this season, however, that hasn't happened yet. Thanks to his point production, speed, defensive play and physicality, Beauvillier has proven he can be someone who can play in a top-six role if needed.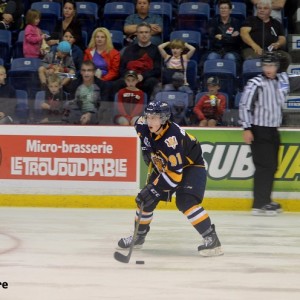 Early Chemistry
Beauvillier has even found some chemistry on the Islanders' third line with playoff hero Alan Quine and another former first round pick, Ryan Strome. Coming off a disappointing season last year, Strome has found a way to elevate his game and flanked by the hungry duo of Quine and Beauvillier, the line, which many thought would be an afterthought, has performed more consistently than the Islanders' top line of Tavares, Bailey and Andrew Ladd.
"We're a young line, so we're just trying to bring energy with whatever minutes we get," Quine told Newsday on Sunday. "It takes a few games to develop some chemistry, and I think all three of us know what we need to do out there."
The play of Beauvillier shouldn't come as a surprise considering his pedigree. Scoring 40 goals two seasons in a row for the Shawinigan Cataractes of the QMJHL, Beauvillier was labeled as a sniper. Although he only has four shots in five games this season, he's shown a willingness to adapt and be the player the Islanders need him to be, right now. At 19, he's surprised many and may get an opportunity to stick around past the usual nine-game "look" many players the likes of Beauvillier, who is eligible to head back to juniors, often get.
With the Islanders starting to find some chemistry with their improving five-on-five play and Beauvillier playing a key role, he may find himself on the team for the rest of the season.