The reigning Conn Smythe winner and World Cup MVP might be getting close to a return. Pens Inside Scoop noted Monday morning that Sidney Crosby was the first player on the ice for the Penguins at practice Monday.
There's no official update on his status, but it's a good sign that he won't miss the majority of the season with a concussion like he has in the past. Another good sign? Crosby was not in a no-contact jersey, as TSN's Bob McKenzine said might happen earlier in the day.
Sidney Crosby's concussion rehab trending in right direction. Won't be surprised if he's cleared to practice today w/o non-contact jersey.

— Bob McKenzie (@TSNBobMcKenzie) October 24, 2016
While none of this is coming from the team, yet, it looks like Pens fans will have their captain back in the lineup before too long.
Welcome back to practice, Sid! pic.twitter.com/gkalDbCKmO

— Pittsburgh Penguins (@penguins) October 24, 2016
Isles Sign Steve Bernier
The Islanders have handed veteran forward Steve Bernier a one-year, two-way contract, the team announced.
The 31-year-old was still without a contract after scoring six points in 24 games for the Islanders last season. He also found his way onto the roster during the playoffs, where he played another six games.
Just one season prior, skating for the Devils, he hit career-high marks by scoring 16 goals and 32 points in 67 games.
Ehrhoff Heads Home
After some strong play for Team Europe at the World Cup led to a PTO with the Boston Bruins, there was no contract waiting for Christian Ehrhoff. Like many on PTOs this season, there simply wasn't a place for him with an NHL club. While that may change next year when 23 new NHL jobs open up, for now he's headed back to Germany.
Ehrhoff has signed a deal with Kölner Haie of Germany's DEL. That's a new club for the 34-year-old defender. As a prospect skating in the DEL, as well as during the 2012-13 lockout, Ehrhoff skated for the Krefeld Pinguine.
Though he saw time in the AHL last season, he largely split the year between the Los Angeles Kings and Chicago Blackhawks.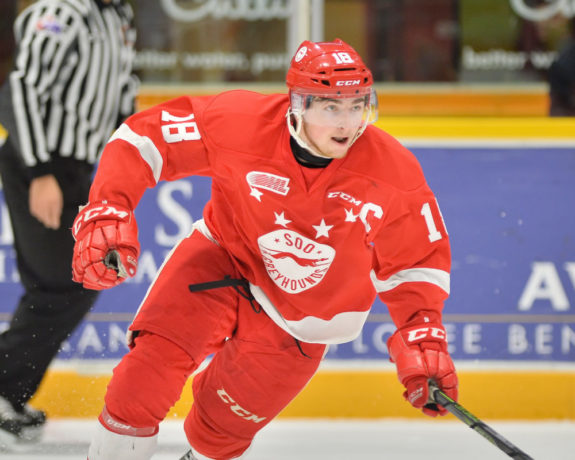 Blake Speers Returned
The New Jersey Devils announced Monday that they're returning forward prospect Blake Speers to the Soo Greyhounds of the OHL. Speers played his first three NHL games this season without grabbing a point.
In his last contest before heading back, the team put him in a position to succeed by letting him play on a line with Adam Henrique and Mike Cammalleri. In the end, the 19-year-old got a taste and the Devils are doing what's best for his development in a year when there aren't many predicting the Devils are going to win the Stanley Cup.
The #NJDevils have returned forward Blake Speers to @OHLHoundPower. pic.twitter.com/Jj8EYuoKCm

— New Jersey Devils (@NJDevils) October 24, 2016
Additionally, the Devils have recalled defenseman Steve Santini. He's expected to make his season debut on Tuesday. It will be the second career game for the former Boston College Eagle.
Odds and Ends
– Zach Parise scored goals number 300 and 301 of his career in Sunday's loss to the Islanders. He's only the third Minnesota-born player to ever hit 300 total goals.
– The Buffalo Sabres have recalled forward Hudson Fasching and defenseman Casey Nelson.
– 2017 draft prospect Casey Mittelstadt continues to roll along through a solid start to his USHL season. He now has five goals and 10 points in 10 games.
Casey Mittelstadt: (always) right place, right time #WhosNext pic.twitter.com/wqoTqq5fCk

— USHL (@USHL) October 23, 2016
– Toronto's burgeoning superstar Auston Matthews dressed up as presidential debate superstar Ken Bone for Halloween, while Peter Holland got done up as Donald Trump.
Dustin Nelson is the News Editor for The Hockey Writers. He's a contributor to Hockey Prospectus, Hockey Wilderness, and writes a column for Rotowire. He's also written for Gone Puck Wild, Wild Xtra, InDigest, Electric Literature, The Rumpus, Tiny Mix Tapes, Prefix Magazine & other publications. Have a tip? Email him at dlukenelson[at]gmail[dot]com.