The Springfield Thunderbirds aren't new to the world of hockey.
Formerly known as the Portland Pirates, the club has existed in some form since 1975, relocating three times in its 41-year history. Since 2015, the team has also served as the Florida Panthers' minor-league affiliate.
Following its latest move, the club had hoped to bring some of its past successes to Illinois. While the team hadn't advanced past the first round of the Calder Cup playoffs since 2010-11, it was a perennial playoff contender, qualifying for the postseason 17 times during its 23-year run in Maine.
But, thus far, things haven't quite gone as planned. Sitting sixth in the seven-team Atlantic Division, the team ranks 20th in the league in goals scored (60) and 19th in goals against (67).
Part of that can be chalked up to inexperience — with an average age of 23.9, the Thunderbirds are among the AHL's youngest teams. However, despite the results, a number of Panthers prospects are holding their own.
Forwards
The Thunderbirds boast some serious Major Junior pedigree on the forward lines — for example, 2014 second-rounder Jayce Hawryluk and undrafted signing Dryden Hunt ravaged the CHL for a combined 222 points across 130 total games during the 2015-16 campaign.
http://gty.im/612873450
While not to the same degree, the Cats' young forwards have found early success.
Just 23 games into his professional career, the 6-foot, 201-pound Hunt has already registered 10 points, pacing Springfield's rookie contingent. According to HockeyDB, his offensive output is second only to career minor-leaguer Paul Thompson, as are his five goals scored.
First GOAL of the night for the T-Birds scored by Dryden Hunt. #tbirdsahl pic.twitter.com/DuPQWnH3Wc

— ThunderbirdsAHL (@ThunderbirdsAHL) October 23, 2016
Finnish winger, Juho Lammikko, has also chipped in on offense. While potting a single goal through 21 games played, the former Kingston Frontenac sits third in rookie scoring, dishing an additional four assists.
Hawryluk, on the other hand, is just starting to see some ice — sidelined for the first two months of the campaign with a broken hand, the agitating pivot out of Roblin, Manitoba, recently made his season debut. Described by Hockey's Future as an "offensively skilled forward used in all situations," the stocky centerman's multifaceted game ought to boost head coach Geordie Kinnear's sputtering lineup.
Defensemen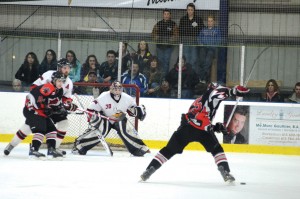 Featuring a healthy dose of minor-league experience, the Thunderbirds' defensive corps has benefited from an injection of new talent.
Hulking defenseman Ian McCoshen leads the charge — at 6-foot-3, 218 pounds, the former Boston College captain is having an exceptional first season in Springfield. Second only to 27-year-old Brent Regner in terms of rating (+4), the Hudson, Wisconsin, native has also hammered home two goals on the year, second among blueliners.
While not as disciplined as his American counterpart, the Ottawa-born MacKenzie Weegar brings an offensive edge to his game.
The 206th overall selection of the 2013 NHL Entry Draft, Weegar has bided his time at the minor-league level. Scoring at a career-best clip of 0.47 points per game, the former QMJHLer leads all defensemen in goals scored (4), well on track to best his previous AHL high of seven tallies.
#FlaPanthers MacKenzie Weegar tallied 2 points last night, including the overtime game-winner: pic.twitter.com/KRgmaR5BLX

— Cats On The Prowl (@Cats0ntheprowl) October 23, 2016
And while the Thunderbirds possess a fair amount of experience along the blue line — each rearguard has played an average of roughly 140 AHL games — the club is getting meaningful contributions from a handful of rookies, ranging from University of Michigan graduate Michael Downing (1-4-5) to 2013 sixth-rounder Josh Brown (2-2-4).
A rower-turned-writer at the University of Florida and an incoming MA in Journalism student at DePaul University, I have: Worked as a staff writer for the Independent Florida Alligator; covered the Florida Panthers for The Hockey Writers; reported on international tournaments for Hooked On Hockey Magazine; and functioned as an entertainment correspondent with the Gainesville Sun. If you're interested, you can also follow me on Twitter @ajlb95.