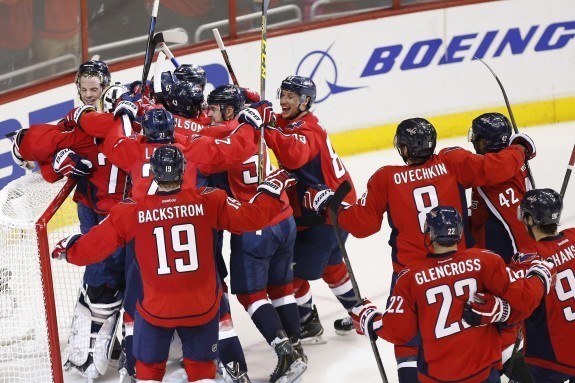 If I wanted to really write what I truly felt about game seven last night, I would just find a way to write a 1,000-word equivalent to my tweet last Monday night.
I want to cry. I am collapsing. My palms are sweating a swimming pool's worth. I can't tweet. I am nothing. But GO CAPS!!!!'

— DCSportsDork (@DCSportsDork) April 28, 2015
Instead, I would like to discuss what this win truly should mean to not just the Washington Capitals fan base, but also to the entire community that a good chunk of the fan base lives in. For all the excitement, drama, torture, elation and joy that this win brought to all Capitals fans, I noticed that as soon as I shared all my feelings on social media, my statuses were surrounded by my friends that shared their opinions or concerns for their own and others' daily life and safety that are affected the chaos that has been ensuing in Baltimore. Even for someone like myself that consumes sports a bit too much, you can't take your eyes off of all the televisions in bars and restaurants that would rather have CNN on than a stupid hockey game.
Sometimes, you are reminded how much of a footprint Baltimore has towards the Capitals. Until 2006, Piney Orchard was the practice facility for the Capitals and it's Odenton, Maryland location is roughly 20 miles away from Baltimore. Some will argue that this, along with the Baltimore Skipjacks AHL team were why so many from the region became Capitals fans. Add that with their undying loyalty towards the Baltimore Orioles and Ravens and you know they would never root for any other team (unless Gary Bettman scraps Las Vegas for "Charm City"). It's a very understandable feeling that once all the joy and jubilation went away last night, a good portion of those fans could be heading back to Baltimore and wonder if their place of residence is safe enough to live and work. It's truly a scary and puzzling time for the area known as the DMV and plenty of action needs to take place in terms of who we are, how do we get along with one another and how do we treat and respect others.
In some ways, sports has some weird similarities to daily life.
True Hockey Players Love and Care for One Another
Even within the series itself, the Islanders and Capitals were building hatred towards one another the likes of which we haven't seen since 1993. First, you had the news of Islanders fans picking fights with innocent Capitals fans that only came to just watch a hockey game and root for their team. Then you had Cal Clutterbuck doing whatever it took to get under the skin of one too many Capitals players. In game four, Tom Wilson laid out a hit that could be felt from Uniondale to Chinatown on Lubomir Visnovsky that would put him out with a concussion for the rest of the series. That hit gave the Islanders and their fans a conniption towards Wilson and they demanded justice, whether or not that hit was deemed clean. It would not come until the next game where Wilson fought Anders Lee, but that was not until a few Capitals left Nassau Coliseum with beer being thrown at them. Also in game five, Clutterbuck, along with linemates Matt Martin and Casey Cizikas could not help but try to injure any Capitals player in sight, legally or illegally.
Now Islanders fans have made their case known that Washington delivered some hits that were deemed dirty, especially from players like Troy Brouwer and Alex Ovechkin. That all being said, the refs didn't call them, but they also left a handful of things from the Islanders end on the table too. At minimum, a series like that probably deserved more than the 27 combined penalty minutes in seven games.
The refs certainly didn't call anything in game seven until a John Carlson roughing penalty that seemed to come from the Bermuda Triangle (certainly in comparison to the other hits during the rest of the game). Still, there was no verbal jousting, no "what fors" and certainly no "that's a [bologna] calls" from any of the players or coaches. They just kept playing and completed a hockey game. Then, a handshake line happened; just like any other one after a playoff series is over. Even after the elation of accomplishing one series win or agonizing that your season is over, everyone participates in the handshake line and everyone embraces and respects one another; with the reminder that all are trying to reach the same pinnacle in their hockey careers and almost all have experienced the highs and lows. It's as if trying to smash eachother to pieces along the boards moments ago was completely forgotten. Either, this is the weirdest ritual in sports or the best.
Wizardry Presence
Now some in the Baltimore or even Washington DC area may prefer other sports, like basketball, instead of hockey. Some in hockey may take offense to other sports and the way they do things. However, both basketball and hockey teams share the same building and they too want to win championships and want to make the city proud. So when one sports team embraces another in support, it's a beautiful thing. After sweeping the Toronto Raptors, the Washington Wizards took the time to root their fellow Verizon Center tenants and cheered them on to victory. Paul Pierce just has a way of leading teams to victory.
Their help resulted in something this city has never seen before: both an NBA and an NHL team are in the second round of the playoffs in the same season. There is an incredible opportunity to see something magical happen in this community and it's in these times when you see everyone come together for one common goal.
Some may find it ridiculous that something as frivolous as sports would improve the image of a city from such shocking events that should matter so much more and you may be right. Just don't forget what we saw this happen before from the 2013 Boston Red Sox after the Boston Marathon Bombings and even the 1968 Detroit Tigers after their city went through their own race riot; one that is considered the worst in American History. It will certainly take time and proper diligence to heal all wounds from what has happened in Baltimore, but bonding over something frivolous may actually help speed up that process too.
Ben covers the Washington Capitals at the hockey writers. He has been blogging about the NHL since March 2013. Follow him @DCSportsDork