On a night which will go down as the night Chicago killed a "Donald Trump Rally" Dallas found the answer to making the Stars Great Again! A 5-2 victory over the Blackhawks at the American Airlines Center Friday night kicked off an important weekend. Saturday night the ACC will once again welcome back former Stars' coach Ken Hitchcock and his St. Louis Blues.
The win moved the Stars to sole possession of first place in the Western Conference with 90 points while the Blackhawks slipped to third with 88 points. The Blues also had a 5-2 win vs. the Ducks Friday night which moved them ahead of the Blackhawks with 89 points. All 3 teams have 13 games remaining.
The Stars were missing key core players Patrick Sharp, John Klingberg and Jason Demers, but they displayed strong attention to detail and the passion of a wounded animal. Jason Spezza got the Stars on the board first with power-play wrister from the point. Antoine Roussel followed with a goal early in the second period to make it 2-0 Stars. And then the sleeping giants woke up..
Stars' Big Dogs Barking Again
In case you have been out-of-town for a few weeks, Tyler Seguin and Jamie Benn have been in a bit of a mini slump lately. THW's Matt Pryor recently outlined Benn and Seguin's struggles.
Earlier in the week, Ticket 1310AM/96.7FM Host Donovan Lewis asked coach Lindy Ruff,"How do you get the big dogs barking again"? Ruff appreciated the analogy.

You have to wonder if Ruff left some Busy Bones at the lockers of Tyler Seguin and Jamie Benn after the victory on Friday night.
Since joining forces with the Stars in 2013, Benn and Seguin have never played more than 6 consecutive games with at least one of them scoring a goal. Going into Friday night they were looking at another rare 6 game drought but they responded in style. Seguin put the Stars up 3-0 with a wrister in the slot and the Captain pushed it to 4-0 when a Seguin pass caromed in off Benn's skate.
The Stars' Big Dogs got their mojo back Friday night. However, with the Blues in town there is no time for a hangover.
Stars Defenseman's Debut, Lehtonen and Faksa
Defenseman Stephen Johns made his NHL debut Friday night. You will recall, the Stars received Patrick Sharp and Stephen Johns for two players no longer with Chicago (Trevor Daley and Ryan Garbutt). Johns was paired mostly with Oduya and played a solid all-around game. Johns 3 blocked shots and 3 hits in 17:27 of ice time.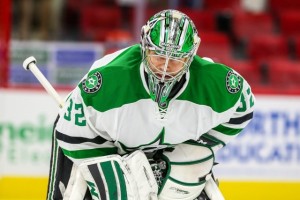 Kari Lehtonen was excellent with 21 saves on 23 shots. The volume of shots was low but the quality was impressive. Particularly Lehtonen's saves early on during a Chicago power-play and a breakaway save on Dale Weise.
Teuvo Teravainen and Tomas Fleischmann scored for Chicago.
Though he wasn't a big factor on the scoresheet, rookie center Radek Faksa was the unsung hero with plus 2 performance while matched up exclusively against the Blackhawks Jonathan Toews in 5×5 situations.
"We got done, what we wanted to get done" Ruff replied when asked about his assessment of the game during a post game interview on Fox Sports Southwest. He went on to praise the special teams, defense, goaltending and forwards.
"St. Louis might be the best team in the league right now" Ruff replied when asked about Saturday night's opponent.