Tyler Seguin has a hairline fracture in his heel, according to Dallas Stars general manager Jim Nill.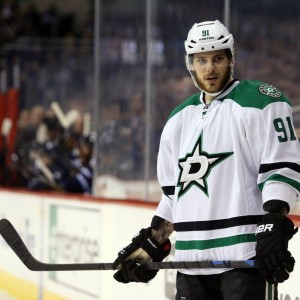 "Upon returning to Dallas yesterday (Friday), Tyler Seguin underwent an MRI that detected a hairline fracture in his heel," said Nill. "His status for training camp will be re-evaluated in one week."
Seguin reportedly suffered the injury during a pre-tournament game between Team Canada and Team USA on Sept. 9. During that game, Seguin went feet-first into the boards and briefly left the game, but returned. He went on to play the next night in a rematch contest between the two teams before Team Canada announced he would be replaced by Buffalo Sabres forward Ryan O'Reilly, due to injury.
Although initial injury reports were that Seguin suffered a minor knee injury, Friday's MRI results revealed the fracture in his heel.
While Seguin's status for training camp is not yet known, Saturday's news creates cause for concern for the Stars. Earlier this summer, teammate Jamie Benn underwent core muscle surgery. However, on Aug. 24, Nill announced that Benn should be at 100% at the start of the regular season.
Seguin missed all but one of the Stars' 13 games because of an unrelated injury during the 2015-16 postseason.