Tyler Seguin has been replaced on Team Canada's World Cup roster by Buffalo Sabres forward Ryan O'Reilly, Hockey Canada announced on Tuesday.
Seguin reportedly suffered a knee injury during World Cup exhibition games, according to Sportsnet's Nick Kypreos.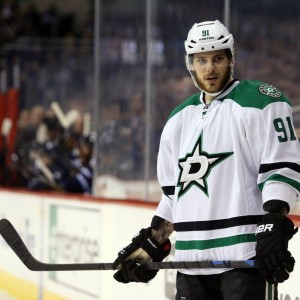 While it is not yet known how Seguin injured his knee during World Cup play, he crashed into the boards hard in Friday's game against Team USA and took a hard hit from Team USA's Dustin Byfuglien in Saturday's rematch contest.
During coverage of Team USA's preliminary game against Team Finland, Kypreos spoke about Seguin's injury.
"Now his isn't a serious injury which is good news for the Dallas Stars," Kypreos said. "They believe that this is a day-to-day situation but the recommendation from the doctors is to be off skates anywhere from seven to 10 days."
The World Cup will conclude exhibition play on Sept. 14 and begin preliminary games on Sept. 17 in Toronto.
News of Seguin's absence is a blow to Canada's roster, but Hockey Canada was quick to name O'Reilly as a replacement. O'Reilly has been an important member of Canada's rosters at the past two World Championship tournaments, scoring 18 points in 20 games and helping his country to back-to-back gold medals.
News that Seguin's knee injury is not considered serious is a big relief for the Stars. Earlier this summer, Team Canada announced forward Jamie Benn would be unavailable for the World Cup after undergoing core muscle surgery on July 15. In August, Stars general manager Jim Nill said he expected Benn to be 100-percent to start the regular season.
Seguin missed all but one of the Stars' 13 playoff games in 2015-16 with a calf injury but was ready when the World Cup exhibition games began for Canada on Sept. 9.