Despite undergoing core muscle surgery earlier this offseason and missing the World Cup of Hockey, Jamie Benn will be at 100% health to start the 2016-17 season, Dallas Stars general manager Jim Nill announced on Tuesday.
Benn, 27, has been in the news a bit this summer after posting a career-high 89 points in 82 games with the Stars in the 2015-16 regular season.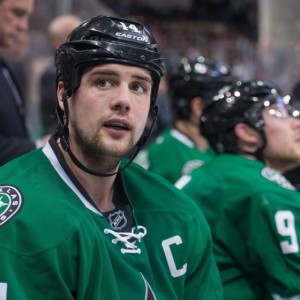 On July 15, the Stars announced that he had successful surgery to repair a core muscle injury sustained during an offseason workout. At the time, Benn's availability for the World Cup of Hockey was uncertain as he was expected to miss six weeks. On the same day, the team signed the Art Ross Trophy winner to an eight-year, $76 million contract, helping to secure the future of one of the NHL's best players in Dallas.
On Tuesday, Hockey Canada announced Benn would be replaced by San Jose Sharks forward Logan Couture on Team Canada's roster for the World Cup of Hockey despite Benn's best rehab efforts. "We want to thank Jamie for his dedication to an extensive rehab program in an attempt to play for Canada. Unfortunately, Jamie will not be available and we wish him a speedy recovery," said Team Canada GM Doug Armstrong.
Benn and teammate Tyler Seguin are both recovering from injuries and their health is paramount to the team's success in the 2016-17 season, as the pair forms one of the league's most talented combinations.