This just in: Troy Stecher has been nominated for the Norris Trophy.
A little premature, perhaps?
With everyone in Vancouver gushing over the stellar debut of Stecher, it would be easy to believe that he just won the Norris Trophy. The 22-year-old, Richmond, BC native intrigued fans in July after team president Trevor Linden lauded his presence both on and off the ice. Stecher's leadership abilities were noticeable to the Canucks organization early on.
Fast-forward to September, and Stecher continued to impress during both the young stars tournament and training camp. He impressed so much, that the Canucks had no problem sending down Jordan Subban after just one preseason game. Subban showed some defensive deficiencies but overall he had a solid training camp. He had a goal and an assist in the final Young Stars game, followed by another assist in the Canucks' first preseason game versus the San Jose Sharks.
Stecher and Subban share similar abilities, and both are similar in stature. With the emergence of Stecher, sending Subban down was an easier decision for the organization. However, sending Subban to the minors before Stecher suited up in a preseason game speaks to the Canucks' confidence in the young defender.
Boy, did he make them look good on Wednesday night:
As everyone in Vancouver already knows, Stecher registered a goal and two assists in his Canucks debut. Both of his assists were highlight-reel setups, and his second assist led to the game-winning goal by Anton Rodin.
It's only one preseason game, but the Stecher hype is flourishing faster than Nikita Tryamkin's growth spurt.
Stecher's Chances of Making the Opening Night Roster
After one, albeit outstanding, preseason game, Stecher still has a long way to go to crack the Canucks roster. However, if he keeps up his play, the Canucks might be forced to give him a spot.
The Ben Hutton comparison is beaten to death by now, but it's the only comparable this organization has. Hutton continuously impressed through each preseason game last year and was easily the best defenceman for the Canucks last September. That is what Stecher has to do in order to gain a roster spot. If all eyes weren't on Stecher before, they will be until the end of the preseason.
Stecher: "I can't think there's not a spot open. I've got to come to the rink every day and earn a spot. I want to be a Canuck."

— Iain MacIntyre (@imacSportsnet) September 29, 2016
Most pundits and armchair general managers already have the Canucks top six on defence pencilled in. Alex Edler and Chris Tanev form the first pairing, followed by Hutton and Erik Gudbranson on the second pair. The third pair isn't as clear, but most have Luca Sbisa and Philip Larsen rounding out the defence.
General manager Jim Benning has shown an interest in keeping eight defencemen on the roster to begin the season. The battle for those spots is largely between Tryamkin, Andrey Pedan and Alex Biega. If Stecher wants to win a job, the consensus is that he will have to beat out at least two of those defencemen.
WD on Stecher: "I don't think we expected him to be quite that good…he made some really high end plays at the line."

— TSN Radio Vancouver (@TSN1040) September 29, 2016
The problem is that Stecher's skill set is much different from those of Tryamkin's, Pedan's, Biega's, or Sbisa's for that matter. Stecher has shown offensive abilities that none of the aforementioned defencemen seem to have. Noting the Canucks' lack of a powerplay quarterback, it would make more sense for Stecher to be battling Larsen for the sixth defenceman spot.
Larsen Must Impress
If Stecher continues to impress on the powerplay the way he did on Wednesday night, it will sure put a lot of pressure on Larsen to show that he can handle that role.
Larsen was pencilled in for a roster spot before training camp began. Many viewed him as the replacement to Yannick Weber, who lost his offensive touch on the powerplay last season.
However, if Stecher fairs better than Larsen does during the preseason, why shouldn't they keep Stecher over the Danish defenceman?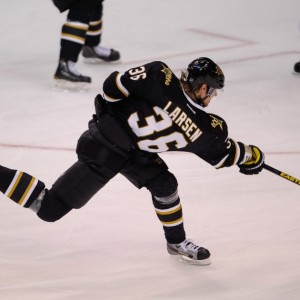 Despite limited NHL success, Benning chose to take a gamble on Larsen, by trading a fifth-round draft pick to the Edmonton Oilers for Larsen's rights. With the Canucks lacking offence from the blueline, Larsen seemed like an obvious choice to fill that void.
He left for the KHL after a disappointing 2013-14 season with the Edmonton Oilers. His first KHL season totals of 25 points in 56 games doesn't scream "take me back, NHL," but it was the highest point total from a defenceman on the bottom-dwelling Khanty-Mansiysk Yugra team.
In 2015-16, he joined a much better team in Jokerit Helsinki and caught the Canucks' attention with 11 goals and 36 points in 52 games. Benning believes Larsen is ready for an NHL return, but it appears that the rising Stecher now stands in his way.
If Stecher does beat out Larsen for a job, it will make Benning's decision an interesting one. In all likelihood, the Canucks would try to send Larsen down to the minors, which might prompt a return to the KHL. I'm sure the uproar from Canucks fans over losing Larsen wouldn't be as prominent as it was last year when the Canucks tried to send down Frankie Corrado.
A lot of this discussion is premature, but if Stecher continues to impress then this becomes a very legitimate scenario.
Philip Larsen's like 😐

— Jason Brough (@JasonBroughTSN) September 29, 2016
With Stecher out of the lineup on Friday night, it was Philip Larsen's turn to impress. He didn't put up the same gaudy performance as Stecher, but you could see why the Canucks took a flier on him in the offseason.
Whenever Larsen has the puck, it doesn't stay on his stick for very long. He has a quick release and likes to make long stretch passes up the ice. His puck skills were evident, but he didn't help his case to make the team when he took a slashing penalty with less than six minutes to go in the same.
Despite his offensive accolades, the Canucks went 0/5 on the powerplay. Larsen had 6:07 of powerplay ice time on Friday night, and despite creating some chances, he wasn't able to help the Canucks capitalize.
Chances are, if Larsen can at least keep pace with Stecher, then Larsen will begin the season in Vancouver. However, with Stecher-mania taking over Vancouver, Larsen will be on a short leash.