Heading into the 2015-16 NHL season, there was very few people who had the Florida Panthers winning the Atlantic Division.
To the surprise of many people, they won it and they controlled it. It was their Division.
Some people chalked it up to an unsustainable PDO, others said key injuries to star players on competing teams allowed for the Cats to claim the division title, but really it came down to the emergence of young stars and the steady play of proven veterans that got the Panthers to their first 100-point finish in franchise history.
Despite a first-round exit in the playoffs this year, the Panthers are hoping to repeat as Division champs. Heading into the offseason GM Dale Tallon will have a lot of work to do to give his team their best shot at winning the Atlantic.
Shed the Dead Weight
Tallon has done a solid job assembling the Panthers roster, but that doesn't mean he hasn't made any mistakes.
This past trade deadline Tallon was active, trading a handful of mid to late picks for some extra depth. He traded 2nd and 4th round picks to the Flames for Jiri Hudler, a 3rd round pick for Teddy Purcell and sent a 6th rounder to Detroit for Jakub Kindl.
Two of the trades just didn't work out as Kindl and Hudler were not good for the Panthers. Kindl was scratched after just one playoff outing and Hudler saw his ice time shrink every game.
Purcell on the other hand was decent. He put up 11 points in 15 regular season games with the Cats and another two points in the Panthers' six playoff games.
Both Hudler and Purcell are probably going to be looking to get $4 million dollars minimum on their next contracts, as well as some fairly significant term to go along with the money. Considering the numbers each of them posted during their stints in Florida, Purcell would be more likely to be brought back. But is that the right call? Obviously that's up to Tallon to figure out. If he could get Purcell on team-friendly deal, then it may not be a bad idea to have him back.
Unfortunately Tallon's trade deadline acquisitions aren't his only salary cap question marks.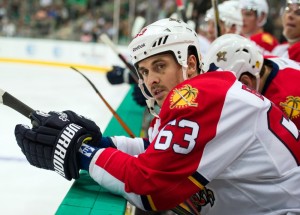 Dave Bolland still exists, as do the remaining three years and $16.5 million owed to Bolland.
After the Panthers locker room clean out in April rumors began to swirl that the team would be "cutting ties" with Bolland this offseason.
However it's done, Bolland's time with the Panthers needs to end this summer.
The Panthers have a glut of RFA signings to make in the coming years. Vincent Trocheck, Erik Gudbranson, Reilly Smith, Jonathan Huberdeau and Aaron Ekblad all need to be signed within the next two years. Freeing up Bolland's cap hit will be crucial.
Continue Building from Within
Tallon has preached building through the draft as the focal point for this Panthers' rebuild and it has worked thus far.
If something isn't broken, then why fix it?
Rather than spending big bucks on a free agent such as Kyle Okposo, David Backes or Keith Yandle this offseason, all the Panthers need to do is look at what they have in front of them.
Veteran defenders, Brian Campbell and Willie Mitchell are unrestricted free agents this year and although Mitchell's career is likely over, Campbell will almost certainly be back with the Panthers.
Assuming he is resigned, Campbell will continue to provide what he has his entire tenure with the Panthers, consistency.
Since being traded to Florida in 2011, Campbell has suited up for every single regular season and playoff game the Cats have played, that's 389 total. He will undoubtedly take a pay cut from his $7.1 million he is making right now and at almost 37 years of age he will likely take a two-year deal.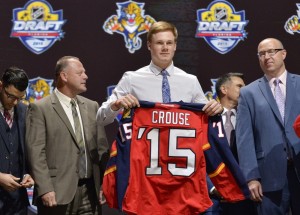 Up front, the Cats only holes will be in the bottom six. Nick Bjugstad will need at least one new winger (assuming Purcell is brought back) and the fourth line could use another veteran option.
Once again Tallon should look no further than the pieces he has at his disposal.
Last year's first round pick, Lawson Crouse, should be the answer to the third line wing vacancy. He is big, strong, fast and can make space for his linemates. He will also be a welcomed net-front presence for a Panthers powerplay that struggled all year and in the playoffs.
Having a line with Bjugstad, who is six-foot-six and Crouse, who is six-foot-four, would allow for the Panthers to run any of their top lines in almost any situation.
The fourth line role will likely remain a question mark heading into training camp. Tallon may let youngsters such as Logan Shaw, Quinton Howden and Garrett Wilson fight for the vacant wing positions on Derek Mackenzie's line, or he may sign a veteran to a one-year deal this offseason to add stability to the Panthers bottom six.
No matter what teams around them do, the Panthers have to be active this summer.
The Canadiens, Lightning and Red Wings will all be healthy, rested and very likely will have improved rosters. If the Panthers want a chance at repeating as the Atlantic Division champs, then Tallon will have to skip a lot days on the golf course in favor of long days in his office.
I have now graduated the Trent-Loyalist journalism program, as well as an eight-week internship at the Hockey News. I'll be covering the Panthers for THW while continuing to look for full time work somewhere in Canada.