It should come as little surprise following the Rangers frustrating five game playoff flame out that the team's management and coaching staff were ready to make some changes to the club's core. After back-to-back Eastern Conference Finals appearances and a berth in the 2014 Stanley Cup Final, the powers-that-be elected to give the core group of Rangers another "kick at the can." Unfortunately, that final kick was a flailing attempt akin to Charlie Brown's numerous whiffs in the old Peanuts cartoons.
The Blue Shirts cap situation will more than likely preclude them from fishing in the deeper waters of the free agent pool. One area the club will and should be active is in the trade market. But the team should also be expected to scour the list of available UFA's looking for bargains. In fact, one potential bargain that the Blue Shirts have been connected with as a possible fit is former Predators winger Alexander Radulov.
Radulov began his career with Nashville posting 44 goals and 95 points in 145 contests before bailing out on the NHL, going home to Russia. He returned, not so triumphantly, in time for the 2012 playoffs where he tallied 13 points in 17 games. He was suspended for game three of the Western Conference Semifinals against Phoenix by then head coach Barry Trotz for a curfew violation. Trotz would also scratch Radulov for the next game in the series. After the season Radulov again departed for Russia, signing a contract with CSKA Moscow where he has spent the last four years.
Here are some pros and cons to signing Radulov:
Pros
Offensive Flair
There is no question Radulov can put up points, whether at the KHL or NHL level. He placed 2nd in scoring in the KHL last season and first the year before. Of course the quality of play in the KHL is inferior to that in the NHL so don't expect him to produce at that same level in a presumptive return to North America. But can his NHL production be projected using his KHL performance? Fortunately, the answer to that question is, yes.
Rob Vollman, who publishes "Hockey Abstract," perhaps the leading statistical analysis annual out there, has already done the heavy lifting for us. Feel free to click on the link to learn more about it but what we need to know is the translation factor for KHL players is 0.8. That means every point a player scored during KHL play is equivalent to 0.8 points in the NHL.
Over the last two seasons, Radulov's KHL production would have translated to the following NHL scoring lines (goals – assists – points):
2014-2015 – (28 – 52 – 80)
2013-2014 – (34-67-101)
The projected total of 80 points would have placed Radulov 6th in the NHL this season. In 2013-2014, 101 points would have led the NHL by 14. Clearly Radulov should be able to produce offense even in the tougher league.
Cons
Radulov to Replace Nash?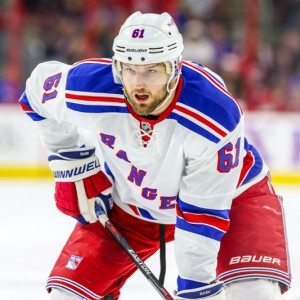 While the offensive upside is enticing, signing Radulov should not be a serious consideration for the Rangers. As was suggested in Matt Coller's post for ESPN (link above), adding Radulov could force a Rick Nash trade, both to open salary space and a spot in the top-six. Expecting Radulov to replace everything Nash brings to the table would be a mistake. Maybe Nash isn't worth his $7.8MM cap charge but he brings value in all three zones, is still capable of scoring 30+ goals and is an effective penalty killer. Radulov has always had the reputation as a player who was disinterested in the defensive aspect of the game, is sometimes undisciplined and lacked intensity.
Nash turns 32 in June and following a down season in which he netted just 15 goals in 60 games, it's quite possible the winger is entering the decline phase of his career. But Radulov is no spring chicken either as his 30th birthday comes in July. If the mandate for general manager Jeff Gorton is to get younger and faster, subtracting Nash and replacing him with Radulov does little to achieve that goal. That's not to suggest the notion of dealing Nash shouldn't be considered but any potential trade would need to be made to improve the club; not simply to make room for an inferior overall player.
Radulov the Mentor?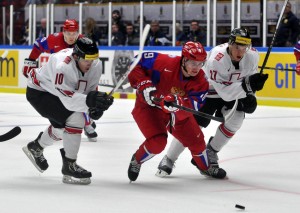 There is a suggestion that adding Radulov, or another player of Russian descent, would help to ease top prospect Pavel Buchnevich's transition to North America. The concept did seem to work in Chicago where Artemi Panarin turned in a tremendous rookie campaign playing on the same line with Artem Anisimov. But to think that scenario would play out successfully with Radulov and Buchnevich is misguided. While it's possible Radulov has matured since his Nashville misadventures, why take the unnecessary gamble with your top prospect's future. It's simply too big of a risk considering Buchnevich's importance to the future of the Rangers. I like the idea of having a fellow Russian to help Buchnevich in his adjustment to the NHL but there has to be better options available than a guy like Radulov.
Conclusion
Do the Rangers need a lot of help this offseason if they want to return to being a serious Stanley Cup contender? Absolutely, and they'll likely leave few, if any, stones unturned in that pursuit. However, considering adding Alexander Radulov to the fold is a risk that the Rangers simply can't afford to take.
Native Southern Californian who somehow adopted the New York Rangers as my favorite team. I've written for quite a few websites during my days as a blogger including: Inside Hockey, Ranger Nation and SNY.tv. By day, I work as an operations manager.