The NHL announced the 2017 All-Star rosters and two Tampa Bay Lightning players earned their first All-Star selections, and both Nikita Kucherov and Victor Hedman deserved this honor. This could be the first of many selections for both these young players. At 23-years-old (Kucherov) and 26 (Hedman), it is safe to say that both All-Stars are continuing to improve their game.
During my weekly segment on the Tampa Bay Lightning Radio Network's Power Play show, host Greg Linnelli asked about the two newest Tampa All-Stars. You can catch our entire conversation on the THW Podcast Page and the rest of our past discussions on SoundcCloud.
Russian Rifle
For Kucherov, his play in the first half of this season has him on pace to score career highs in both goals and assists. The Russian Rifle is merely continuing the offensive output he had in last season's playoff run. Kucherov had 19 points in 17 playoff games last year which was good enough for sixth among all playoff performers. The five guys ahead of him all played seven more games than Kucherov.
This season, Kucherov is tied for fifth in the league with 39 points in 35 games. Only Sidney Crosby of the top ten NHL scorers has played in fewer games than Kuch, having played in only 33 games. This kid is becoming a bonafide NHL scorer.  Fourth in the NHL with 1.11 points per game.
This pace puts him ahead of some well-known names like Tyler Seguin, Patrick Kane, and fellow countrymen Vlad Tarasenko and Evgeni Malkin. It also puts Kucherov in the conversation with top point producers like teammate Steven Stamkos, Connor McDavid and even Crosby.
Russian Rifle
Kucherov only had two and a half NHL seasons under his belt at the start of the current season. To begin to appreciate how far and how fast Kucherov  has come, listen to ESPN hockey writer, Scott Burnside who said this about young Kucherov: "What's really impressed me with Kucherov is his pretty dramatic evolution, I don't think people understand what kind of talent he represents."
Not convinced? How about this from Alex Ovechkin, who knows a thing or two about what it takes to score in the NHL.
Talked to #NHL teams on Kucherov. Ovechkin said he's "going to be one of the greatest players in history of Russia." https://t.co/k0H50ZQuA4

— Joe Smith (@TBTimes_JSmith) December 6, 2016
The sky is the limit for Kucherov. To think that he hasn't even played 250 NHL games yet is simply astounding. Imagine when he learns more about the NHL game and what he will accomplish then. Kucherov and Stamkos have a chance to play another 10 seasons together. Barring any career threatening injuries, they could go down as one of the top scoring duos of all-time.
Heady Hedman
The other Lightning All-Star this year is Victor Hedman. A stalwart among Tampa's D-men since being drafted number two overall in the 2009 NHL draft, he's been the defensive anchor for the last few years.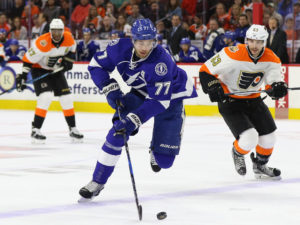 Now, with over 500 NHL games on his resume, Hedman is currently two points behind Brett Burns as the top scorer among all NHL defenseman. It is even more impressive when you see that Burns has almost twice as many shots as Hedman – 160 to 83.
To think that Hedman is merely an offensive defenseman doesn't give him the proper credit for his ever improving defense. Half of the Lightning's top pair with fellow Swede, Anton Stralman, Hedman continues to impress with his defensive skills. He is among the top ten among NHL defensemen in takeaways with 23 this season.
Norris Next for Heddy
The next step for Hedman is to begin to garner serious consideration for the Norris Trophy. This should come this season provided Hedman's second half performance mirrors his first half. There is little doubt that when people speak of the best NHL defensemen, Hedman needs to be in the conversation.
In a pre-season piece on SI.com ranking the top defensemen in the NHL, Hedman was selected fifth. So far this season, he is offensively outproducing the four players ahead of him. The sky is the limit for this blueliner and he should have many All-Star rosters in his future.
To have seen Hedman as the awkward 18-year-old rookie turn into the defensive stud he has become has been truly astonishing. To know he has continued room for growth should excite Tampa Bay fans for years to come.
It is a good thing for both Kucherov and Hedman to finally get the league-wide recognition along with some of the best hockey players in the world. It is something that we have seen firsthand in Tampa for the last couple seasons.