There was little doubt about who was the best team in Game 1 of the Eastern Conference Final between the Tampa Bay Lightning and Washington Capitals. For more than 40 minutes, the Lightning looked lackadaisical at best, seemingly still on their four-day break prior to the game. Every aspect of their gameplan was two steps behind a Capitals team who simply outplayed them with more urgency and care.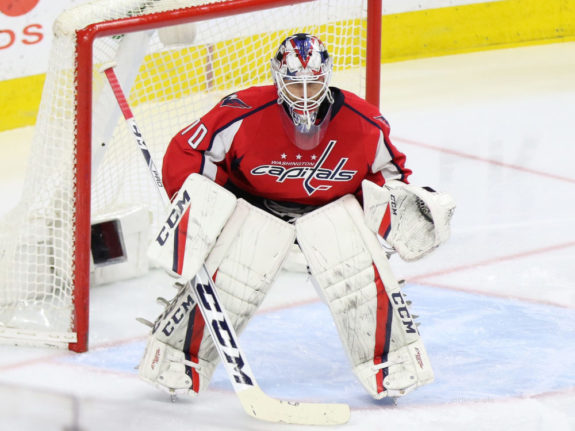 It's difficult to pinpoint exactly what went wrong in Tampa when so little went right for the team. This wasn't like their first game against the Boston Bruins when they played relatively well and had positives to build off of throughout the game despite the final score. No, in this game, the Capitals dominated play, taking a quick four-goal lead before coasting for the last period and a half.
If the Lightning want to avoid being blown out by the Capitals again in Game 2, they will have to make some quick but significant changes to their gameplan. With this in mind, though, the most important change the Lightning can make is a simple one: shoot the puck.
Good Things Happen When Lightning Shoot the Puck
For Tampa Bay to win in this series, they will have to focus more on getting pucks to the net. To put it bluntly, only putting up two shots in the first period of Game 1 was a borderline shameful showing from a team as talented as the Lightning. This is exacerbated by the fact that they had a power play in this period, but still only mustered two lonely shots.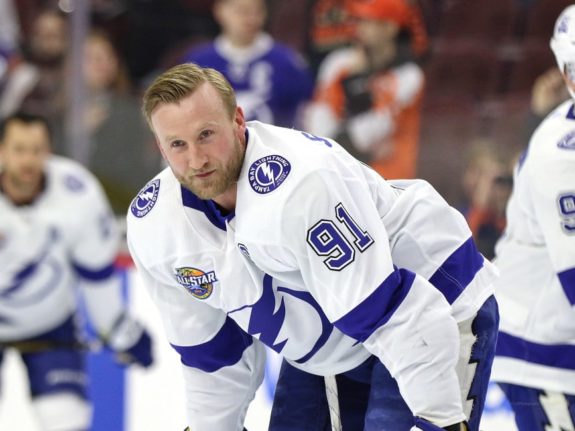 This isn't saying that the Lightning should go into Game 2 taking every low-opportunity shot possible, but there are times when this is the appropriate decision to make. All it takes is a funky bounce or a juicy rebound, and suddenly that shot can produce a goal.
Lightning Passing on the Shot
When they are playing at their best, the Lightning are one of, if not the best passing team in the NHL. It can look impossible to defend against them when they are connecting every pass perfectly across the ice, breaking down defenses and opening up goaltenders for an easy score.
However, if you watched the Lightning throughout the season, you know that the team tends to fall back on bad passing habits when they are feeling rusty or lazy in a game, especially after a break. When they enter the offensive zone, they start looking for the pass, even if they are standing in a prime scoring spot.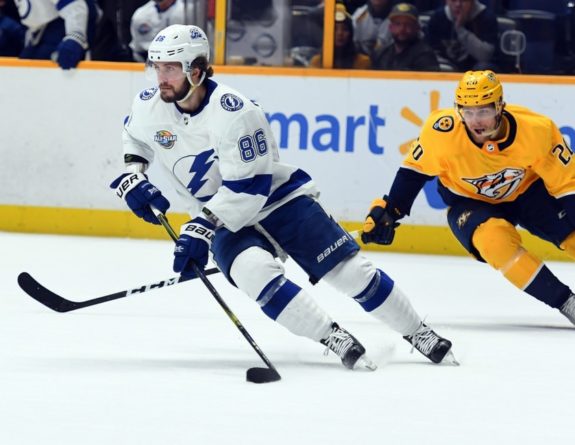 This becomes a real issue for the Lightning when they start relying solely on their passing game for all offensive zone pressure. As we saw throughout Game 1, when an opponent figures out their gameplan, it creates a loop of Tampa Bay entering the offensive zone, only to make an errant cross-ice pass that is easily scooped out by the opposing defense.
As mentioned earlier, more shots on net can alleviate some of this issue, as the opponent has to start respecting both the passing and shooting lanes. If the Lightning can apply better pressure on the net in Game 2, they should be able to improve their passing game in the process.
A Broken Penalty Kill Is Killing the Lightning
It took less than two seconds for Washington to score their first power play goal of this series after the Lightning took an ill-timed too many men penalty at the end of the first period. While this was a perfect shot by Alex Ovechkin, it still is a microcosm of just how bad Tampa Bay's penalty kill has been this postseason.
The man's determined and ready to play.

As you can tell from this @ovi8 rocket. #StanleyCup pic.twitter.com/UT0YgujOGt

— NHL (@NHL) May 12, 2018
The most frustrating part of that penalty kill was the Lightning's complete lack of urgency. The team was clearly thinking about escaping to the locker room down a goal, instead of playing out the period. This led to a lazy face-off loss, bad coverage and a perfect shooting lane for Ovechkin to happily take advantage of.
There's little else to be said about the Lightning's much-maligned penalty kill other than moments like this are costing the team games. If they can't figure out a way to improve to even the level of mediocre, Tampa Bay can expect to give up one to two goals each night to a deadly Capitals powerplay.
One Bad Loss Can't Stop the Lightning
Despite all of the obvious negatives that can be taken out Game 1, it still is only one game. This team isn't afraid of being down in a series, either, so they won't panic after this loss. There's plenty of time for the Lightning to adjust their gameplan, and salvage the Eastern Conference Final.
However, if they come out as flat as they did in Game 1, they will never find success against a hungry Capitals team desperate to rectify over two decades of playoff failure. This makes Game 2 a must-win scenario for the Lightning if they hope to continue their quest for the Stanley Cup.