The hosts and defending world champion Canadians have named their roster for this year's IIHF World Championships, in Ottawa, Ontario. Hockey Canada settled on their 23-player roster without holding a selection camp, but they did tweak things just a bit from last year's squad.
Forwards
The Canadians will have plenty of offense gunning for them, which is no surprise considering the talent pool from which they have to pick. Six of the Canadian Women's Hockey League's (CWHL) top-10 scorers are on this roster: Meghan Agosta-Marciano, Jayna Hefford, Caroline Ouellette, Rebecca Johnston, Gillian Apps, and Natalie Spooner.
Almost all of their forwards would be top players on a competitive team, so it's hard to gauge who will make up Canada's top-six. Agosta is a sure-fire bet to be in there, though. She led the CWHL in scoring and was 13 points ahead of the second-best scorer. She is hands down one of the best offensive players in the world. Marie-Philip Poulin will also likely see a lot of ice time in a scoring role. She just finished her a junior year at Boston University, so she's one of the youngest players on the roster, but that shouldn't intimidate her at all; as an 18-year-old, she was the youngest player on Team Canada at the 2010 Winter Olympics…and she scored both goals in a 2-0 gold medal game win for her team.
The Canadians have a tendency to rely on their veterans, so Jayna Hefford, Caroline Ouellette, and Hayley Wickenheiser will also likely play on the top two lines. All three are still in good form, and were big reasons why Canada captured gold last year; in fact, Ouellette netted the overtime winner against the U.S. However, the team and the older players especially got off to a bad start in the 2012 tournament, falling to Team USA 9-2 in the opening game. These three players, with their leadership and experience, will be very influential in whether or not that kind of start happens again this year.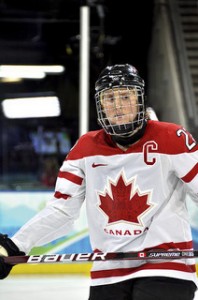 Haley Irwin, Rebecca Johnston, and Natalie Spooner will also likely be placed in scoring roles for Team Canada. All three just finished their rookie seasons in the CWHL, with Irwin playing for Montreal and Johnston and Spooner both playing for Toronto. Irwin's been an important part of the Canadian national team for a while now; she was a member of the Olympic gold medal-winning team in 2010. Unfortunately an injury in the opening game last year cut her 2012 tournament short, but she'll look to make an impact this year. Johnston's got great hands and creativity, and Spooner is a natural goal scorer. All three had very productive collegiate careers in the NCAA, and they've all certainly got the talent to play in Canada's top-six. In fact, one of the bigger questions heading into this tournament is whether or not this younger generation will be able to win ice time over their well-established, veteran teammates.
Two of Canada's most interesting forwards are Jenn Wakefield and Brianne Jenner. Both are talented but may not fit into a scoring role heading into the tournament. Wakefield rounds out the trio of Toronto rookies on this roster; her projected offensive ceiling may not as high as Johnston's or Spooner's, but she's very good in all three zones and is a proven clutch performer. Jenner just completed her junior season at Cornell University. She made huge strides this year, as her goal total jumped from 20 in 2011-2012 to 35 this past season. She's still growing as a player, but she's got a lot of skill and has really started tapping into her potential. Both Jenner and Wakefield could shake things up a bit and play their way into bigger roles for Team Canada.
Sarah Vaillancourt, Gillian Apps, and Bailey Bram round out the list of forwards on this roster. Vaillancourt is a bit of a wild card. She's very skilled and has had a great playing career so far. She's a two-time Olympic gold medalist, having represented Canada in 2006 and 2010. However, hip surgery has kept her off the ice for the majority of the past two years. It'll be interesting to see where she slots in for Canada.
As for Bram and Apps, they'll likely play more limited roles for Team Canada. They're just not as dynamic as most of their teammates, but they still bring some valuable things to the table. For Apps, it's definitely her size. She's a great option to have to screen the opposing goalie, and she knows how to use her big frame to her advantage to win battles. Although likely not as potent a scorer at this level as she was in college, Bram will add a bit of flair to Canada's lower lines.
Defense
This Canadian roster has a very good mix of talents and styles on the back-end.
Meaghan Mikkelson, Catherine Ward, and Tessa Bonhomme will likely be the leaders of Canada's blue line. All three were members of the 2010 Olympic squad. Mikkelson is an offensive-minded defenseman, and she'll definitely be counted on to help get the offense going. Bonhomme is a fiery player who's solid all-around. Ward has great presence on the blue line; she's a smooth, two-way player who's very good at settling things down and establishing control.
The Cornell duo of Laura Fortino and Lauriane Rougeau will share a blue line again as they lace up the skates for Team Canada. Despite their obvious talent, they had some surprising lapses this past year, but they still had very nice seasons. Rougeau won the ECAC's Best Defensive Defenseman Award for the second year in a row, and she'll likely play a shut-down role for Canada. Fortino was a bit up and down this season after showing so much potential last year, both for Cornell and at the 2012 World Championships. She has great offensive abilities and if she's at her best here in Ottawa she will add a whole other dimension to Canada's group of defenders.
Jocelyne Larocque and Courtney Birchard are the final two defensemen on the Canadian roster. Larocque's got decent puck-moving abilities and a strong defensive game. Birchard has a bit of two-way skill, but her game isn't as dominant as her fellow Canadian defenders. Still, she's a good depth option to have.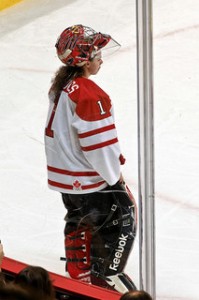 Goaltending
It's probably safe to pencil in Shannon Szabados as the number one goalie on Canada's depth chart. She is without a doubt in the conversation for best goalie in the world; she's put in many spectacular performances in the past, and is just one of those net-minders that can and will make any kind of save to lead her team to victory.
If anything should happen to Szabados, Canada's got two good options behind her. Charline Labonté is an experienced veteran who's been the starter for Montreal's highly successful CWHL franchise for a few years now. Last year, she was basically Canada's second-string goalie, but that could change this year because of Geneviève Lacasse.
Lacasse had a superb 2012-2013 campaign for the Boston Blades of the CWHL, winning the league's Goaltender of the Year award as a rookie, compiling a 1.26 goals against average and a .925 save percentage. That all might be enough for her to at least earn a start in this year's tournament. Lacasse is an extremely talented goalie, and she's not worn down very easily; her stand-out career at Providence proved that.
The Skinny
Hockey Canada has definitely assembled an experienced, veteran group this year. Just four players on this roster competed in the NCAA this past season; even the players that never played in the NCAA are older than a college senior. But most of this Canadian group played in the CWHL in 2012-2013. Sarah Vaillancourt is the lone addition to this year's squad from the 2012 World Championship team, in place of Vicki Bendus.
The Canadians' motto last year was "skill and sandpaper", and they'll likely have the same mindset heading into this tournament in Ottawa. This is a very talented group, but the same time, one that was clearly built around physicality. They proved in 2012 that they can win if they play that kind of game, but that disastrous first game against Team USA also showed how it can backfire if they're not prepared. Canada just needs to focus on playing to their physical strengths in all three zones, and not just when they're on the attack, and they'll most likely be very successful.