Rickard Grönborg faces the World Cup as the first task at his new job as general manager for the Swedish national team, and he has spent the last year or so preparing for the assignment, traveling the world (or at least the North America) to find his lucky twenty-three.
With him, Grönborg have brought a team of, amongst others, retired NHL icons Daniel Alfredsson, Mats Sundin and Nick Lidström. So I feel confident that the Swedish fate lies in the best of hands.
The last seven names will be announced on May 27, and almost regardless the outcome Sweden will have one of the most exciting line-ups in the World Cup.
Team Sweden's Projected Final Roster Spots
Forward
Patric Hörnqvist
Carl Hagelin
Gustav Nyquist
Jakob Silfverberg
Marcus Krüger
Out of these five I only really see Hörnqvist and Hagelin as obvious choices. Considering their performances and glowing form for the Pittsburgh Penguins in the playoffs, they should probably have been selected already on the first list. Hörnqvist can embrace the role as the opponent goalie's nightmare in front of net, especially in power play, while Hagelin and his lightning pace works all over the ice.
The other three players are more difficult to project. It is almost like a lottery to guess what has gone through Grönborg's mind with those slots. With that being said I would bet (not all) my money on Nyquist, Silfverberg and Krüger. They can all be seen as rather defensive attackers, or at least as two-way forwards, and I actually think that Sweden values those attributes the most in this kind of tournament.
Another thing that all of the forwards mentioned above have in common is that they are an offensive threat, likely to get on the score sheet. Well, maybe not Krüger, but for that he compensates by being one of the NHL's top seven best defensive centers in my book.
Of course other possible forward picks could be Rickard Rakell, Carl Söderberg, Viktor Rask, Patrik Berglund, Mikael Backlund or any other name that I might have forgotten just now. And to substitute any of the projected forwards above with any of these five players would not be wrong either.
Defense
Mattias Ekholm
I know what you are thinking. "Are you out of your mind? Of course John Klingberg will clinch that last defensive spot." I hear you, but I am not sure that Grönborg reckons the same way. Klingberg has had a spectacular season, no one can argue otherwise, but the Swedish roster already has a player with the same style as Klingberg and that player is Erik Karlsson.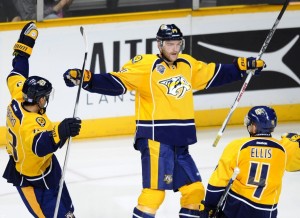 And with Ekholm, Sweden would get a bit more diverse option in the defense. He knows the offensive game, even if he is not as skilled as Klingberg, but he also handles the game on the other side of the ice comfortably.
Other potential players to fill that last position are Hampus Lindholm and perhaps also Johnny Oduya. Lindholm would be interesting to see in this environment, being one of the most promising Swedish defenseman out there. Oduya would on the other hand bring a lot of heavy experience to the team.
Goalie
Robin Lehner
When the role as that more or less pronounced third-keeper is handed out, you have to consider more aspects than just the on-ice performances. That goalie can, even if he is not necessarily better than the alternatives, prove to be as important in the locker-room, attending to what's best for the team. Also he must accept to be sidelined, as well as manage a possible sudden appearance.
It is not only because of these things that I think Lehner will get the call. In fact, I think that he is just as good, if not at times better, than both Jhonas Enroth and Jonas Gustafsson, who are his strongest competitors.
Team Sweden World Cup Roster Projection
(projected additions in italics)
Goalies
Robin Lehner, Buffalo Sabres
Henrik Lundqvist, New York Rangers
Jacob Markström, Vancouver Canucks
Defensemen
Mattias Ekholm, Nashvillle Predators
Oliver Ekman-Larsson, Arizona Coyotes
Victor Hedman, Tampa Bay Lightning
Niklas Hjalmarsson, Chicago Blackhawks
Erik Karlsson, Ottawa Senators
Niklas Kronwall, Detroit Red Wings
Anton Strålman, Tampa Bay Lightning
Forwards
Nicklas Backström, Washington Capitals
Loui Eriksson, Boston Bruins
Filip Forsberg, Nashville Predators
Carl Hagelin, Pittsburgh Penguins
Patric Hörnqvist, Pittsburgh Penguins
Marcus Krüger, Chicago Blackhawks
Gabriel Landeskog, Colorado Avalanche
Gustav Nyquist, Detroit Red Wings
Daniel Sedin, Vancouver Canucks
Henrik Sedin, Vancouver Canucks
Jacob Silfverberg, Anaheim Ducks
Alexander Steen, St Louis Blues
Henrik Zetterberg, Detroit Red Wings