The Vancouver Canucks' prospect camp is underway this week, and while the majority of fans and players are enjoying the sun, the future of the club is hard at work.
The week long camp offers Canucks' draft picks and invitees an opportunity to impress Head Coach Willie Desjardins.
Canucks fans have plenty to monitor as well. Outside of the usual suspects, Bo Horvat, Hunter Shinkaruk, Jake Virtanen, Brian McCann and Brendan Gaunce, who are the players at this year's camp fans should be paying the most attention to?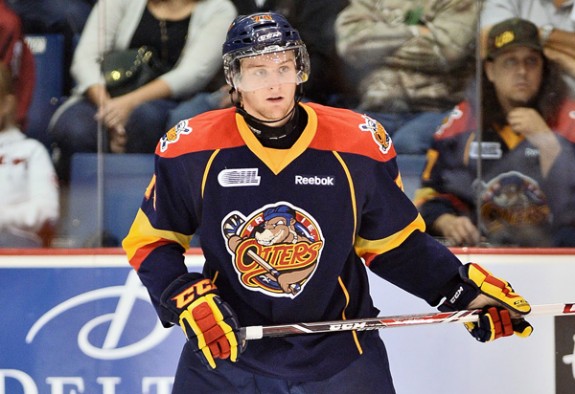 DANE FOX
Every Canucks fan has heard his name, looked up his stats and became giddy with anticipation. Fox had a monstrous year, leading the OHL with 64 goals to go along with 43 assists in 67 games.
Yet there are lingering questions about Fox's game. Fox was an over ager tearing up the OHL on a line with future superstar Connor McDavid. He had only scored 54 goals in his 5 previous seasons before this one and because of other concerns about his skating, Fox ended up  as an undrafted free agent signing for the Canucks this past December.
But 107 points!
I'm interested to see Dane Fox at this camp. Scored 64 goals in 67 games for Erie last year. Had 107 pts and 122 penalty minutes. #Canucks

— Cam Tucker (@CamTucker_Sport) July 3, 2014
The Canucks' prospect camp offers Fox the opportunity to back up his numbers with his play. But, as with anything concerning the prospect, there lies a question about camp as well: Fox is 20 and a majority of the invitees to the Canucks' prospect camp are younger than him, just as in junior.
If Fox struggles this week, maybe the questions about him are legitimate and his past season was a fluke. But if Fox dominates once again, then management will have to take a closer look at him in training camp.
Canucks fans should hope for the latter.
ANTON CEDERHOLM
Anton Cederholm has created a lot of buzz after his very stellar 2013-2014. His performance was encouraging enough that the Canucks signed him to an entry-level contract this past spring.
Cederholm is a big bruising defenseman who played a ton of minutes on a very good Portland Winterhawks squad. He'll probably go back down to junior for the upcoming season, but that doesn't mean he won't have anything to prove at the prospect camp.
It will be interesting to see if Cederholm performs as well without CHL Defenseman of the Year Derrick Pouliot as his partner and if the big Swede has the tools to improve on an offensive game. A matchup all Canucks fans should be watching closely is Cederholm against the top offensive talents in Shinkaruk, Fox or Horvat. If Cederholm consistently wins these battles, the buzz about the prospect will increase substantially.
At the moment, Cederholm is looking like a steal in the 5th round of the 2013 NHL draft. The prospect camp gives him a great chance to show to Canucks fans that their hope is warranted.
CURTIS VALK
Curtis Valk is a very intriguing prospect. Having scored 91 and 92 points the last two seasons respectively, Valk finds himself as an undrafted, unsigned invitee to camp.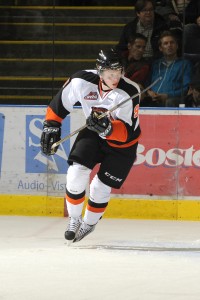 A lot of the questions that surround Dane Fox can be applied to Valk. Valk was in his 20 year old season when he scored 91 points and was an over ager at 21 when he scored 92. He is also listed at 5'9, which is incredibly small for a center.
Despite the questions, Valk has plenty of positive attributes that may possibly turn this try out into something more.
Valk, unsurprisingly, is a former Medicine Hat Tiger, who played with Hunter Shinkaruk his draft year.
"His season was unbelievable not just his numbers, but the way he took off in the second half when we really needed him to after losing (Hunter) Shinkaruk," said [Head Coach Shaun] Clouston. "(Valk's) leadership was enormous. We are losing our top player." – Darren Steinke, Medicine Hat News
Valk possesses a high level of skill and strong leadership qualities, but the key battles to pay attention to are when Valk is matched up against the bigger defenseman in camp, especially Nikita Tryamkin and Anton Cederholm. If Valk overcomes his size disadvantage and creates some offensive opportunities, the Canucks will have to seriously consider bringing the former Tiger to training camp and see if he can do the same against stiffer competition.
Either way, Valk's offensive potential and intangible qualities makes him a must watch prospect in camp.