At this very moment, is Anthony Duclair good enough to play a full season in the NHL? That's up for debate.  Does he deserve to be sent back to the QMJHL? Probably not. Then where does he belong, you might ask? Anthony Duclair belongs in the AHL. But of course he won't go there because… well, he can't.
Whether or not Anthony Duclair gets sent back to the Quebec Ramparts of the QMJHL is anybody's guess. It really is. Alain Vigneault might know the 19-year-old's fate. Glen Sather is surely helping the head coach with that decision, but it's ultimately a call that will remain air-tight until it's final.
However, just when it seemed that the writing was on the wall with the scratching of Duclair for two games in a row, Vigneault has thrown a curveball. Alain Vigneault announced that Ryan Malone will be scratched, and "The Duke" will be back in the lineup on Saturday as the Rangers travel across the border to take on the Canadiens for the first time since the 2014 Eastern Conference Finals.
Anthony Duclair's future beyond Saturday is unknown.  Where he belongs, either the QMJHL or the NHL, is up for debate. However, if the AHL were an option, there wouldn't be any need for a debate, for the answer would be right in front of us.
What We Know
By now, we of course know that Anthony Duclair is a very talented hockey player. In three seasons with the Quebec Ramparts of the QMJHL, Duclair amassed 215 points in 183 totals games.  His most productive and balanced season came during the 2013-14 campaign, when he recorded 99 points (50-49-99) in 59 games. They aren't quite Connor McDavid numbers, but they are pretty good. We also know that the left-winger had a very good training camp and pre-season with the Rangers. In three pre-season games for New York, Duclair recorded three goals and two assists (3-2-5), and was awarded the Lars-Erik Sjoberg Award, which is given to the best Ranger rookie in training camp as selected by the media.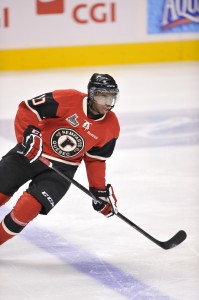 Duclair has also gotten off to a decent start while playing up with the big men in the NHL. In the five games that he's played, Duclair has notched three assists (0-3-3), with a plus-4 rating, playing alongside the likes of Rick Nash and Martin St. Louis.
Long story short, the young forward has played pretty well.  But despite his seemingly strong play, Alain Vigneault has had Duclair scratched for the past two games, again raising question marks on whether Duclair's current stint on Broadway is winding down.
Duclair first sat out of Sunday evening's game in New York against the Sharks, and then again on Tuesday in New Jersey against the Devils. In both games he was replaced by the bigger veteran forward Chris Mueller, who has made an immediate impact upon his insertion into the lineup. It made sense to put in the physically bigger Mueller against San Jose, because San Jose is a pretty big and tough team.  But against the Devils? That one was in need of further explaining.
Duclair watched both of those games from the sidelines, time in which he was supposed to use paying close attention to details which would in turn help his game, and help him grow as a player.
But let's not beat around the bush here. Does a 19-year-old benefit more from sitting out and watching the game, or by playing on the ice, learning from mistakes that will inevitably be part of the growth process? I would argue the latter every time.
When asked about Duclair and his decision to sit the winger for the second game in a row, Vigneault told reporters, "every player is different, each case is different and in Anthony's case, if we send him back to Junior we can't bring him up. We don't have that leeway of sending him to Hartford and then bringing him back up."
And therein lies the problem.
There's no question; Anthony Duclair is tremendously skilled, and probably good enough to hold his own in the NHL.  But at the end of the day, he is still just a kid in need of further all-around development. Duclair is still just a teenager, and as history can show us, there have been only a select number of players over the years to ever enter the NHL as a teenager and have real notable success at such an early age.
This is why the dilemma that Vigneault currently faces is far more complicated than the one that he's also facing with say, JT Miller. As Vigneault stated, if Duclair gets sent back to Quebec, he's there for the remainder of the season. If he stays up with the Rangers, but isn't quite fit to play in certain games, he's going to stay with the Rangers but be a healthy scratch, which is not very beneficial to his development as a professional hockey player.
So then, where does Anthony Duclair belong? With the Hartford Wolf Pack; the Rangers' minor-league affiliate in the AHL. The AHL is the closest league to the NHL, with all players competing to either stay at the AHL level or working to take the final step up to the NHL. For a player like Anthony Duclair, playing in the AHL would be the most beneficial to his development as a player.
But just because it's where he belongs doesn't mean he will play there this year. In fact, he can't.
While the AHL by-laws technically allow 18 year-olds to play in the AHL, a deal between the NHL and the CHL makes that very rare. The deal makes it so that young Canadian and American-born players who have gone through the Canadian junior system must be 20 years of age in order to compete in the AHL. Since Duclair played for the Ramparts in Quebec, he does not meet this standard, creating this conflict. There are certain exceptions to this rule, such as what recently occurred with Jonathan Drouin and his temporary assignment to the AHL due to an injury.  But aside from that, and in Duclair's case, there isn't a whole lot of wiggle room within this rule.
So here is Anthony Duclair, not quite ready to play each and every game at the NHL level, but too valuable to the Rangers to send back to the QMJHL for the remainder of the season. He will play some NHL games – which will obviously benefit his development – but also sit out many as well, which will hinder said development.  But not as much as if he was sent back to Quebec? You can clearly see that this is not just a keep-him/send-him type issue. So where is the middle ground for "The Duke of New York?" It's in Hartford, where he is not yet allowed to play.
Model the Compliance Buyouts
So now I'll get to the million dollar question. Under the new CBA that was agreed upon by the owners and the NHLPA in January 2013, NHL teams are given two compliance buyouts per CBA period. Would it be that crazy, then, to suggest that perhaps a similar option be given to teams for prospects such as Anthony Duclair, say, twice within a CBA period? Should Alain Vigneault and the Rangers at least have the option to choose not just whether or not to send Duclair to the AHL, but whether they'd like to even use one of their very limited and precious "Requirement Voids" on Duclair at all?
The current rule limiting these junior players from AHL competition is simply too rigid. It leaves young developing players – some might even argue budding stars – like Anthony Duclair between Sandy McCarthy and the boards with no real place to go. Either Duclair sits, watches some games and gets inserted into the lineup here and there, or he goes back to Quebec and dominates in a league he's already proven he's more than capable of skating with the league's best. It may not be an all-around lose, but it certainly isn't a resounding win.
WHAT'S NEXT?
Alain Vigneault has already said that Anthony Duclair will, in fact, be in the Rangers lineup Saturday when the Rangers visit Duclair's home city of Montreal. Vigneault is excited to put number 63 in the lineup in the hopes that he'll receive custom-made suits from Duclair's uncle in return, but also because he's really liked what he's seen from him in practice in recent days.
"He's worked real hard the past week / ten days, and he's obviously going to be real excited about this," Vigneault said. "He's just got to go out and enjoy this. I'm sure he's going to handle it well."
Having the opportunity to play in front of many friends and family at the Bell Centre isn't something every player gets to do. So chances are pretty good that Duclair plays a solid game in Montreal on Saturday, as the excitement of playing in his home town should provide him with a lifetime supply of adrenalin.
"Growing up I was a Habs fan and I'd go watch the Canadiens because they were my boyhood idols," Duclair said. "The crowd there is just unbelievable. It's going to be an incredible experience, and to be able to share that with my family and friends will be really special."
And despite the excitement for Duclair and confidence expressed by Vigneault, there are clearly still some reservations on the part of the coach with regards to the winger's true NHL readiness, as the recent scratches would suggest.
Whether or not this "special night" for Duclair will be one of the last times Ranger fans will see him on the ice representing New York this season is still unknown. Perhaps we'll know more come Sunday morning. Or maybe we won't. But what we do know for certain is that he won't be sent where he truly belongs; developing with the Hartford Wolf Pack in the AHL.