It is difficult to believe the Boston Bruins will not be playing postseason hockey this season but that is the hard truth as New England awoke on Sunday morning.
They became the first team in NHL history to accumulate 96 points and miss the playoffs.
It is amazing to think this time last season the Bruins won the Presidents Trophy, two years ago they were in the Stanley Cup Finals, and four years ago they were hoisting the franchise's first championship since 1972. A meteoric fall from grace was capped off in Tampa Bay with a 3-2 shootout defeat at the hands of the Lightning.
So what happened? Let the post-mortem begin.
Chiarelli's (Over) Commitment To The Core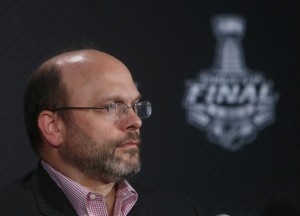 When Ottawa native Peter Chiarelli took over as Bruins general manager in May 2006, the club was in shambles. The Original Six franchise finished the previous season with the fifth-worst record in the league.  It was a gradual process, but Chiarelli eventually spearheaded the Bruins dive to the NHL summit in 2011.
Four years later, he is the poster child for Boston's plummet to postseason elimination. After their Stanley Cup triumph, Chiarelli decided to keep his "core" locked in place for the foreseeable future. The result has been a series of bad contracts that the Bruins will now be eager to rid themselves of in the offseason.
One 20-goal season merited Chris Kelly a four-year contract and a no-trade clause. In the 171 games played since then, he has a meager 19 goals and is still on the books for next season.
Milan Lucic signed a three-year contract with a no-trade clause in the summer of 2013 after a promising three-year stretch in which he displayed his potential as a bruising power forward. His 44 points this year were the fewest for the 26-year-old winger in an 82-game season since 2009-10.
Zdeno Chara and Dennis Seidenberg have three years remaining on their respective deals. The two aging defensemen are not getting any younger and noticeably regressed this year. Furthermore, Chara ($6,916,667) and Seidenberg ($4,000,000) are on the books for close to $11 million each of the next two seasons in addition to some form of a no-trade/no-movement clause in their contracts.
Chiarelli's questionable contracts are only the tip of the iceberg. A questionable draft record and trade history,*cough* Tyler Seguin and Johnny Boychuk *cough*, have turned the entire fanbase on the same guy that resurrected their hockey club back to respectability nearly ten years ago.
#NHLBruins year-end player availability will be Monday morning followed by press conferences with GM Peter Chiarelli & Coach Claude Julien.

— Shawn Hutcheon (@ShawnHutcheon) April 12, 2015
Will Monday be the final press conference in the Peter Chiarelli era on Causeway Street?
Julien's Outdated System
The Bruins had not missed the playoffs since Claude Julien was hired as head coach by Chiarelli in 2007. The former Montreal boss implemented a "defense first" system that preached accountability in the defensive zone. In his first season, Julien's system worked as Boston finished 11th in goals allowed/game (2.62), a vast improvement over the previous year when they owned the second-worst defense in the league (3.46 goals allowed/game).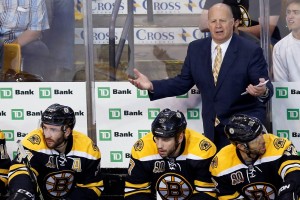 This season, the Bruins were the eighth-best defensive team in the league (2.45 GA/G) but struggled when it came to scoring goals. Julien's club ranked in the bottom-third averaging just 2.55 goals/game. The league is trending towards a more offensive game given the recent rule changes and an uptick in players relying more on speed and finesse than grit and physicality. The coach's system worked when he started, but is now outdated.
On some nights this season, it seemed Julien picked names out of a hat to form his lines. A reluctance to change in past seasons was overcompensated this year. The consistent insertion of Gregory Campbell into the lineup was a questionable one, especially down the stretch when the club was desperate for offense.
Wednesday night in Washington, Boston's fourth-line center played 15:30 while young, skill players Ryan Spooner and David Pastrnak played 13:14 and 11:18, respectively. Fan outrage after their 3-0 loss was palpable as it was a bad start to a season-ending road trip in which they only mustered four goals while allowing nine.
Julien's eight-year tenure as Boston's head coach could be reaching its conclusion. The Bruins have a collection of skill players on their roster, but do they have the right coach to guide them? In a league where offense is king, Julien's system is playing queen.
Bruins CEO Charlie Jacobs hinted at possible changes back in January if his team failed to make the playoffs. From the Boston Globe:
"For us to be a team that's out of the playoffs is absolutely unacceptable," he said. [The evaluation process] is fluid right now. I can't say that any moment we have a final decision, other than to say it's been an utter disappointment and a failure. A complete failure."
Does Jacobs have the nerve to follow through on his word now that the Bruins have missed the playoffs?
After a season filled with mediocrity and disappointment, changes are coming on Causeway Street but just how sweeping remains unknown…for now.
Joe is a writer covering the Boston Bruins. He is a lifelong native of Massachusetts and is currently a content writer/manager for a newsletter at a Human Services Agency. Joe can be found on Twitter: @JoeCherryTHW