Last night's game between the Philadelphia Flyers and the Pittsburgh Penguins will be referred to by many as a classic example of old-time hockey – full of hard hits, fights and a defined rivalry. Others will look at it differenty – a game where referees lost control of the players or where coaches just didn't know where to draw the line.
While it was a game that certainly had fans on their feet at certainly points and their heads in the hands at others, it was a matchup that will be reviewed thoroughly by the league. There were 93 total penalty minutes, which included 66 in the second period alone. It also included one ejection, four fights and two questionable hits by Flyer players.
So with the bullies back on Broad Street, here's how these two plays break down.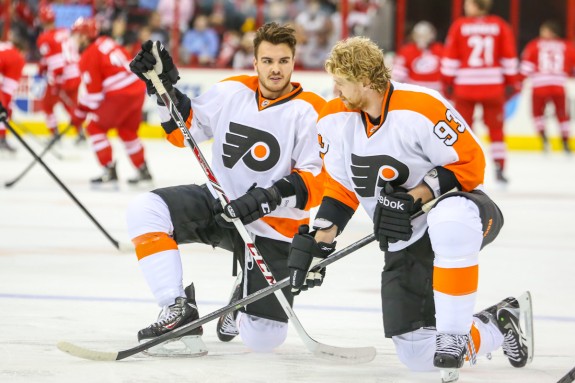 Zac Rinaldo: The Game Changer?
It started in the first period when highly-penalized Flyer, Zac Rinaldo, ran Penguins defenceman Kris Letang into the boards from behind.
The hit landed the Rinaldo – who has 545 career penalty minutes in 201 games – a five minute boarding major and a game misconduct. Letang, was left crumpled along the boards and would also leave the game with an undisclosed injury.
Now forget for a second, that Rinaldo has a history of suspensions and fines in the NHL. Let's just take a look at the individual incident.
First, Letang's numbers were clearly the singular point of contact. Facing the boards in an attempt to clear the puck, Rinaldo came in from a bad angle slamming Letang against the glass. At the 11 second mark of the video above, it shows Rinaldo leaving his feet to make the hit – a move that causes him to make contact higher on Letang's back and forcing the defenceman's head into the glass.
Finally, while the clearing attempt was blocked by Wayne Simmonds and on it's way back to Letang, it's clear that the Pens player didn't have possession of the puck when contact was made.
A History of Bullying
Now Rinaldo was offered an in-person hearing which allows the league to suspend him for five games or more. Getting back to his history, the Flyers enforcer was fined twice and suspended for two games in his first 165 games in the NHL. His most recent incident came April 6th of last year when he made an illegal check to the head of Sabres' defenceman Chad Ruhwedel.
The proximity of these two events is what will play against Rinaldo in the case of his hit on Letang. While it's without question that he will be suspended, the term is still up in the air. He will surely see a minimum of five games, but what will teach him that it's time to change his style of play?
The game is changing and along with that, the role of the enforcer is diminishing. At least the role of the enforcer who can't provide offence is dwindling in a league driven by offence. And with that, is Rinaldo's place with the Flyers at risk of being removed?
Good thing the NHL has guys like Zac Rinaldo around to keep players safe from guys like Zac Rinaldo.

— Ken Campbell (@THNKenCampbell) January 21, 2015
Either way, he didn't help himself by mocking the play in his post-game comments, as Greg Wyshynski writes in a recent Puck Daddy post.
"I was going pretty fast. I think the impact of me hitting him sent them up a little bit," said Rinaldo about his skates leaving the ice. "If you slow down any hit, you see guys every single hit [doing something] that can be criticized."
He continued, "I don't think they should slow it down and dissect every little thing."
Newsflash Zac, they only slow down plays that need a second look. Unfortunately, that means slowing down hits that cause injury – to see if that kind of play is somehow preventable.
Still, Rinaldo felt he changed the game.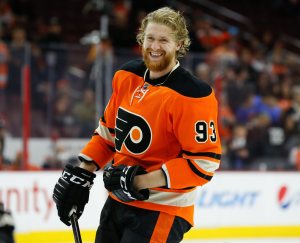 "Yeah, I changed the whole game, man," he said in a tongue-and-cheek manner. "Who knows what the game would have been like if I didn't do what I did?"
The Unusual Suspects
The first-period hit was just the starting point – leading to a number of penalized plays in the second period. As mentioned, it led to four fights. But it wasn't your usual suspects.
Two minutes into the second frame, Zach Sill and Michael Raffl tussled in what was a spirited tilt. That was followed up by Jakub Voracek going after Rob Scuderi after he was rubbed off along the boards by the Pens defenceman. The play also landed Voracek an instigating penalty and a 10-minute misconduct.
With half the period gone, the league's highest penalized player Steve Downie matchup up with Luke Schenn which ended with a bloody-faced Schenn. And with just over three minutes left, Pierre-Edouard Bellemare took on Bobby Farnham who restrained himself from landing a devastating blow with Bellemare laying on the ice.
The fisticuffs ended there, but it was a spirited affair that many players referred to as an emotionally draining game – one that can't be played every game during and 82-game season.
Del Zotto Deserving of More Attention?
Now, I mentioned there were two hits that were questionable or teetering the line of legal. The second, happened in the explosive second period when Michael Del Zotto was handed a two-minute minor for charging on Robert Bortuzzo.
But, even though Rinaldo dislikes slowing down hits, we did just that on the Del Zotto hit and here's what we found.
Not only was it charge, but like his teammate Del Zotto went airborne while making the hit on Bortuzzo. Leaving his feet, allowed the Flyers' defenceman to land a hit on a higher point of Bortuzzo's body and turned what could have been a simple body check into a dangerous hockey play.
While Rinaldo was the newsmaker of this Metropolitan Division rivalry, Del Zotto may be the rule-breaker that is overlooked. Certainly, on any other occasion this hit would be looked at again by league officials, however, with the Rinaldo play fresh in the minds of hockey fans and the Department of Player Safety, Del Zotto might owe his Flyer mate a drink if he finds himself without punishment.
Regardless of how you look at this game – as a perfect rivalry matchup or an over-energized emotional tilt – the Flyers demonstrated their relentless fight-first attitude that seems to have the team built as a close-knit group.
While the Broad Street Bullies may have passed into a new generation – at least for one night – they still have to find a way of playing within the new age rules of hockey.
Thoughts and Shots
1. Winnipeg stymied again as they will not host the Heritage Classic until at least 2016-17 now. (Winnipeg Free Press)
2. 'The Wizard' Ray Whitney is hanging up his skates after a remarkable NHL career and highlighting one of Alex Ovechkin's most lacklustre efforts. (ESPN)
3. Charged – and selfish – one of the jersey's thrown onto the ice belonged to the throwers wife? (theScore)
4. Las Vegas – show us the money! Expansion fees in the city are expected to exceed how much?. (Puck Daddy)
5. Canadian teams getting the short end of the stick when it comes to the NHL's low-interest line of credit? (Globe and Mail)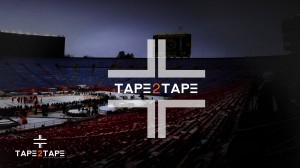 Have some thoughts about this week's column, let me know at @Tape2TapeTHW or @AndrewGForbes on Twitter.
Tape2Tape is a column looking at some of the biggest stories from around the world of hockey. Discussing different topics, it focuses on one major story each week. Agree or disagree, writer – Andrew Forbes – would love to hear what you have to say.