Dick Duff, traded away by the Toronto Maple Leafs 11 months ago, came back to haunt his former team last night.  Duff scored the winning goal as his newest team, the Montreal Canadiens, slipped by the Toronto Maple Leafs by a 2-1 score at Maple Leaf Gardens.  The game was one of two scheduled in the National Hockey League.  In the other match, Bobby Hull scored his 37th goal in Chicago's 7-1 lambasting of the Boston Bruins in Chicago.
Dick isn't gloating
Duff and Claude Larose scored for Montreal during a four-minute span during the second period.  Larose opened the scoring at 4:26 with a scrambly goal that even the players were unsure of how it went into the net.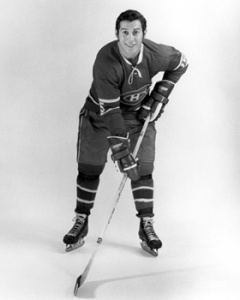 Larose said he pushed a rebound under Leaf goalie Johnny Bower, while Bower said the puck went just over him while he was prone on the ice.
Planned play
About four minutes later, Duff was credited with his game-winner, a goal that deflected off his skate. Duff said the play was planned:
"I told Bobby Rousseau to try and shoot the puck towards the net on that corner faceoff.  I told him I was going to make a rush towards the goal.  Then I asked Talbot to cover my man in case the puck went back to my side.  It worked out all right, didn't it?"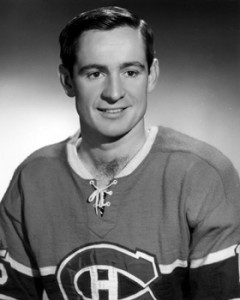 Duff said he has waited far too long to score against his former employers.  He was traded to the Rangers along with Bob Nevin, Arnie Brown, Rod Seiling and Bill Collins for Andy Bathgate and Don McKenney last February.
First against Leafs
"That's my first against the Leafs since they traded me to New York last February 22.  It was too long in coming but it was a winner and I have to be glad about that.
"I'm not going to pull a Ted Lindsay and say I'd play against Leafs just for kicks.  I like to get paid.  But that red light sure threw a warm glow in my direction because I'm still trying to convince Punch Imlach that I'm a goal-scorer."
Jim Pappin was the lone Toronto scorer, with his tally also coming in the middle frame.  Leaf coach Punch Imlach expressed his frustration with the loss and felt his team deserved at least a tie based on their play.
"That's the fourth time they've beaten us in five starts on our own ice.  Those eight points are the reason they're leading the National Hockey League and we're back in third place."
Bower: Habs got the bounces
Bower felt the Habs got the bounces:
"Larose slapped the puck and it rolled up my glove and arm and down the other side into the net.  And Duff shook his check and was all alone when the puck got over to him.  Then the darn thing hit his skate and skidded in off his stick.  Two lucky bounces and we were behind the eight ball."
The win for Montreal was its third straight, all coming after Gump Worsley was recalled from the American Hockey League and installed in goal.  Worsley made 30 saves, and was especially strong in the first two periods, when the Leafs held the edge in play.
Stemmer will stay
It looks as though rookie Pete Stemkowski will stay with the Leafs.  Stemkowski was called up when the Leafs need to bridge an injury gap, and in eight games he has accumulated two goals while adding six assists.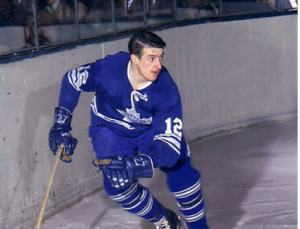 King Clancy, Leafs' assistant general manager, said, "The way Stemkowski has been playing, it's highly unlikely he'll see Rochester again this year."
Hawks score early, often
The Chicago Black Hawks scored three times in the first eight and a half minutes and cruised the rest of the way in their lop-sided win over the Bruins at Chicago Stadium.  The Black Hawks peppered Bruins' goalie Eddie Johnston with 15 first-period drives, three of which found the back of the net.  Pierre Pilote, Stan Mikita and Red Hay were those opening stanza marksmen.
The Bruins briefly showed some life when John Bucyk scored his 15th of the year two minutes into the second period to cut the Chicago lead to two.  However, a minute and a half after that, Freddie Stanfield scored for the Hawks and the rout was on.
Bobby Hull, with number 37 on the season, and Al MacNeil, with his second, followed up with second-period goals before Stan Mikita added his second of the game in the final frame to round out the scoring.
Denis DeJordy had an easy time of it in goal for Chicago, facing only 17 Boston shots.  The Black Hawks fired 40 at Johnston on another night where he could justifiably sue his mates for non-support.
Bruins fan gets 'tryout'
The Boston Bruins, by far the worst team in the National Hockey League this year with only 10 wins in 41 games, at least have a fan base that is both brash and enthusiastic, as well as extremely loyal.  This was overtly obvious this week when one such fan talked coach Milt Schmidt into working out with the club.
The fan, we'll call him Sandy, is a 30-year-old Bostonian.  He is 5 foot-8 inches tall and weighs about 175 pounds.  He turned up at Schmidt's office on Monday morning, proclaiming "I want a tryout with the Bruins.  I've seen your team play and I think I can make it.'
Schmidt asked the guy the standard questions. "How old are you?  Who have you played for? What makes you think you can play in the NHL?"
Among his answers was the statement "I can skate faster than anyone on the Bruins and I'll bet $10 I can."
Schmidt shocked Sandy by telling him, "Go home and get your skates and we'll see."
Sandy showed up for practice Tuesday morning with skates that hadn't been sharpened in two years. Trainer Dan Cunney took care of that.
Once on the ice, Sandy told Schmidt he was a winger, so Milt put him on a line with Murray Oliver and Johnny Bucyk.  They did a line rush and fed the puck to Sandy right in front of goalie Ed Johnston.  E.J. obligingly stepped aside to allow Sandy a goal, but somehow the fan missed the puck and he fell, sliding past the goal and into the boards.
Sandy told Schmidt "Maybe I'm a defenceman", so he was paired with Leo Boivin to take on a three-man rush by Oliver's line.
As the three forwards bore down on the pair, Boivin shouted to Sandy to "Back up, back up!"
Sandy's reply: "For what?" as the three whizzed by to score a goal.
Schmidt had seen enough and called a halt to the proceedings to remind Sandy about the $10 bet (might as well make a little something off this).  "Now's your chance, pick a player and he'll race you."
Sandy replied, "No, I'll race you instead, coach."
Schmidt, one of the all-time great NHL skaters, accepted the challenge, much to Sandy's chagrin.
"Aw, never mind, I don't want to embarrass anyone."
Anyone but himself.