Like everything else in life, the NHL is evolving daily — whether it's rule changes, new uniforms, new equipment, new ways for fans to absorb information on their favorite teams or new state-of-the-art arenas where our favorite gladiators battle on the ice on a nightly basis. Another part of the game that has evolved, and likely will continue to, is how NHL teams, management, coaches and players now use video as a tool to not only learn about their opponents, but also to learn about and grow their own games; while management may use it in negotiations.
There are likely players currently in the league, and readers reading this article that have no recollection of VCR's and video tapes — not shocking. But with some help of a former NHLer, The Hockey Writers will try to give you a glimpse into how the NHL and it's players used video back in the day before there were DVDs and handheld mobile devices had consumed our current lives as much as they do. And we also talked to a handful of current players — three forwards, a defenseman and a goalie — to learn about their experiences in the modern-day NHL and how the evolution of this tool is assisting them in knowing more about their adversaries as well as themselves.
OLD SCHOOL
"Video was just starting out in the mid 1990's and we would usually have to watch a game from start to finish if we played awful," 14-year NHL veteran Brendan Witt told THW via email. "It was like watching paint dry," he recalled. "I just remember Jim Schoenfeld (Witt's coach on the Washington Capitals from 1995-97) yelled insults at us; paused, then hit rewind, and then play — over, and over. I think that session lasted four hours."
Witt (who played from 1995-2010) unbeknownst to him, also gave us a great intro into what the current NHL players will expound upon as the article rolls on. "Fast forward to today's game and now it's a highly evolved tool in the NHL where you are able to look at special teams' players habits, breakouts, special plays, etc; Goalies can now break down players' individual tendencies. I think it is needed and best suits players on how opposing teams play or if they change (anything) in their systems."
This season the New Jersey Devils have surprised a few people with their start through 18 games (10-7-1) and while it is surprising considering how the last few years have gone, it is only mid-November and there is a lot more work to be done. "It's nice to see that we've been able to have success in the process of building the identity that we want," said first-year coach John Hynes after a 4-0 shutout win over the Pittsburgh Penguins, "but we still think we can get better."
Part of how they get better is learning more about themselves and whether or not they are losing sight of the new system that the new regime in New Jersey has implemented. "They reset this summer and refreshed," said Stephen Gionta (who has been with the Devils since 2012) of all of the franchise's changes that may not always be visible to the fans. "Sometimes that's needed and it's a good thing. Guys are buying into the (new) system and we are getting results. Everyone is being held accountable and that's never a bad thing; guys are really coming out and playing hard, doing the little things right now that are leading to wins."
@DRdiabloTHW Devils trap=ruining the sport. rangers trap= smart defensive system.

— RunningWithTheDevils (@RWTDPOD) October 21, 2015
People in hockey-mad places like Toronto, or in some of New Jersey's rival teams' cities will surely say that it's the 'same old Devils' playing 'boring hockey' or 'killing the game', but the last time we checked the Devils franchise did not invent the blocked shot, nor the increased size of goaltender's equipment. They also haven't been bad enough to have scores of top-ten draft picks that will be successful for other teams by the end of their careers.
Okay, sorry, back on track. "It's a new era. You find out a lot of little things about other teams, but it's not always all about them," said 12-year-veteran Jordin Tootoo, who is in his second campaign with New Jersey. "Obviously (with) our game, we want to make sure that we fine tune certain areas and that's what film (study) is all about."
"He's been very clear right from the beginning, of what he expects and what he wants," said Lee Stempniak (who has is on his eighth NHL squad) of coach Hynes. "I think that's a really big strength of this coaching staff — between the meetings, the video and on ice instruction — we know exactly what to expect from them; it really hasn't changed much since the first day of training camp. It's just guiding us to play together as a team."
Like a good student, Lee Stempniak nets the tying goal & the shootout winning goal:
NEW SCHOOL
Most times, before the players come to the rink for off-ice 'video sessions', they already have a pretty good idea what they will be looking at in those sessions with the coaching staff. "It's on your iPad now; I have one that my shifts go onto, get uploaded to," explained Gionta. "Our video team does a great job in getting those ready for guys, immediately after the game essentially. So I can watch that tonight before I go to bed."
21-year-old Damon Severson is only in the second season of what looks to be a promising career, may not have ever seen a VCR in his lifetime (not confirmed!), but he does have an iPad and he knows the advantages that it gives him are crucial to him improving into a solid NHL defenseman. "We have a good setup here now with an app that our video guys hooked me up with. I'm able to watch my shifts — and other guys' shifts; defense on our team, their team. It's nice having that technology (at our disposal) for sure," he told THW.  "It'll be uploaded on my iPad as soon as I log in (when I go home tonight). Watch my shifts, give it a day or whatever it may be. Watch 'em again, see if I see a difference or something. It's good stuff; good stuff to know and to look at it a few times to dissect your game (is a benefit)."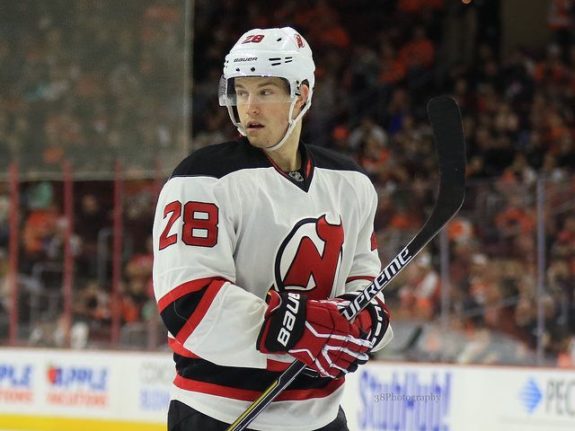 During a late October four-game winning streak the Devils were getting great production from their top line of Stempniak-Adam Henrique-Mike Cammalleri, and then there was a lull that saw them go 2-2-0 culminating with a 2-1 road loss against the New York Islanders. The trio exploded in the next two games against the Chicago Blackhawks and Vancouver Canucks, leading New Jersey to two home wins tallying a total of nine points (4g-5a).
"Yesterday (November 5) we (the three of us) had a long video meeting with (assistant coach) Geoff Ward, just watching our shifts from last game. We (also) saw what had worked for us in the past and what we got away from a little bit over the past three or four games," Stempniak told THW. "A lot of it came down to skating, making the right reads on the forecheck. I think as a line right from the start of the game (against the Blackhawks) we were able to do that. We were able to get in, create some turnovers, get pucks stopped and then you sort of let your offensive instincts take over from there. Just making reads off of each other at that point."
Gionta expounded on the points that Stempniak made, "Guys, whether it's watching their own shifts on their personal devices or coming in after practice, sitting down with the coaching staff as a line or as an individual going over shifts. I think that's one of the keys to succeeding (in this league)," he told us "You see what you did good, you see what you did bad — you analyze it, move forward and learn from it. Guys are really buying into paying attention to the little details that they are teaching us."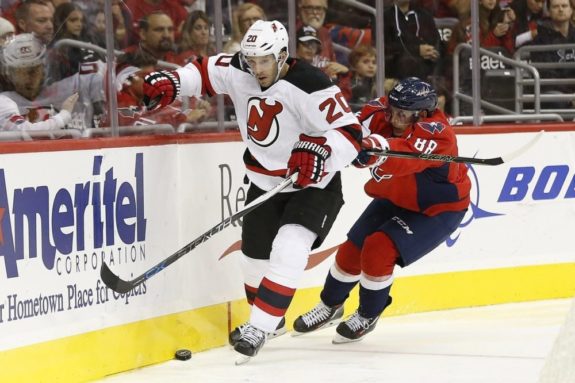 The results are showing that they have bought into whatever it is that the coaching staff is selling, be it 'Relentless' or "Fast, Attacking, Supportive" — after an 0-3-1 start the Devils are 10-4-0 over their last fourteen games. "Watching both our opponents and (also) myself is a big thing," Severson said. "We watch mostly our clips, depending on what it is — power play, penalty kill first. Then we watch the other team, their tendencies, what they do (on special teams) on their side. We do both of that stuff and I think it benefits us, knowing what the other team is going to do and their tendencies."
WHAT ABOUT THE GOALIE?
It's not just the skaters watching and studying their shifts though, goalies are also using this new, ever-evolving technology to help better their games also; and why wouldn't they? With the advent of the shootout after the lockout that wiped out the 2004-05 season, goaltenders have had the need to understand shooters and their tendencies more than ever with the increased chance of facing a shooter in a one-on-one breakaway situation (or penalty shot for purists) more frequently. "Sometimes I do some scouting on shooters, or in case it goes to a shootout, stuff like that. I think that's pretty standard across the league," Cory Schneider explained to THW, "we don't try to overdo it."
Pretty sure Cory Schneider watched some video of Kyle Turris' shootout moves before this game:
One would assume he would also watch some video of himself too, and that assumption is bang on. "I kind of go over my last game, what I've been doing; just making sure I'm where I want to be (in the crease). (I) focus mainly on their forecheck, just to see when I'm going to handle the puck — what's going to be out there and what they like to do." It seems to have helped a bit as Schneider's puck-handling, which is far from excellent, but has gotten better each year in New Jersey.
When we asked Schneider if he watches his opponents' last game (if the opportunity is there), he admitted he mostly doesn't — which is the opposite of his predecessor in the Devils' crease (he watched almost any game he could, taking mental notes) — but that is not much of a surprise considering he and his wife have a newborn baby at home. "No. The coaches show us whatever we need to know and they do a good job of that."
Dan Rice can be reached via Twitter: @DRdiabloTHW or via Email: drdiablo321@yahoo.com.
Dan Rice is in his 9th year of reporting for THW & has covered NJ Devils home games for 15+ years at various websites. He began his journey working for legendary broadcaster/writer Stan Fischler from 2002-04 & completed an internship at the ECHL; he also has been writing features for the NWHL (nwhl.zone) website since 2016.