At the end of last season, the Philadelphia Flyers blue line was in bad shape. The last couple of months of the 2014-15 season marked the final goodbye of the Flyers "old guard" on the blue line. When the Flyers made the Stanley Cup Finals in 2010, they had Chris Pronger, Matt Carle, Kimmo Timonen, and Braydon Coburn as their top four. With the trade deadline deals of both Timonen and Coburn, that defense group was officially gone.
Now, 30 games into the 2015-16 season the group that Ron Hextall and Dave Hakstol have put together has become a respectable unit that can hold it's own against some of the better teams in the league.
However, the problem at hand was the fact that the Flyers best hope on defense was in the form of teenage prospects. Ron Hextall could not come into the 2015-16 season with five defensemen under 22, so the immediate future looked bleak.
The outlook of the Flyers defense in late April was embarrassing. It looked as if the Flyers would be relying on players like Andrew MacDonald and Nicklas Grossmann for big minutes, which would likely stifle Mark Streit and Michael Del Zotto. Adding Nick Schultz, Luke Schenn, Radko Gudas, and Brandon Maning to that group did not exactly inspire hope into the fan base.
However, Ron Hextall went to work. In May he signed Evgeni Medvedev to a one year contract. At the NHL Draft, Hextall traded Grossmann. Then, before the start of the season Hextall waived MacDonald. On November 14th, when the Flyers needed to call up a defenseman, Hextall did not call upon MacDonald, but instead called-up Shayne Gostisbehere.
As a whole, these moves have gone a long way in bringing the Flyers defense to respectability. But, that improvement would not be possible without the solid play of a few specific players, namely Michael Del Zotto, Radko Gudas, and Evgeni Medvedev.
Michael Del Zotto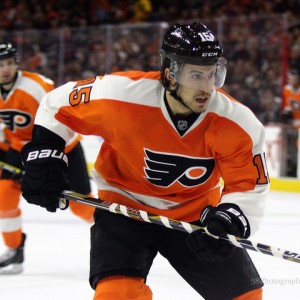 By the end of last season, Michael Del Zotto had earned the trust of ex-coach Craig Berube. He skated over 20 minutes in each of the Flyers last 19 games of the season and ended the year averaging 21:55 of ice time. Through 30 games this season Del Zotto is averaging 23:53 of ice time and playing in all situations.
Just as important as his ice time has been Del Zotto's ability to drive play. At 5v5 (score adjusted) he has a Corsi For % of 51.15 and a Corsi Rel% of 4.25%. In this category he is second among Flyers defenseman and having the best season of his career. In terms of high danger scoring chances, Del Zotto has the third best differential among Flyers defensive regulars (behind Gudas and Schenn) with a +3.43% differential.
On top of these numbers, Del Zotto is also posting a positive "dCorsi impact" for only the third time in his career. In short, dCorsi impact measures a players expected shot attempt differentials against their actual shot attempt differential. Their expected differential is based upon their zone starts, quality of teammates, and quality of competition. It is one of the best metrics in accounting for context.
With Mark Streit out of the lineup, Del Zotto has been called upon to carry a heavier load on the penalty kill. He is averaging 2:34 on the penalty kill per game and has been tremendously effective. Although Del Zotto's raw point totals look to be down from last season, he has done all of the things that the team needs from it's top defenseman.
Radko Gudas
When the Flyers received Radko Gudas from the Tampa Bay Lightning last season at the trade deadline, he seemed to be nothing more than a consolation prize. His numbers looked eerily similar to those of Luke Schenn (not that that is necessarily a terrible thing, but it is not exactly inspiring either) and he was unable to play for the remainder of the 2014-15 season.
Gudas, who has been paired with Del Zotto of late, has been a tremendous asset to the Flyers blueline. As Ryan Gilbert briliantly chronicled at SonsofPenn.com  last week, the defense pairing of Gudas-Del Zotto has been a possession driving force for Philadelphia. In the categories of Corsi For%, Corsi Rel%, and High Danger Scoring Chance differential Gudas is the top regular Flyers defenseman. He is also posting a positive dCorsi impact for the second time in his career.
Gudas is averaging 20:50 of ice time, also a career high. He is an integral part to the Flyers penalty kill and has been a solid all-around defenseman. At a cheap cap hit, Gudas is the kind of player the Flyers may explore a short term extension with at the end of this season.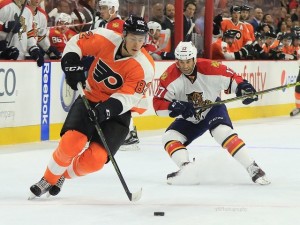 Evgeni Medvedev
The Flyers signed this 32 year old (now 33) Russian defenseman on May 20th. He was stellar for the Russian team at the Olympics but had never played in the NHL before. So far, he has averaged 18:55 of ice time and had various defense partners.
Through mid-November he saw himself as a healthy scratch, but has now cemented himself back into the lineup.
In both High Danger Scoring Chance differential (+1.81%) and Corsi Rel% (+.23) has been a positive player while coming out with a slightly negative dCorsi impact. However, since returning to the lineup on November 27th, Medvedev has three points in eight games and has had a Corsi For% of 50.1%. He is driving play (ever so slightly) in the right direction.
Medvedev has provided the Flyers blueline with a big, fast defenseman who will only get better as he adapts to NHL ice. He is aggressive in the neutral zone and has above average puck skills. Overall, he has been an upgrade from the likes of Grossmann and MacDonald.
The Flyers blueline is still a work in progress. As their young, blue chip prospects begin to break into the NHL the defense will further transform into a great unit. However, they have taken quite a few steps recently to becoming quite respectable.
*All advanced stats are measured at 5v5 unless otherwise noted.
**All advanced stats came from war-on-ice.com and all traditional stats came from NHL.com.