During the 2016 IIHF Men's Under 18 World Championship, a few things have become apparent, Boston University Terriers head coach Dave Quinn did a great job recruiting players from the U.S. Under-18 team. During the U18 Worlds, we got a good look at some the future Terriers from this year's freshmen class. The future is very bright for BU.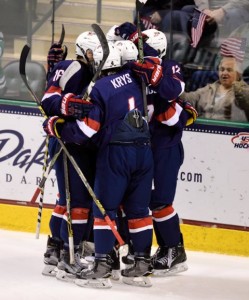 The four players in question, Chad Krys, Kieffer Bellows, Clayton Keller and Jake Oettinger will head to Boston to play for the Terriers next season.
Team Canada U18 defenseman Dante Fabbro is also set to join the four highly sought, and talented Americans at BU. All five players have made a huge contribution to their team's success during the U18 World Championship. There's a possibility that the Terriers could have two or three of their recruits drafted in the first round of the 2016 NHL draft.
BU is Doing Something Right
Looking at Team USA's line sheets, the BU recruits kept jumping out at me. How did they do it? Obviously, BU is doing something right. They're connecting with future recruits.
Looking at the USA roster, Keller is from Swansea, Il. You'd think he'd be a perfect fit for a Big Ten hockey team. Maybe not. BU nabbed him right out of the Big Ten's backyard. Keller explained his decision to attend BU instead.
"I think just coach Quinn and Steve Greeley made me feel like I was at home when I went for a visit," Keller said. "Obviously, they've had great players that have come out of there. Jack Eichel and Kevin Shattenkirk, just to name a few guys that have come out of that school. I think I felt really comfortable there and that's the place that I want to play."
Where ever Keller plays next season, he's going to make an immediate impact for the Terriers. He's that good of a player. Add the rest of the Terriers incoming freshman class, and they should be one of the favorites to win Hockey East next season.  There's also a good possibility Keller could be a candidate for the Hobey Baker Memorial Award as a freshman.
Future Line Mates at BU?
Two of the future Terriers, Keller, and Bellows played on Team USA's top line. Keller finished second in the U18 Worlds with four goals and 14 points. From watching them over the course of the last seven games, both have a lot of chemistry together. During the third period against the Latvians, Bellows fed Keller with a beautiful pass that Keller deposited in the net. I had to wonder if that could be a preview of things to come for Boston University.
"I hope we're going to see that at BU," Bellows said. "Kells and I have great chemistry and he's a great player.
If the BU coaching staff is smart, they will find another player to play with them.
Finally, for 10 days, the NHL scouts had an opportunity to watch these elite players, evaluating them and checking out their tendencies. There's a good chance they will all be drafted very high in the 2016 NHL Draft. The future Terriers made quite the impression on the media and the Fans.